The Scouts lit up the stands for the neon themed home football game against Stevenson. We are so proud and impressed with the Scouts turnout! Way to represent!
FRESHMAN:
Hunter Kelly, Charlie Hornberger and Hudson York glowed it up in the stands with neon yellow shirts. The neon orange construction jacket adds a perfect amount of spirit and creativity! Way to go freshmen!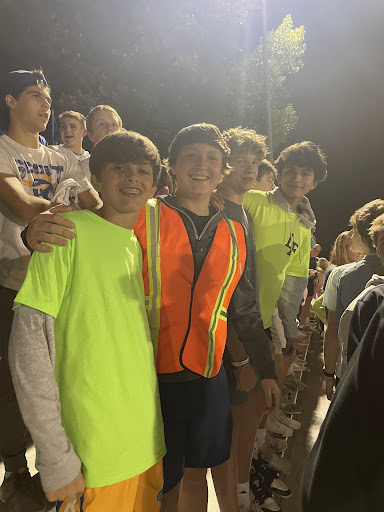 Teagan Hoopis, Marissa Graham, and Sabine Henshaw perfectly paired neon pink and yellow. They all wore an athletic yellow shirt with sweatpants. Teagan's neon lighting bolts are so cute! Marissa's Aviator Nation neon pants match adorably with her top! And Sabine's pink tutu adds the perfect amount of spirit to her look. They all topped it off with pink spray in their hair. Super cute Scoutfits girls!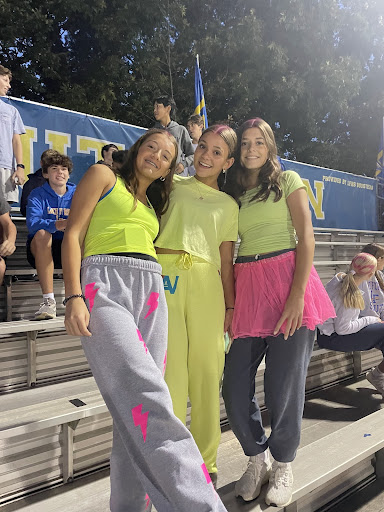 SOPHOMORE: 
Vail Bayly and Tess Uihlein were ready to represent last Friday's sophomore class. They brought the neon with their vibrant-colored leggings and sweatshirts. To top it off, they had fun, colorful tutus! If you left the night with neon pink spray in your hair, it definitely came from these girls. The sophomore class spirit has been revived thanks to these two fantastic efforts!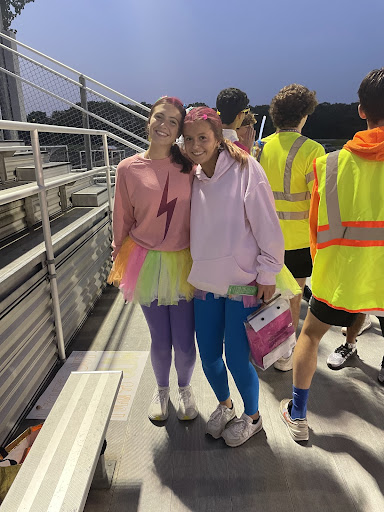 JUNIORS:
Juniors Bria Mancuso, Lilly Walsh, and Grace Donovan incorporated the neon scout's theme into making a cute FNL outfit. They wore neon-colored athletic clothes: Bria in a pink neon two-piece set, Lilly in a coral and blue neon outfit, and Grace in a neon yellow skirt with a scout colored tie dye sweatshirt to match! These girls know how to neon!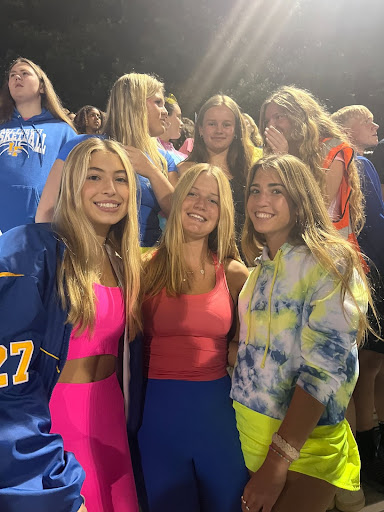 At last week's game, John Reid, Raunak Singh, and Connor Carreira highlighted the stands in their neon yellow gear. The glow zone tee shirts and yellow jackets really made them pop. Accessorizing with the pink headband was the perfect decision.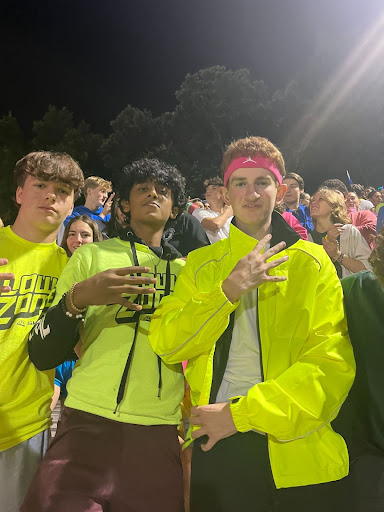 SENIORS:
Florian Florentinus and Ainsley Mitchell stole the show with their 80s-inspired neon outfits. We could not name a better outfit for the accessories, the colors, and the patterns. They both wore unique patterned and colorful pants. Florian's neon green "RAD" graphic muscle tee and Ainsley's mesh neon top over her pink tank top are both creative and so neon! The pink sweatpants, lightning bolt earrings, and fanny pack were an excellent way to accessorize.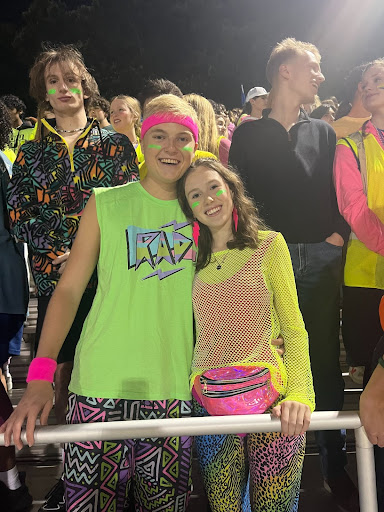 Annie Davis, Kelsey Bumbaco, and Jacque Wilson combined neon and scout attire at the last home game! The construction jackets paired with the neon pink Scout smiley face sweatshirts could not have been a better combo. Great job, ladies!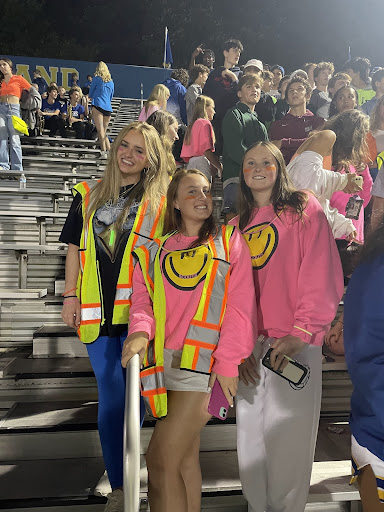 Stay tuned for next week!