Bain Flavin
Not every freshman has the school spirit and positive attitude that Bain Flavin exudes each day. While Bain has only been at the high school for a couple of months, his presence doesn't go unnoticed. 
"Bain is always trying to be as involved as possible," said freshman Shea Milliman. 
So far Bain is involved in student council and CROYA.  
"Bain is a fun loving student who always comes into class with a smile on his face and a song in his head, that song is usually Yellow by Coldplay," said biology teacher Mrs.Grzesik.
It's uncommon that freshmen come in and make an impact on the school community so fast. Undoubtedly, Bain Flavin has done just that. Bain is not afraid to be himself no matter the setting. 
He's not only enthusiastic through his personality but through his school spirit as well. From being in the pep rally video to dressing up for every game, it goes to show how much dedication he puts into being a Scout.
   "I remember sitting at the pep rally. I was front row in the junior section, and I looked over to the freshman section because I was wondering if any of the freshmen were going to be cheering. And I looked over and I saw one guy waving his arms, jumping up and down and sure enough it was Bain, and I feel like that speaks to how he is as a person. He is not afraid to be outgoing and to lend a helping hand to anyone," said junior Michaela Barry. 
That doesn't come as a surprise to freshman Logan Marsch.
"Bain is always down for a good time," he said.  
Addington Leahy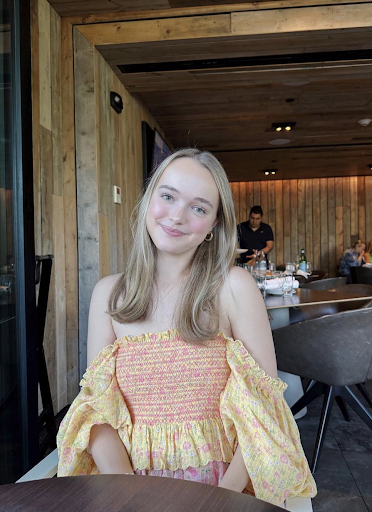 Sophomore Addington Leahy is a compassionate, thoughtful, and lighthearted presence who works hard to make everyone feel included.
Leahy is a member of Principal Council, Student-to-Student, and Scout Buddies at the school. She is also committed to CROYA and Fill a Heart 4 Kids, a non-profit organization located in Lake Forest. 
Students who participate in clubs with Leahy say that she wants what is best for the students she helps, and everything she does comes from her heart.
"Addington is one of the sweetest people you will ever meet. I got to know her last year in Scout Buddies, and I am so happy that she is on the board with me this year, " said junior Sienna Daum. "She brings amazing energy to the group, is always enthusiastic, and is very caring and kind. Watching Addington interact with [students with special needs] never fails to make me smile."
Many of Leahy's friends value their friendship with her and admire the positive impact her presence has on others.
"Addington is one of the most kindhearted people I know. She is such a hard worker, and is always lifting everyone up and making them feel good. If I'm ever stressed, just talking to her will quickly lighten my mood and I'm so lucky to have her as a friend," said sophomore Mia Konkol.
Leahy's commitment to making other people in the school feel a sense of belonging is admired by the students and teachers and her efforts are valued by many.  
Brendan Walsh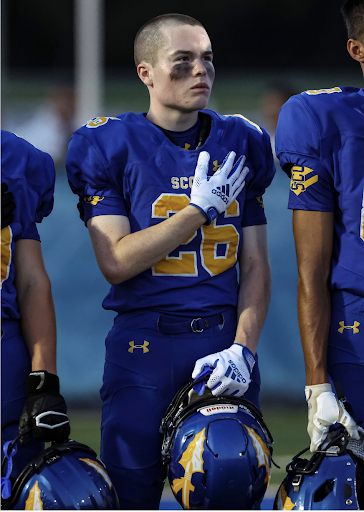 Junior Brendan Walsh is a superstar known for his athleticism in lacrosse and football, but he is more than a student-athlete.  He is equally celebrated  for using his positivity to impact those around him.
"He's a great kid. He always has a smile on his face. He always is there to help others," Football Coach Johnson said.
"He picks peoples head up and is a great guy to be around," Football Captain, Torian James says.
Brendan's impact on the field is big, but his impact on others mentally is much bigger. If you have been to a football game this year, you will hear many discouraging words from tired, upset, and disappointed football players, and Walsh never fails to pick their heads up
"Brendan is one of the most positive, resilient players in our program," Coach Spagnoli said.
Coach Mann said Brendan is a "deeply committed" teammate who is willing to " runs on hot coals" to help his team.
In the classroom Brendan is also known for his outgoing, kind, humorous personality which makes him a very likable person in the classroom.
"One of the most outgoing and likable kids I've ever had in class," Wellness Teacher Mr. Soprych said. "When we did presentations, he volunteered to go first almost every time."
"Brendan is always fun to have in class. He's a friend to everyone. He has a great sense of humor and knows when to use it and when not to," Mrs. Neal said.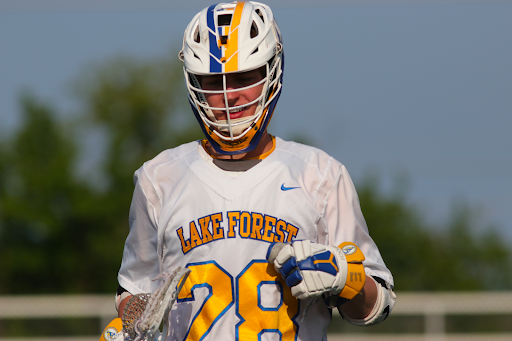 Ryan Milliman
A varsity lacrosse player, a two-year varsity football player, a wellness teaching assistant, an all-around great guy. Meet Junior Ryan Milliman, younger brother  Texas Christian wide receiver Jake Milliman. 
Ryan is a safety on the Varsity football team, who serves as a  foundation for the hard-hitting defense. While quiet on the sideline, opposing quarterbacks are quickly made aware of his presence. Against rival Libertyville, Milliman had three defended passes while up against a dangerous receiver threat making him an integral player in the triple overtime win.  
"He's such a fun guy on and off the field. When watching films it's obvious that Ryan is the one giving the most effort," says senior Fritz Bielski. "He finds a way to make the most out of a situation while also being one of the most productive guys on the team." 
Sophomore Aedan Cassidy plays safety alongside Milliman and says he has learned a lot while shadowing him.  "(He) motivates me to work harder every day in practice." 
Ryan made his first appearance as a varsity lacrosse player in his sophomore year during their 21-5, third-place finish. 
"He leads by action more than words, he lets his play show his skill rather than talking about it," senior Luke Joseph said. 
Tommy Swift
Tommy Swift, aka T Swift, aka T Swizzle is the definition of a grinder. On the ice or in the classroom, he is all gas, no brakes. 
"Kid works hard, goes into corners ready to put his body on the line for the puck. He doesn't let his size get in his way of playing physically," captain and goaltender Teddy Hudddleston said.
 Senior Finn Avis said he is happy to have a guy like Tommy on his team. "T Swift always smiles but when you get on the ice, it disappears." 
Tommy is also a super friendly guy eager to meet new friends at the Winter Club. You might also run into him at Onwentsia's driving range where he'll likely ask if you want to play a round of golf.   His older brother Stewie says dusting him at the Winter Club were some of the best days of his life.
"Tom is a great younger brother. Seeing him grow up is bittersweet, and I'm pumped to see what he accomplishes. We used to make him pick up all the dog poop and he never had an issue with it. He's a great Fortnite partner and would even rip it on the Nintendo Switch," Stewie said.
Swift's good friend T.C. Weninger said he loves to compete and train with him.
"In the summer I got a call from Tommy to run. I didn't want to get out of bed and run but he convinced me to just run a mile. We ended up running three. Tommy would also randomly drop down and start doing pushups. He pushed me to train harder."