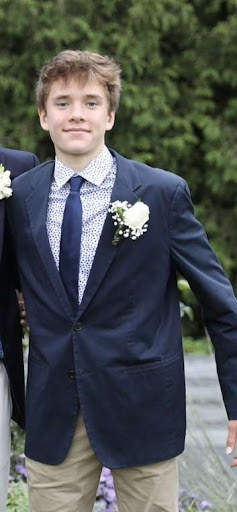 Dom Mordini
Sophomore Dom Mordini is very passionate with all of the activities and classes he is involved in and is always looking to improve in whatever he can.
Mordini has chosen to take ceramics after his brother hyped it up to him and is always looking to improve on his pottery making skills.
"He has a very positive attitude and puts his all into everything he does," sophomore ceramics peer Tess Uihlien says.
Mordini does not fail to go out of his way to make someone's day just a little bit brighter. His confidence is not unseen in the hallways or on the basketball courts.
Mordini has a strong influence on many of his peers and teammates. 
"For a young kid, he fulfills a leadership role on a team," junior varsity basketball coach Mr. Joseph Harmsen says. 
Mordini uses his confidence to keep himself going.
"He's got a really good attitude; when things don't always go his way, he is very resilient and bounces back," Harmsen says. 
Mordini is always looking out for others. Close friend Pierson Haghighat describes him as, "very passionate and committed." Mordini never fails to be there for Haghighat.
Mordini never gives up even in the toughest of situations and is always willing to take risks.
Along with Mordini's strong belief in himself, Haghighat also says, "He is focused on himself, but is always looking out for other people."
On the basketball court, Harmsen says, "Make or miss he wants the ball in his hand regardless of the outcome."
Hudson Scroggins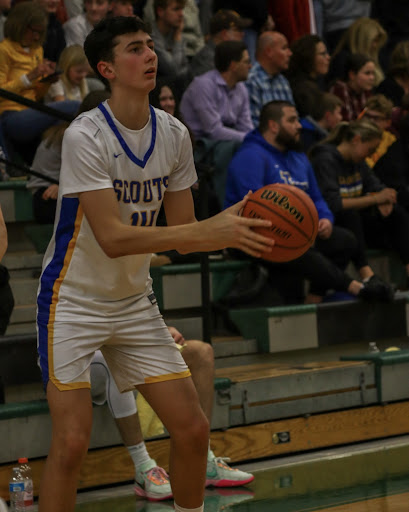 Hudson Scroggins has a towering presence in a forest of people, but his height isn't just for show. If you can't find Hudson around the halls, you can see him on the basketball court in our very own Competition Gym or on the pitching mound for our varsity baseball team. Hudson's athletic prowess is a testament to his dedication and relentless work ethic. 
During Hudson's sophomore year, he was already a two sport varsity athlete. This is a remarkable accomplishment for any high school athlete, especially for a sophomore. Being a returning varsity athlete, Hudson is setting an example of what it takes to succeed at the highest level. 
"Day in and day out. Early mornings before school and late nights at Lake Forest College is nothing new to him. He knows how hard he has to work and he doesn't shy away from the grind," said junior Charlie Engelberg. 
While performing in front of big crowds and packed stands, Hudson is a "modest marvel." Dom Mordini, a sophomore, adds, "As someone who has played with Hudson on the court, he will score 30 points and you won't even notice until you look at the box score. But his impact is far greater than numbers on a stat sheet." 
Although having an impact on the basketball court and baseball diamond, Hudson also has an impact on his community. He doesn't just have any type of impact in his community but a positive one. Having a positive impact on your community is a huge part of being a 'Scout.' 
"Hudson spends a lot of time in the gym perfecting his craft, but he also puts just as much effort into his school. He is someone who will give 110% into everything he does," said graduate and former teammate Anthony Mordini. 
"Hudson doesn't just work for himself but also for others. He is always encouraging his teammates to improve their skills but also themselves as individuals. Hudson truly wants his teammates to succeed, which is a hard quality to find in people," said captain Tommie Aberle.
Izzy Chong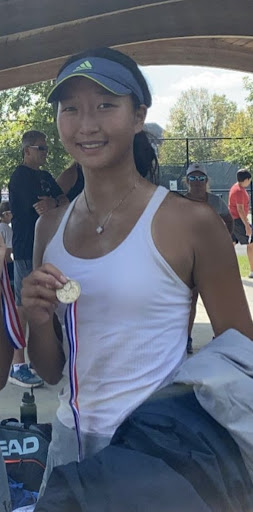 Starting off senior year, Izzy Chong has a big year ahead of her. As a strong captain of the tennis team, they have hopes to make it far in state. She is looked up to on the tennis team and the only returning player from last year's State team.
Chong, as a senior captain on the tennis team, leads by example. Michaela Barry looks up to her as a captain of the team.
"Izzy is such an inspiring player which makes her an amazing captain. She's so encouraging and such a hard worker which makes our team want to do the same," says Barry.
Other than being a great captain on the court Chong also is very social.
"From the outside looking in, Izzy seems like a shy person, but once you get to know her she can be quite the character. She is always making jokes, and lifting up everyone's mood. In addition to her many jokes, Izzy is such a kind and genuine person, she is always looking out for others," says Sara Khater.
Khater also looks up to Chong as a captain and a fellow senior.
"Outside of the tennis court, Izzy stays grinding and enjoys working out at the gym," says Khater.
Chong has a big senior year ahead of her. With a lot of people around her and supporting her, the Scouts are excited to see her on the court and in the halls.
Nico Caputo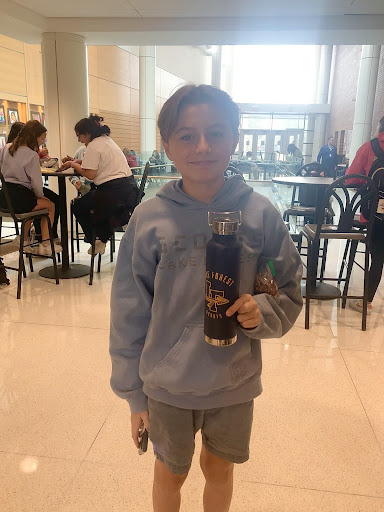 "The perfect balance of professionalism and fun," said junior Nora Sharman. "I'm amazed at the amount of talent he has."
Freshman Nico Caputo has already gained a reputation in the theater department of Lake Forest High School.
While most freshmen try to make a name for themselves in the Senior Directed One Acts and solidify it in freshman/sophomore show, Caputo walked into school on the first day knowing he already had his reputation. 
Caputo earned a featured role in last year's musical, Big Fish, as only an eighth grader. He was welcomed with open arms due to his positive attitude and commitment.
"He's always been such a great collaborator," said junior Sarah Noble. "He's so determined."
Caputo was also able to make valuable connections.
"He was so kind to me when I broke my ankle during the musical," said junior Katie-May Newman. "Now, whenever I see him in the hallways, he also says hello to me and it makes me so happy."
Caputo started this year by participating in the Senior Directed One Acts, where he was cast in two separate One Acts.
"He was almost triple cast," said senior and director Henry Laufenberg. "He was the only actor for that to happen."
Caputo was recently cast in the freshman/sophomore show, The Brightest Thing (Or, the Squonk Play), as the titular role of The Squonk. The show will be November 16-18.
Only a month into freshman year and Caputo has already made his mark.
"He's just so full of life and energy," said junior Phoebe Twitchell. "I love him dearly."
Mrs. Michelle Glyman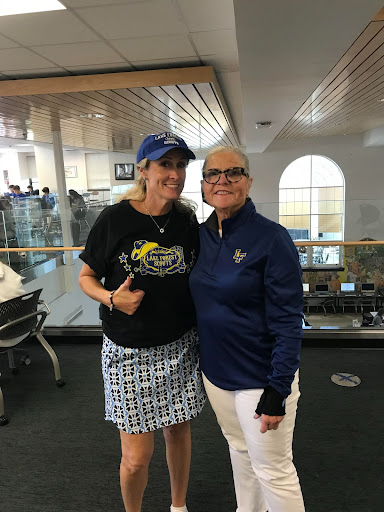 As a high school kid constantly going through the stressful day of rigorous classes, sometimes all you need is to see a happy, smiling face to brighten your day. Undoubtedly, Mrs. Michelle Glyman does just that. 
If you are a student, staff member, or flat out anyone in the high school building, Mrs. Glyman has hopefully made your slow, gloomy school days a whole lot better. Her generosity and positivity is contagious, lighting up every room she walks into. 
Mrs. Glyman is one that does it all: her official role is a parapro. She spends her time delivering attendance forms, checking people into study hall for Mrs. Neal, supervising students, stepping in for teachers during lunch breaks and just making sure everyone is having a good day. Her dedication to the school community does not go unnoticed.
"I have known Mrs. Glyman for over a year now. She is a great friend and she's always smiling, she is definitely one of the most easy-going and chill people I know," study hall monitor Mrs. Leannn Nelson said. 
Glyman makes a lasting positive impact on everyone she comes across. "Mrs. Glyman is really nice and super bubbly. I always get happy when I see her," said Glyman's co-parapro, Martin Pachecho. 
"I love when I show up to study hall and Mrs. Glyman is there. She checks up on me and always asks how my day is going. I'm grateful to have a genuine connection with her," junior Anna Braun said.
Mrs. Glyman has always loved being around schools as she previously worked at Sheridan Elementary before LFHS. She has had three kids go through LFHS so she is by far the best advice giver around. She is up for any task you throw her way and her witty sense of humor is always fun to be around. She is always staying involved especially with the Enviro Club as she is one of the club leaders. Glyman is a staple to the school community. 
"It makes me so happy when I see her in the hallway… she is always so friendly," said senior Charlotte Milligan. 
Mrs. Glyman is more than just a supervisor around the school, she is a friend to all and her presence is appreciated by all students and staff.