Musical sensation Taylor Swift is at the height of her career. She nearly broke Ticketmaster with The Eras Tour, predicted to produce about $2.2 billion- which would make it the most successful concert tour ever. And she's not stopping there; Swift is about to break the box office too.
The Eras Tour movie, a recording of one of her shows in Los Angeles, will be hitting screens in America on Oct. 13, and fans across the nation can hardly contain their excitement. Not only will those who enjoyed the concert get to experience it again, but those who didn't have the opportunity will get a chance to join in on the enjoyment. 
AMC Hawthorn 12 theater in Vernon Hills has already sold many of the available seats for the first weekend of the film's release. Even showings as late as 11:30 p.m. are full.
"It was really hard to get tickets, my friend had to buy them for me because I was sleeping when they came out!" said junior Gwen Daliere, who attended the April Atlanta concert.
The release date was unexpected, and fans were scrambling to secure tickets. 
"I was lucky enough to get the last three tickets in the theater for the opening night show, but everything else was sold out," junior Megan Gapinski said.
In a recent Instagram post that publicly announced the movie, Swift shared her own anticipation for the film's premiere. She also wrote that the unique fan traditions, such as "Eras attire, friendship bracelets, singing and dancing," aren't just for live concerts, they're encouraged in the theaters as well.
However, many fans (or Swifties as they've been called) have found themselves contemplating how far they should go in terms of dressing up for the film, as well as singing along.
"I'm just gonna read the room. If the rest of the theater is singing and standing up, I will too, but I don't want to be disrespectful of others if no one else wants to," said Gapinski. 
Despite the endorsement from Swift, some argue that the movie theater experience of the concert should be just that: a movie that you sit down and enjoy silently. 
On the other hand, many are eager to relive The Eras Tour in complete musical capacity, karaoke and full glam included. 
Some of the Swifties here at LFHS are in agreement with the latter. 
"I'm definitely doing bracelets and I hope people sing. I just feel like everyone who went to the Eras tour, even if you didn't go, wants to relive it. I know I do. If you don't wanna sing along, stay at home," junior and avid swiftie Rayanne Attar said. 
AMC Theaters are advertising Taylor Swift: The Eras Tour movie enthusiastically, going as far as offering Taylor Swift themed popcorn buckets and cups. 
While there is uncertainty surrounding whether or not AMC will put a stop to excessive singing and dancing, their own advertisement for the film includes a similar endorsement to Swifts' Instagram post.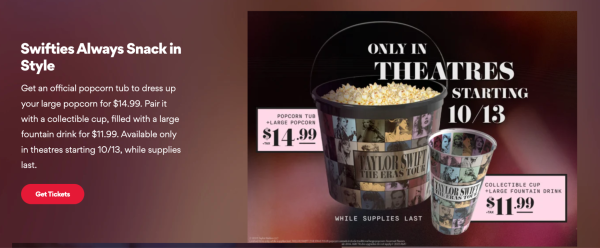 According to AMC, they encourage viewers to "Immerse yourself in this once-in-a-lifetime concert film experience with a breathtaking cinematic view of the history-making tour…Taylor Swift attire and friendship bracelets are strongly encouraged!" 
The seal of approval from AMC theaters can almost wipe out all uncertainty Swifties may have about the true nature of this experience; it can be easily inferred that this will be no ordinary blockbuster movie.