Each year the wide variety of LFHS clubs, sports, and activities are matched with local businesses throughout Lake Forest and Lake Bluff to decorate their windows with fun displays of school spirit during the annual Homecoming Week.
This year was no different; organizations decorated the towns.
While this year did present some weather challenges, that did not stop these spirited students. Many rescheduled but others just painted through the rain.
"I did not love getting soaked in the rain, although it was still incredibly fun," said junior Siobhan Boyle, a member of the LFHS Theater Department.
Organizations design their own unique window display. Many use their window as an opportunity to advertise their next big event. The Theater Window showcased this year's theater productions. Similarly, the Choir Window listed their next concert date. Conversely, other windows showcased their team personality.
For many students, these windows are a place to show their passion for their activities.
"The drumline has a lot of section spirit, so they wanted to create a design for themselves on their window," said Senior Drum Major, Meghan Pierce.
"We made our letters [for HOCO] out of drawings of drum equipment," said drumline member, junior Nicholas Pizzo.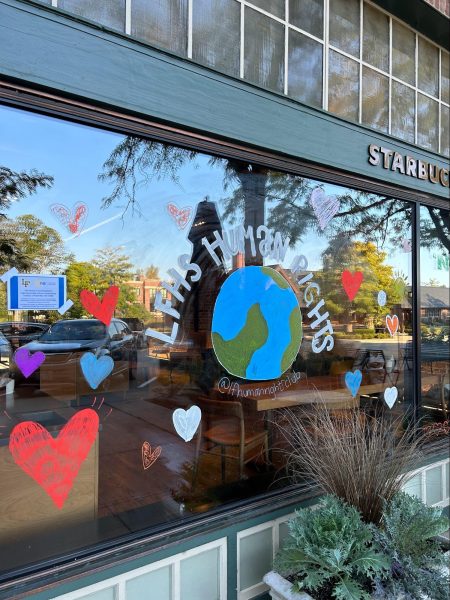 Personalization was key in many windows, incorporating the members' names somewhere in their pieces.
The Human Rights Club used member's handprints to display connectivity.
"[We] spent a lot of time thinking about the message we put out," said senior Sophia Zar.
The Human Rights Club finally decided on the inclusive "Nurturing the limitless possibilities of human connection," a nod to the Starbucks Mission Statement, the very business that displays their designs.
But the students were not just thinking of Homecoming, they were also thinking of the community. 
 "The windows help our community come together and see all the different things that high schoolers are passionate about," said sophomore Charlotte McEvoy.
The windows bring a new energy to the town. 
"It is a great experience walking through the town with all the windows painted so creatively," said senior Alejandro Orestano.
Fundamentally, the experience of painting windows, even in the rain, creates memories and brings the organizations closer together.