"Dearest Reader," if you're another hopeless romantic awaiting Bridgerton season three like me, which may be delayed for the foreseeable future with the SAG-AFTRA writers' strikes, then we might as well celebrate what season two accomplished. 
Starring Simone Ashley as Kate/Kathani Sharma and Charithra Chandran as Edwina Sharma, season two follows the Indian sisters arriving in England for the "upcoming social season" to find Edwina a husband. Meanwhile, Viscount Anthony Bridgerton (Jonathan Bailey) is also searching for a wife. While Edwina and Anthony are set up, a beautiful, complicated love story blossoms between Kate and Anthony as the season progresses.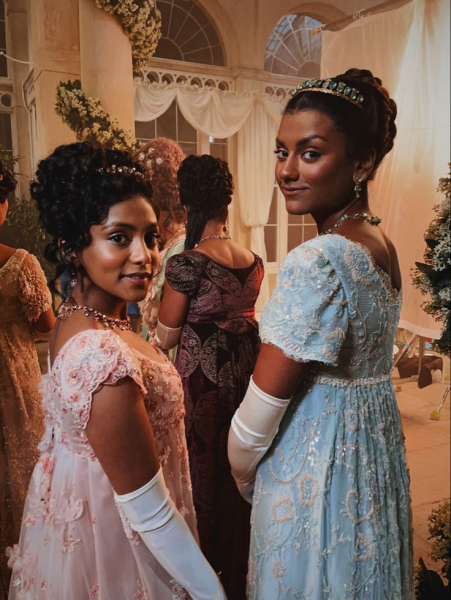 Upon streaming Bridgerton, viewers likely noticed how diverse the cast is in both seasons, despite it being a period piece series set in high-society London during the Regency era (early 1800s). 
However, not every viewer likely understands the magnitude of this representation. 
While I was already excited for season two because of the enemies-to-lovers storyline, as a brown person of color, I shed many tears when the actresses playing the iconic Sheffield (Sharma in the show) sisters were revealed. 
What does this mean?
Bridgerton didn't just cast two women of color to play "historically white" leads – but two dark-skinned actresses of South Indian descent who, according to Western beauty standards, would never appear in Bollywood films. 
"Bollywood" is the coined term for the Hindi-language film industry and is a portmanteau of "Bombay" (now Mumbai–where most productions are) and "Hollywood."
Since India still experiences the effects of 19th-century colonization, Bollywood actresses are typically light-skinned to mirror the Western world's idea of wealth and beauty being tied to "whiteness." As a result, women with dark skin are deemed "undesirable" both on and off the screen. 
Ashley and Chandran's representation is a HUGE deal because, by being characterized as strong and beautiful individuals in the show, their roles directly challenge that pale skin defines beauty. 
After the spinoff Queen Charlotte: A Bridgerton Story was released, with characters of color occupying aristocratic positions in the show, many argue that the Bridgerton universe's racial and historical inaccuracy is problematic.
Nevertheless, according to The New York Times, "the show's success proves that people of color do not have to be erased or exist solely as victims of racism in order for a British costume drama to flourish."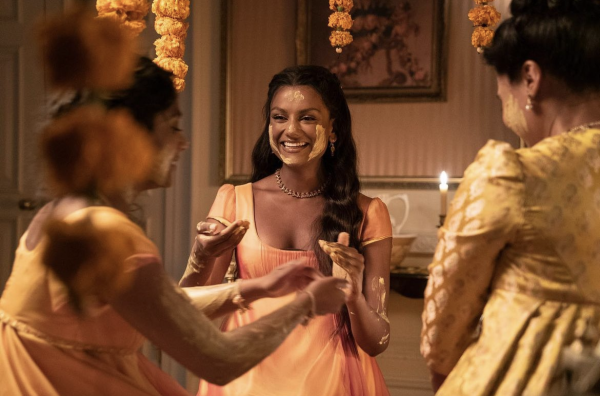 Why does this matter?
Bridgerton acts as a step in the right direction of the brown-narrative in media being rewritten. Historically, brown characters have been limited to the taxi driver, doctor, and nerdy sidekick (Baljeet from Phineas and Ferb is a classic example) archetype. Despite being a "lighter" brown girl, watching Bridgerton, I felt heard as a large part of my identity was included, reinforcing the power and importance of representation.