It was third down. 
The crowd was exhilarated, and everyone watched as one of few sophomores ran onto the Varsity field. Although the play may have been successful, everyone was distracted by the player who was struggling to stand up. 
During the first home game of the 2022 season, junior Charlie Markee went to block the cornerback, stepped on his left foot, and fell to the ground. 
After being brought off the field, Markee was immediately examined by LFHS trainer Bartholomew Castillo and Orthopedic Surgeon Dr. Anand Vora. 
"They walked away from me and started whispering to each other. That's when I started crying. I knew it wasn't good news," said Markee. 
And just like that, his road to recovery had begun. After discovering he tore his patellar tendon and fractured his kneecap, Markee received knee surgery on Sept. 3, 2022 at Vernon Hills Surgical Center. 
The next day was the first of many physical therapy sessions. He explains that the first couple of months he focused on basic exercises like quad stretching and leg raises. Two months later, he was able to put minimal weight on his leg.
It wasn't until seven months later that he was able to train on a turf field at Highland Park's Bone and Joint Institute.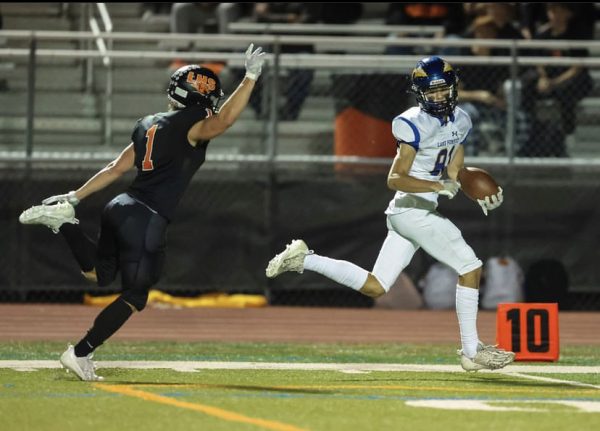 Although his recovery was frustrating, Markee was determined to get back on the field. He credits his motivation to his mom's positivity and encouraging persona.
She would constantly push him to attend every practice and physical therapy session, which in the end, paid off. He talks about how her  selflessness during his recovery truly inspires him to grow on and off the field. 
 "There was a period of time when I had to take pain medication every four hours. She'd get up, and if I wasn't up, she'd wake me up, even when she had work the next morning," said Markee. 
Markee has now returned to the Varsity football team fully recovered, and continues to inspire his teammates with his extraordinary dedication to the game. 
"He's the kind of guy that'll put in the extra time and extra work to be a better player than he was a day or a week ago," said teammate Ryan Valentincic. "He never settles for being average, and striving to get better is what really separates him from the rest of the group." 
After recently defeating the Libertyville Wildcats, and scoring the first touchdown of the night, Markee is excited to continue the rest of the season with his team, and hopes to continue his athletic career in college.