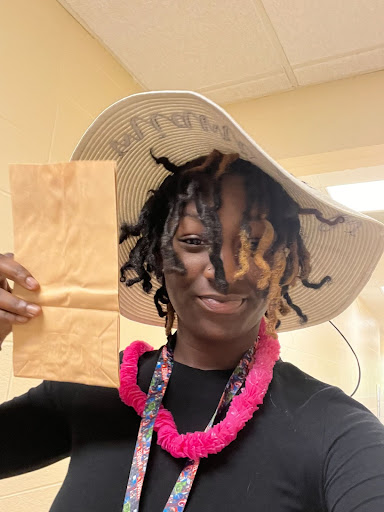 There was once a test called the Brown Paper Bag Test. If you were deemed to be darker than the paper bag, you were denied entrance, membership, friendship, etc. Although the test is gone, the philosophy remains. 
I moved to Lake Bluff in my last year of middle school. It was tough for me but easy for my brother. He was just starting sixth grade. In sixth grade you're fresh from elementary school ready to be with the big kids and BE a big kid. You start to determine who is your group, who's your friend, and who isn't. 
Eighth grade is different. Everyone has their friends and groups picked out officially. Who they did or didn't like. Unfortunately for me, I was the new girl and I was Black. Not just Black but darker than a brown paper bag. 
I'd often come home from school in tears. I'd go to the bathroom and try to scrub my skin because I hated it. I hated being dark, I hated being ugly… Or so I was told.
There was one other Black girl in the school. She was a 6th grader and lighter than me. We both experienced discrimination but being darker than a brown paper bag means you're prone to the worst of it.
"
In reality I'm the same as you: same dreams, same language, same thoughts, same goals, just darker than a brown paper bag.
One day in math class, we all stood up to get ready for the next class. There was another Black kid in the class. He had many friends, including white friends. I was learning to love myself, just like any 8th grade girl, so that day I chose to wear my natural hair – a fro. Pretty bold, huh? 
"Why do you look like that?" he asked.
"Like what? I asked back.
"Like Mufasa!"
Everyone laughed, and I felt so embarrassed. How stupid of me to wear this big ball of frizz on my head. Maybe I do look like Mufasa.
I was honestly pretty confused because the boy who said it looked just like me …darker than a paper bag. So how could the boy that looks like me embarrass the girl who is like his mother but younger… darker than a brown paper bag.
In Lake Forest the percentage of Black residents is 1.1 percent and  84 percent of white. Being in a overwhelmingly white area has tested my patience and my perspective of the entire community.  Considering there are so few of us people of color, you'd think there would be some sort of discussion to make those here feel more welcome. However, throughout my five years here, I've seen very little to no acknowledgement of minorities.
During February of my sophomore year, I noticed there was nothing celebrating Black History Month. I waited about a week to see what would happen. Nothing on the announcements. Nothing on the big T.Vs. Nothing on bulletin boards. Nothing.
No one even spoke of it. It was as if the month was the N- word and everyone was scared to even mention it. I took it upon myself to bring some sort of awareness. With the help of some staff members, I printed pages of Black leaders, activists, inventors, etc. Two years later some of those pages are still on the bulletin.
To my Waukegan and other friends outside of Lake Forest I'm the "preppy white girl that left home." In Lake Forest, I'm just "darker than a paper bag." In reality I'm the same as you: same dreams, same language, same thoughts, same goals, just darker than a brown paper bag.
The comment section for this story is now closed.