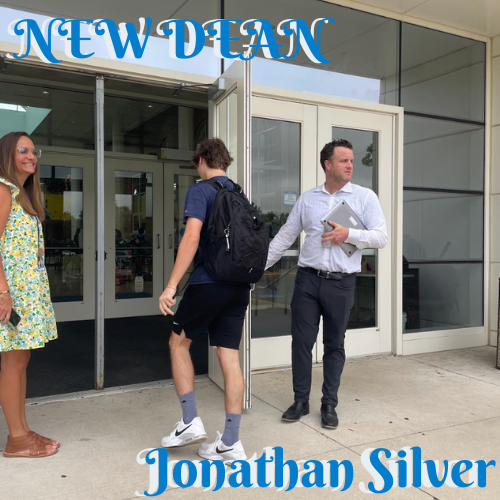 New Dean of Students, Jonathan Silver, is prepared to become a well known face in the hallways quickly as he starts his first year at LFHS. 
Mr. Silver is not shy to the administration environment as he spent 11 years as a Dean at Oak Park River Forest High School after his 5 years of teaching psychology. "Getting to know the system, being visible, and starting to form relationships with students," has been a focus within his first couple of school weeks. 
"After 16 years in one place there's definitely an adjustment period. For me, it's just not being a known entity. I want to build up my name with staff and students. Having to learn new names and faces is exciting for me," said Silver.
The fellow Dean, Laura Clegg, is not worried about Mr. Silver having trouble fitting into the administration team. 
"The fact that he has already been a Dean for such a long time has made the adjustment very easy, he is awesome at asking questions, and he truly does care about getting to know our way of doing things. So that willingness goes a long way," said Clegg. 
Silver's experience and friendly character has made his adjustment to the high school so far smooth sailing. Keeping the students and staff dynamic healthy and happy is key to a Dean's position. 
When there are hiccups or roadblocks keeping LFHS from being at its best potential, Mr. Silver is prepared to step in. "Even when I have had to consequence students we have formed a connection of trust and being transparent and not being disingenuous, " said Silver. 
The "high expectations and accountability for the students" are things Silver found to be a positive advantage to the position. Holding students accountable to these traits and standards is one of the many roles Silver has to uptake as Dean. 
"To help see our initiative in action with attendance, respect, and the learning environment," are some of the goals Silver has for his first year. "I want to make sure we uphold those initiatives. As a unit that takes the staff and students working together," Silver said. 
While learning so many new names and faces can be difficult, Silver has made it a top priority as he gets used to the LFHS hallways. Being a Dean of Students means being held responsible for at least half if not all of the student body. 
"Because we are a much smaller school than he is used to, it is going to be somewhat different in that getting to know students as much as possible on an everyday basis is key," said Mrs. Clegg. 
Even though it only has been a couple weeks of school so far, implementing new and old rules to students is still needed. Senior, Murphy Moorhead, has had his fair share of encounters with Deans over the years. 
"Mr. Silver helped me become a better person and classmate in my team fitness class when I was struggling with representing the scout way," He said. "His willingness to listen and engage with his students in a kind manner, makes students feel welcomed, heard, and acknowledged," said Moorhead. 
Adjusting to a new environment can be challenging when trying to figure out what you want to represent and uphold, while also fitting into a new place. 
As admin have really pushed to implement the new "scout way" and LFHS Principles of Respect, deans become a crucial part of this environment because they work one on one with students. 
"Having pride that extends from the school to the community where you can't necessarily tell the two apart. That's what we're trying to do with the scout way, we want our students to be visible the same way they would at a coffee shop or the beach. I want to help carry that on," said Silver.