The Friday before Homecoming is one of the most electrifying days of the entire school year, and a fantastic kickoff to Homecoming weekend. Despite most of the excitement coming from 30-minute classes, the highlight of the day comes after 2 p.m. where all students and staff gather in the Competition Gym to watch what Student Council has been planning for the past month.
At the beginning of the school year, members of Student Council were divided into four different committees to plan for Homecoming: Decorations, Spirit, Court, and Pep Rally. Members involved in the Pep Rally Committee are in charge of making the Student Council video, deciding the order of each event, setting up the Competition Gym the day of Pep Rally, and much more behind the scenes work.
Some of the most entertaining aspects of Pep Rally include the amusing video produced by Student Council, the team captain games and challenges, the live music from the band, Spirit Week "Best Dressed" awards, and the performances from the dance, cheer, and football team.
Pep Rally is the perfect opportunity for Scouts to demonstrate their love for the school. There is no better way to do this than to all gather and cheer on our fellow students and staff members as we welcome the upcoming weekend which consists of the football game against Zion-Benton and the Homecoming Dance the following night. 
"The Pep Rally Committee works super hard to make the event a fun experience for everyone there. Having great leaders to help us through the planning process, such as Senior Class President Kelsey Bumbaco, makes the process so much fun," said junior Kat Yakes, a Pep Rally Committee Member. 
"I always look forward to watching the Pep Rally because everyone always has a smile on their face and is just having the best time," said junior Chloe Hvostik. 
I remember hearing about people who would leave school and go home before the Pep Rally my freshman and sophomore year, and after both watching and participating in the event, I think it's so crazy that people would voluntarily miss out on this entertaining show.  
I believe that if you are willing to walk into the Competition Gym with an attitude that allows you to laugh along at the participants and activities, then the event is 10 times more fun.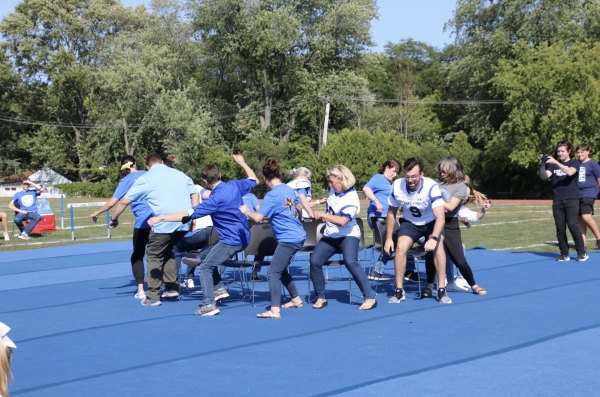 "I remember watching the Pep Rally freshman year and getting secondhand embarrassment from the people dressing up in ridiculous costumes or trying way too hard at the meaningless challenges. After last year, I've learned that the best thing to do is laugh along and use the event as an opportunity to get excited for the Homecoming game and dance," said junior Finley Karr. 
If you attend this year's Pep Rally optimistically, knowing that the purpose of the event is for the school to come together and bond, you will have a blast!