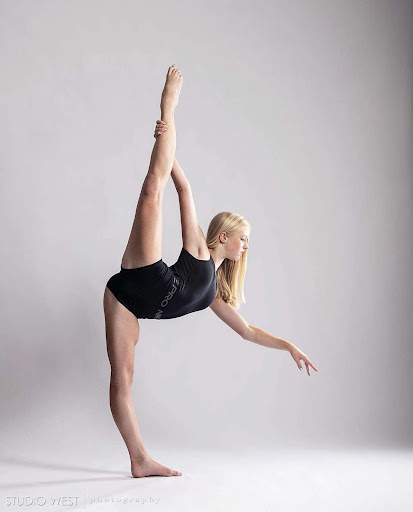 Mia Konkol
Mia Konkol is a hardworking, driven, go-getter in and out of the dance studio who was the sole freshman on last year's State champion Lake Forest Varsity Dance Team.
Since it is her second year on varsity, she sets a fantastic example of what it takes to be a champion.
"Mia is such a hard worker. She inspires me to push myself more in and out of dance. She's a highly supportive teammate," said sophomore Sophia Brincat. 
Mia's dance career started later than most of her peers- 4th grade. Yet, she never let that hold her back and has continued to grow as a dancer and has become a vital member of the LFDT program. 
"Being on Varsity can be intimidating, but Mia had such great talent and maturity beyond her years that she never struggled to fit in. She's humble and kind, a true gem of LFHS," said last year's captain, Elsa Dahlgren. 
Konkol's "humble beast" personality continues into her extracurriculars and schoolwork. She has recently joined various clubs at the high school, including Student to Student, and inspired her friends to reach out of their comfort zones.
"Not only does she push her hardest in dance, but she cares so much about the school. She always pushes herself the extra mile to study a little harder or push past her tiredness to get an assignment done," said junior Amelia Hansen. 
That hard work has earned the respect of her teachers as well.
"I have enjoyed getting to know Mia this school year. She comes to class with a big smile and is always willing to work collaboratively with her classmates. She is also very hardworking," said Laura Flangel, a Lake Forest High School social studies teacher. 
Aiza Mirza
As president of Muslim Students' Association (MSA), and one of the few hijabis (Muslim women wear the hijab/a head covering to reflect modesty) in the building, sophomore Aiza Mirza is a trailblazer for the Muslim community. 
New to her presidential position this year, Mirza is following in the footsteps of her older sister Manha Mirza, former LFHS student and founder of MSA. 
"Aiza is one of the most hard-working and caring people I know. As president, I believe she'll make LFHS a more inclusive space for everyone," said Manha Mirza.
Mirza's vision is to foster a supportive environment for Muslims and non-Muslims alike. Given LFHS' predominantly white, Christian/Catholic population, Mirza is especially intent on addressing misconceptions surrounding Islam by spreading positivity. 
In addition to her leadership role as MSA president, Mirza who was a member of the Debate team last year, is an active member of Human Rights Club, and the tennis and badminton teams. 
"Not only is Aiza extremely smart, she's also very committed to everything she does, which shined through in her work for the debate club," said senior Ana Dollard. 
Mirza hasn't just made her mark on LFHS, though. She began raising awareness about the true nature of Islam, which promotes peace and love, when she was the first hijabi to deliver the graduation speech to Deer Path Middle School's Class of 2022. 
Mirza's ambition to pursue her passions, such as writing and volunteering, and her courage has always inspired sophomore Sydney Keck. 
"Despite all of the islamophobic jokes I've heard, Aiza has still worn her hijab unapologetically. She's such an amazing person, and I'm so proud of her for displaying a big part of her identity," said Keck.  
Lauren Hanson
Freshman Lauren Hanson – a dedicated actor- made her impact on the LFHS theatre program before the school year even started. Hanson kicked off the summer working with New Media students to create a seven-minute short story featuring acting, singing, camera, and audio skills. Despite being a freshman, Hanson was the lead actor in the production.
Her theatrical endeavors continued in August where she participated in the Senior-Directed One Acts. Hanson worked together with fellow actors to put on a show called "Mom's Kitchen" in just 10 short days. 
"Lauren had such a positive effect on our cast! She always showed up not only ready but excited to work and really helped to show some of the less experiences actors the ropes, even though she is only a freshman. She looked super natural on stage and had a great understanding of her character," said Hanson's One Acts director, senior Claire Smith.
When she wasn't immersing herself in the LFHS theatre program, Hanson spent her summer perfecting her technique at the Midwest Young Artists Conservatory in Chicago. There, she added many assets to her musical abilities, where she learned how to sing classical music in other languages.
Hanson gained her expertise and appreciation for musical theatre at The Performers School: a highly-regarded performing arts school located in Highwood. Being a part of The Performers School is no easy feat – prospective actors must fill out a resume and go through intense auditions to have the chance to learn from professionals. Hanson and her fellow Performer School actors spend nearly 8 hours a week (25 hours the week of a performance) in the theatre, a testament to Hanson's commitment. 
Although Hanson is new to the school, her experience in theatre shines, and impacts fellow performers positively. 
 "Lauren was a key part of our success. She was so positive throughout the whole experience. Her acting skills are incredibly impressive and she has the ability to adapt and take direction in whatever we ask of her," senior Lucy Partington, who worked with Hanson this summer to create a seven minute story, said.
Mrs. Cindy Collier
To many, history is facts, names, dates, and places. But that's not true if you have Mrs. Cindy Collier; she brings history to life in full high-definition terms.

Mrs. Collier has taught at LFHS for her entire teaching career, approximately 20 years. As a teacher, she has taught a variety of social studies and history classes. Currently, Mrs. Collier is teaching AP US History and Sociology. 

From small-town beginnings in the Appalachian Mountain region of North Carolina to Ohio State University to LFHS, Mrs. Collier has brought with her a passion for history to those she meets, colleagues and students alike.

Besides her passion for history, she is also a proud Buckeye fan. She regularly goes camping and travels the country visiting landmarks of historical significance, with her husband and middle-school-aged daughter, EJ.

"She's very innovative and has some of the most creative lessons," said social studies teacher Andrew Waple. "Her students always seem highly engaged."

In her drive to innovate, she co-created the Modern Global Issues class as a way to further engage students in current events and to expand their knowledge of foreign affairs. She also helped to launch the AP Seminar program.

"Mrs. Collier has really helped strengthen our curricular offerings," said the Head of the LFHS History Department, Stephen Dunn.

Beyond just teaching subject matter, Mrs. Collier is dedicated to her students, their concerns, questions, and pursuit of knowledge.  On the rare occasion when a question is asked that she does not know the answer to, she will research it thoroughly and then share her findings with the individual the next opportunity she has.

"Mrs. Collier is a very caring individual who works tirelessly to help her students learn and grow as scholars of history and the social sciences," said Mr. Dunn. "Within the Department, she is a great member of the team because she is a deep thinker, asks thoughtful questions, and puts in  the work needed to make us better."

"

She is a great member of the team because she is a deep thinker, asks thoughtful questions, and puts in  the work needed to make us better.

— Mr. Dunn

Additionally, Mrs. Collier has a wonderful sense of humor which serves to enhance the learning experience of her students. Her class is always lively, filled with discussions, debates, and   laughter, as students enjoy the learning environment and process created by Mrs. Collier. 

Not only is she a great teacher but she is a valued member of the community.

"Mrs. Collier is an excellent teacher and friend," said social studies teacher Cheryl Kyrias. 

The LFHS student body is lucky to have Mrs. Collier, her students have benefited from her vast knowledge, her teaching methods, and her commitment to her students. Her engaging manner brings the past to life in ways that are meaningful and impactful.

"You can sense how passionate Mrs. Collier is about history while she teaches, it makes her class so engaging every day," said senior Emma Stadolnik. "APUSH was definitely my favorite class I've taken in high school because of Mrs. Collier."
Eshaan Jayaswamy
Only one person in this school would come up with the idea to market himself as Prom King in a slideshow presentation in his AP Lang class. 
That person is the one and only senior Eshaan Jayaswamy.
"It made no sense and was full of a bunch of random memes that just made the whole class laugh," senior Charlie Gish says.
Each slide just had some silly saying like "on my mamma," or "I ain't even mess with allat," and by the way he said it, the class found it entertaining.
His presentation wasn't serious, but it did in fact win him a seat in the Prom Court.
"He made that class entertaining for me and for probably everyone else in there. His funny jokes and interactions with our teacher and other students just made for great memories," Gish says. "That is truly a class experience I won't forget."
"You can't have an interaction with him and not end up laughing," senior John Nikitas and longtime friend said. 
Nikitas said anyone who enjoys laughing should meet Jayaswamy.
"He has this rare ability to turn any situation into a light-hearted one by just cracking a joke," Nikitas says.
From students to faculty, Jayawamy is well-known amongst LFHS and can be spotted dapping up almost anyone in the hallways.
"
You can't have an interaction with him and not end up laughing.
— senior John Nikitas
"Eshaan just seems to know everyone. People I've never talked to or even seen in my life will just come up to him and hit him up with a G-Lock and move on with their day," Gish says. 
Senior Logan Carter, part of said inner circle, says that he's always looking forward to going to lunch and having Eshaan there with him to lighten his day up.
"I could be so tired or so bored, and just want to go home. When I spend those 30 minutes at lunch with him, it's like an energy drink of its own," Carter says.
Jayaswamy reminds him and his friends of a comedian that just never stops making jokes, but one that also rarely misses.