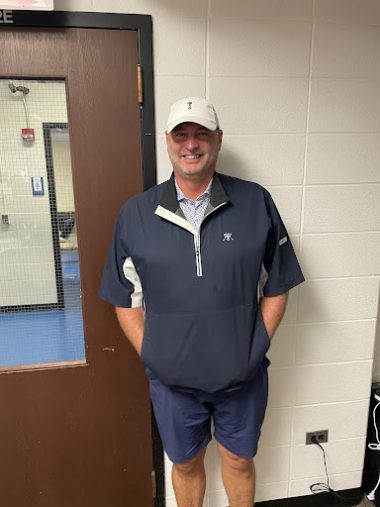 How long have you been coaching at LFHS?
" This is my 21st year of coaching the golf team. I started coaching golf in 2002. Before that, I was a volleyball coach at the high school as well for about two years."
What other sports have you coached or do you currently coach at the school?
"During the spring I am the JV Boys Baseball coach, I have been doing that for a few years now. Before I started coaching JV Baseball I was a Boys Varsity Volleyball coach in the spring as well as the JV boys volleyball coach."
Did you have any golf coaching experience before becoming the head varsity coach at the high school?
"Yes actually, I coached at Waukegan High School for four years as the head varsity golf coach. I was a student teacher there for two years, and then following that I took a job there for four years and also coached the golf team. I've also played golf for a very long time, and have a lot of experience with what the players are facing while on the course."
How do you balance being a classroom teacher and a coach?
"You need to manage your time really well. In your off periods, you have to get as much done as you can because as soon as the day is over, you are leaving for practice and then you don't get home till 8: 30 at night and you have to repeat that again the next day."
You have won four out of the five State Championships in LFHS school history. ('04,'10,'11,'19), What stood out to you about those teams compared to others that have not had as much success?
"Probably the great abilities of the players but also they did everything together. They were very cohesive teams in that they practiced together, ate together, and studied together, for four years. And they all pushed each other every single day knowing that they had a chance to be great."
What makes a team special?
"I think what makes a team special is when you don't have to coach them as much, in a way that they just want to do things the right way naturally and don't need to be told. They want to work hard, and you can just coach them on course management and simpler stuff like that. Very unselfish and dedicated."
What year was the best team that you coached and what made them that way?
"2004, was the best team. They won every single match and every single tournament except for the conference when we lost to Stevenson by one shot at Midlane Country Club. We shot 328, they shot 327. It was very tough conditions that day. It was like 40 and rainy, with 20mph winds. That year one of the tournaments we won we had the lowest scoring total in school history, 271 after we had scores of 63 (-9), 63 (-9), 72 (E), and 73 (+1). We ended up having three players on this team go on to play Division 1 golf, and I can honestly say that the '04 LFHS Boys Golf Team is the best team in IHSA golf history."
Who is the best player that you have come across at the school? How did you coach him differently than the others?
"Joe Willis was the best player all around. He was a great student, athlete, and leader, and he went on to be the captain of the Yale men's golf team. He always put golf ahead of everything, he would go practice until dark and then finally once he was no longer able to he would then be with his friends and do other things. It was no surprise when Joe won the individual state championship in 2011. A cumulation of his work ethic, leadership, and skills are what make him the best player I've coached."