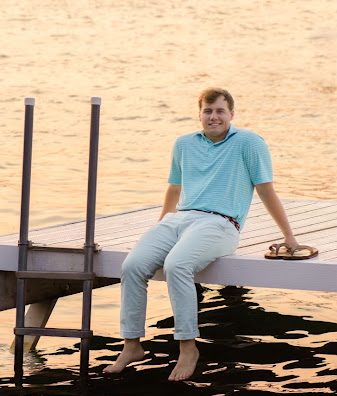 Senior Fritz Bielski is the student body president and member of the Varsity  football team. He was vice president of the junior class last year, and has even greater plans as student body president this year.
What are the biggest responsibilities/challenges as president?
"The biggest challenges probably have to be that every decision we make has to be the right one. We want to make sure every decision makes everyone happy. For example, the Homecoming Royalty, it's tough for us to find a way to celebrate everyone in a way that makes them comfortable. I wouldn't say that the responsibilities have impacted me yet as president because we are so early in the year and nothing has happened, but we're prepared for whatever is to come."
As student body president, what changes do you want to make around the high school?
"Within the Student Council, we started meeting in the classroom instead of the RMA because we wanted to be in a smaller room so everyone's voice can be heard. We have fun things we want to try for spirit weeks. We have a group that is really all about the Scouts. We have a lot of surprising things coming as the year goes by to gain school spirit."
What was your encouragement/reason to run and win the presidency?
"I would say talking to Pride last year was my biggest encouragement. She said it was really fun doing everything she could to make sure everyone had a good senior year, and that was exactly what I wanted to do. I wanted my fellow seniors to have a good senior year as well as the rest of the school."
We are all excited about homecoming being soon; what should we expect this year for the dance?
"It's going to be a tight time crunch to get the whole place decorated, to do the Pep Rally, and all the small things that go along with Homecoming. We are lucky to not have faced too many challenges yet."
You are very busy, how do you plan to balance your schedule with being president, playing football, doing homework, and applying for colleges?
"I'll try my best to balance it. I have a lot going on. I had a similar schedule last Fall. I've found I just need to push on and do everything I can every night. The biggest thing is keeping track of my work with small things like an assignment notebook."
You are also a senior varsity football starter, how have you and your fellow seniors been leaders for the team this season?
"The biggest thing has been creating a really fun group of guys where everyone is comfortable and has great team chemistry. I play offense, so being in a group of guys where we are all buddies, we have even more motivation to score because it's not only scoring, it's having fun with friends."
Have you always considered yourself a leader?
"I've always found it fun to represent everyone around me. I feel like I can get a really good feel for who everyone is and what they like to do, so leading has come naturally."
What message would you give to future Presidents?
"Make sure to have fun while you are doing this because, if you are not having fun doing this, it will really reflect in what you do. Make sure to voice your opinion because students elect candidates because they really believe in what the candidates will do."