The elderly residents of the Lake County area received an unexpected gift this summer when four Lake County students were determined to make a difference in the lives of those who are no longer able to attend live music performances.
While most high school music students perform at competitions in front of judges and for audiences filled with parents, junior Kashyap Prasad, a pianist, and violist for the LFHS Symphony Orchestra, as well as the first-place winner of the National MYA Walgreens Concerto Competition, had the unique idea to bring music to a different audience, senior citizens.
With this goal in mind, Prasad set out to recruit fellow musicians to accompany him in performing. After sharing his idea, his twelve-year-old brother, Karnik Prasad, a pianist and winner of the Steinway Piano Competition eagerly agreed to join the endeavor. As did an LFHS trumpet player, member of the LFHS Orchestra Wind Ensemble, and 2nd place winner of the LFHS Music Dept. Competition for the winds division, junior Timotei Dan.
"I decided to get involved because I like playing music, so any opportunity to play to an audience is exciting, and let me say, there is no better audience than a group of elderly people," said Dan.
The newly formed band began playing live in June, their first venue was the Captain James A Lovell Federal Health Care Center in Waukegan.
The group's musical performance was met with appreciation, joy, and smiles from the senior-filled audience.
The positive response to their first performance propelled the group to seek out additional opportunities to share their music with this large and underserved segment of the population.
After the initial performance, the group played at a number of Lake County senior homes, including Charter Senior Center Lodge, North Shore Place, and Sedgebrooke Senior Living. They were again met with applause and appreciation from the elderly residents, who were grateful that these young musicians took the time and made the effort to brighten their day with the gift of live music.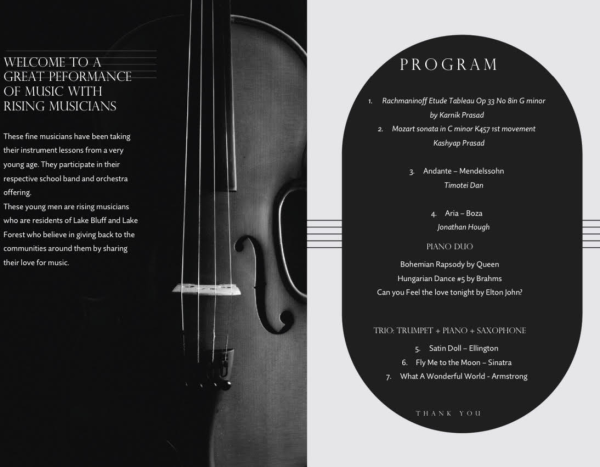 To make residents feel like they were truly attending a live music venue, the group provided printed programs for the attendees.
The group added another musician to their band in late July: Jonathan Hough, a saxophone player, who is a member of the LFHS Orchestra Wind Ensemble, and the North Shore Honor Band. Hough was also awarded first place in last year's LFHS Music Dept. Recital for the wind division. 
"I wanted to join two of my closest friends in using music to give back to the community," said Hough. "This is important to me because my grandfather always loved listening to my music and after he passed away, I wanted to play music for elderly people in his remembrance."
As they expanded their list of venues to include retirement homes, memory care facilities, and assisted living communities, the group realized that their audience's appreciation of the music went far beyond the mere sounds of the songs they played. There was something deeper and more meaningful at play. The music provided a way for audience members to tap into a deeper emotional reservoir, bringing to life their feelings, memories, and life experiences.
After performing a piece by Bach, Prasad remembers being approached by a woman who just happened to be at the retirement home, awaiting the return of her mother from surgery. She shared with him that the song by Bach that they played was her mother's favorite song and that hearing it at that moment had helped to ease her anxiety and enabled her to feel more connected to her mother.
Looking back at their experiences performing, Karnik Prasad said, "I enjoy bringing back memories to senior citizens and bringing joy into their days."
Other members expressed similar sentiments. 
"I enjoy seeing the joy on everyone's faces when we play. They appreciate it whenever we take our time to prepare music for them," said Dan. "This is our way of giving back to the community."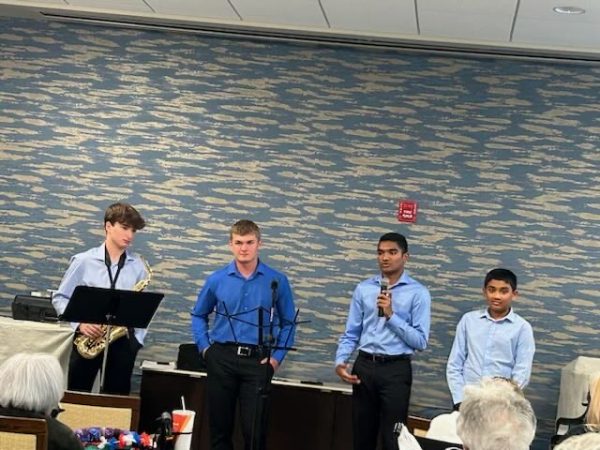 After the Prasads played at the Lake Forest Senior Center, one audience member Terry Leone, the former President of the Lake Bluff Women's Club, said, "I was blown away by their piano duets and individual play, and their sense of volunteerism moved me." She described their performance as, "soothing, uplifting, and just awesome."
The four musicians plan to continue playing music for the elderly. Prasad and his younger brother performed a piano duet at the Weinburg Memory Care Facility over the Labor Day weekend.
"We want to continue because not only is our music appreciated by the audience but we feel it is very rewarding to know that our performances are genuinely appreciated," said Kashyap Prasad.
Having witnessed the transformative power of music, the group members no longer view their performances through the singular lens of competition.
"I feel these performances have made me enjoy music more and have given me a purpose to practice my instrument," said Karnik Prasad.
The group has had a realization that there is a higher purpose in performing.
Music has the power to transcend levels of cognition and go deep into the hearts of people. "Even though some people may not have the cognitive ability to appreciate certain things, they are still able to connect to the music and appreciate it on an emotional level," said Kashyap Prasad.