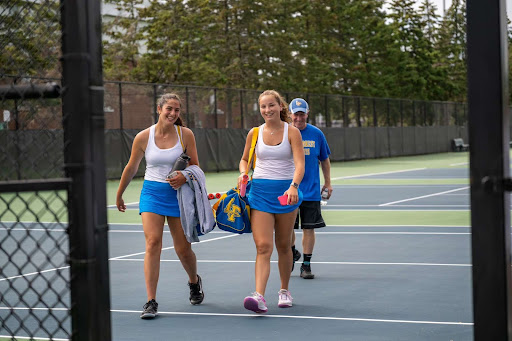 Ameena Alsikafi is a senior at LFHS and a captain of the Girl's Varsity Tenis Team. She has played for the Girl's Varsity Tennis Team since freshman year, and she also runs for the Girl's Track Team in the spring. 
What has the team done during the pre-season to ensure a strong start to the season?
"Our team has been working hard since the beginning of the season to make ourselves the best players we can be. Our early morning beach workouts have helped the team form to be as close as we are."
Can you share any specific goals the team has set for the season?
"Our goal is to get to state this year and hopefully do well in conference and sectionals. After our captains from last year graduated and went to D1 schools we lost some good players and hope to succeed in our upcoming season."
How is your new coach affecting the style of the team and practice?
"Our new coach has been very good at lifting spirits and helping us improve our physical state and also our mental game. Coach Rabjohns has taught us how to be the best tennis players we can be while also taking care of ourselves off of the court."
Are there any specific rivalries or matchups the team is looking forward to in the season?
"We always look forward to the quad that we host in September called the cookout. We invite schools to play against and have burgers, hot dogs, fruit, and a lot of other food that is free to all players. It's our team's favorite because it comes at the perfect time of the season when we all know each other but don't need to be worried about the conference."
What does it entail to be a captain?
"Because tennis is a very individual sport, many people don't feel the teammate bond until high school. When I joined the team I looked up to my captains to be leaders in life and in tennis. Ever since I became captain I wanted to model this same behavior. This year the captains lead workouts, warmups, and drills and help with boosting morale before matches. We try to make the team as fun as possible because many tennis players have only played individually."
Are there any team routines/rituals that the team follows before matches to boost morale and confidence?
"Our team always runs the same warmup which includes 3 laps around 4 courts with high knees and butt kicks. We run the lines of the tennis court called a "line drill" and split the team in half so when each side meets at the net we high five which adds a unified feeling. While running on the courts we play music to boost spirits and get in a rhythm before the match starts."
How is the team's chemistry even though it is still the beginning of the season?
"The team this year is really close. After last season most of the remaining teammates were very close but the new players fit in perfectly. They all know how to be there for each other and everyone seems cohesive. In tennis it is not always about winning and being able to hit a good shot, but how well you can support your teammates even when you are sitting out and everyone has adopted that mentality."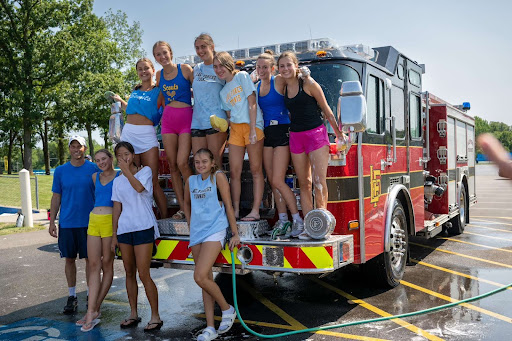 What are you or the team most excited about in the season? Certain traditions or games?
"Our favorite parts of the season are the little things like team dinners or seeing each other in the halls. We love the big things too like our annual car wash with the entire tennis program or the movie night we have on the tennis courts. I'm most excited to continue to bond with all the people I don't know as well and hopefully make it to sectionals and beyond."