The Scouts fell to 1-1 after losing to the Carmel Corsairs with a score of 20-10 this past Friday.
Hoping to form a winning streak after destroying Lakes the week prior, the Scouts started off slow and gave up a touchdown to the Corsairs on their first drive. There were a series of misalignments from Lake Forest's defense, giving Carmel the 6-0 lead right off the bat after a missed extra point.
Following the touchdown, the Scouts met Carmel with the same intensity, if not more, for the rest of the half. The defense, led by senior captains Tommie Aberle and Carl Carlson, forced a shutout while the offense snatched the lead with a touchdown catch by Junior Nate Williams, and then a field goal. The scoreboard, reading 10-6, pleased the home crowd for the time being in this game. 
Things quickly went south into the 4th quarter, as Carmel put up two unanswered touchdowns against Lake Forest.
"In the second half, we started making more mistakes on defense that resulted from basic errors and lack of focus," Carlson said. "On the flip side, our offense just couldn't connect like they did the first half."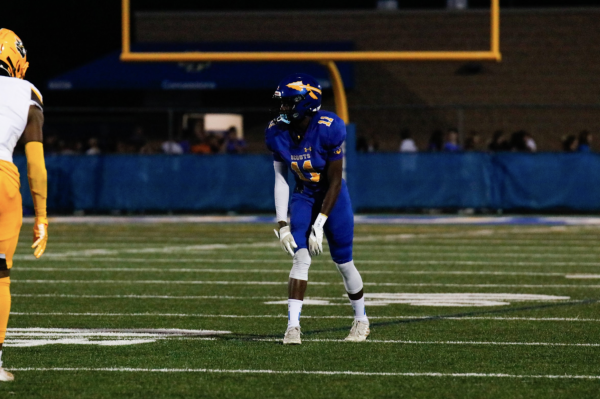 The Scouts dropped multiple passes, some of which were crucial drive-enders that could have resulted in points, according to captain WR Torian James. 
"There are just a lot of mental errors that we need to collectively clean up," said James. "On Friday we didn't play our best football and we paid the price for it. We have to go into practice with the purpose of eliminating the mistakes and chasing perfection."
The Scouts will have a chance to get back in the win column this Friday at Waukegan against the 1-1 Bulldogs.