After a summer of searing heat and grueling workouts, the Lake Forest High School football team is less than a week away from starting a bounce back season. The Scouts begin the nine game season with an away game Friday against Lakes, who finished 4-5 last season.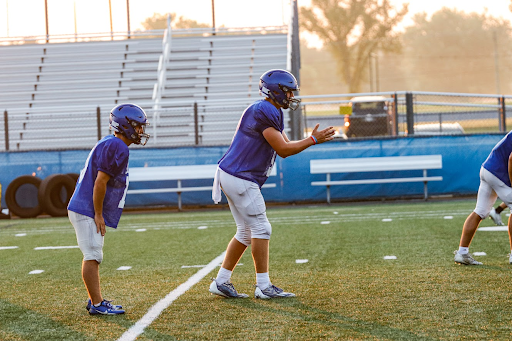 Quarterback junior Danny Van Camp will lead an offense full of new weapons. Throughout the summer and fall camp, Van Camp demonstrated an impressive arm that should help wide receivers Torian James, Ryan Hippel and Collin Blocki  open up the passing game. In the backfield,  running backs senior Graham Garrigan and junior Marty Hippel both show exceptional footwork and football IQ. Garrigan, known for his small yet nimble build, dances in and out of holes through the offensive line, while Hippel has explosive speed that creates runs for long gains.
On the other side of the ball, a strong corps of linebackers led by senior Tommie Aberle and junior Timotei Dan will look to create an opposing threat for any school trying to execute a run game or a short passing attack. Cornerback junior Nate Williams, who is heading into his second year as a Varsity starter,  is extremely agile and able to read a quarterback well. He made several interceptions during 7-on-7 and team scrimmages. Cornerback Travis Calaway, a four year program player, has earned his spot in the varsity rotation and demonstrated his ability with an interception during the Blue/Gold game. 
Bringing up the rear of the defense, senior  Miles Specketer leads the safeties. Junior Ryan Milliman fills the strong safety spot after missing the previous season with an injury. 
This year's group of captains is made up of all seniors: Aberle, Logan Uihlein, Hippel, Torian James, and Carl Carlson. Head Coach Chuck Spagnoli continues to coach alongside assistant coaches Joe Busse, Tom Soprych, Alex Mann, James Williams, Ryan Carney and Dylan Johnson. 
Although a young team, the Scouts look to break out in an explosive way. The coming season should be an exciting one.