Mr. Sheridan: businessman, rockstar, and teacher
Teacher by day, rockstar by night. Mr. Brian Sheridan is a charismatic business teacher who everyone knows and loves, but what students don't know is that he lives a double life. Unlike most teachers at LFHS, Sheridan has had various other careers unrelated to teaching. The first one being a businessman, and the second one, a rockstar.
Sheridan always loved music as a little kid, but really discovered his passion for music when he was about 14 or 15 and formed his first ever band. He and his buddy would go into his bedroom and listen to their favorite bands on their favorite vinyls while pretending to play the drums until one day, they decided they should buy real instruments. Sheridan saved up all his money in hopes of buying a drum set but ended up buying a bass guitar, which he's been playing ever since.
"After I bought the guitar I went home and started playing it without a clue that you had to tune it. [My friend] had his guitar, I had mine, and we were playing untuned to each other," Sheridan said. "We would write songs, which were terrible, and then one day his brother came down and asked if we had ever tuned our guitars and we were like what does that even mean so he tuned our guitars which ruined all of our songs."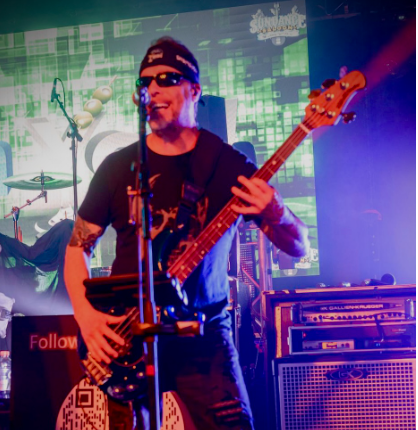 His current band is called Oh Yes! which was formed from a previous band he was in called Exit 147. They separated during covid when everything shut down which caused them to lose many of their gigs. Four of the members found a barn space and started practicing together. Then they started bringing in other artists to play with them and once they got a taste for playing in front of other people, everything came together and that's how Oh Yes! was born.
"Oh Yes! comes from the singer of the band. Every time we finished a song he would be like 'oh yes' and he just had this great excitement, so we decided it was a perfect name for our band and because he was always saying it, it was great marketing," Sheridan said. 
Another thing Sheridan is passionate about is business, as he spent almost two decades of his life in the business industry, working in audio-visual system integration. His role was design sales for various different companies.
After 18 years of corporate sales, Sheridan decided to step out of the corporate world and pursue teaching.
"Sales can be grueling and it's such a grind. I think I just got to a point where I did it for long enough, I was like what else is there to do," Sheridan said."It's always about numbers which some people love, but I wanted to do something where I felt like I was giving back with a more human experience." 
He decided he wanted to give teaching a try because his brother is a teacher and loves it. And just like that, he was back at the National Louis University completing a nine-month course to get his teaching certificate and another six months getting his master's degree.
One night, Sheridan was playing with his band at a martini bar when he met Joe Pulio, a business teacher at LFHS. Once Pulio discovered that Sheridan was a business teacher, he was determined to get him a job at the high school which is where he still teaches today.
Sheridan has learned many things from all of his past career experiences but his biggest takeaway that he's brought into teaching is collaboration and accountability. Being able to work with people you don't know and people you don't like, and holding yourself accountable for your responsibilities are very important. If you are given work to do with a deadline, you need to meet it.
"Students always complain, 'oh we don't even use half the things we learn in school in the real world.' And sometimes they're right. So I always make a point to teach kids how to collaborate and how to be accountable because those are two of the most important skills you will use every day for the rest of your life," Sheridan said.