You shouldn't miss out on Outdoor Education
I lay on the ground with nothing but a thin sheet of tent between me and the frozen, textured ground.  It's 2 a.m. and I'm nestled between six girls in a claustrophobic tent.  
By the time the sun rises, I might not have slept even a minimum of five hours.  In front of me I have a day full of hiking, rock climbing, and other activities.  I leave my tent and get ready to make pancakes, which end up being undercooked.  What I didn't know yet, was that this trip was going to be unforgettable. 
The Outdoor Ed class takes an annual trip to Devil's Lake State Park every semester, where we stay for two nights, and three full days.  The state park is approximately 9,217 acres, and the highest point peaking at nearly 500 feet.  
For these three days, the campers cook meals, climb up to 100 foot mountains, boulder (freestyle climbing), and most importantly, make connections with people you may never have thought of before.  I was extremely lucky to have the opportunity to go on this trip.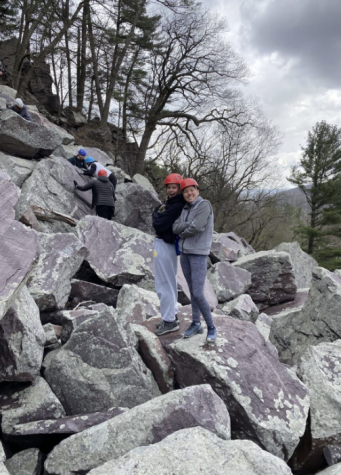 There are countless trails at the park, but what stood out the most was the hike we had taken the first day we got to the campsite.  We hiked for a few miles, enjoying the view of nature surrounding us, and taking in the fresh air.  We stopped at an edge with a remarkable view of the lake we were on, looking at how high we had climbed. I felt accomplished. I have never been hiking on a true mountain trail before, which is something I extremely regret.  
On the second day, we hiked to the top of the famous Devil's Lake peak.  I sat over the ledge and saw infinite miles of trees and scenery I never could have imagined.  I was lucky enough to be on the trip with six of my close friends, and being able to experience this view with them was unforgettable.  We listened to music, took pictures, and ate snacks as we sat in serenity together.
We had a full itinerary for each day, but what made it the most memorable were the unexpected moments.  
Our trip was in the beginning of spring which meant the weather in Wisconsin was expected to be cold, but we did not plan for any snow, or downpours at night. 
On our second day, we started to boulder when it started heavily raining.  The rocks became slick, and managing our way back to our path was challenging.  Laughing at ourselves, and at each other was what made the activity fun, rather than being stressed we might fall off the massive rocks below us.
Shortly after dinner, the rain continued which canceled our original activity for night two.  We acted quickly, and ran into the minivans we drove up in.  We blasted music and had a dance party in the van we crammed 11 people into.  Having to change our plans, we drove to a campsite with a pavilion not too far away and played games and shared laughs with the whole group for the night.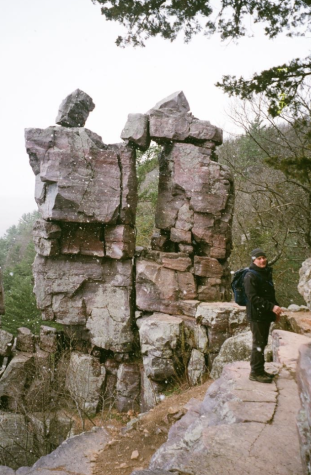 Mr. Ray Werner, the Outdoor Ed teacher, is somebody who truly wants the best for you and will push you outside of your comfort zone.  On the last day, everybody rappelled from a 100 foot cliff.  I had done it in class, and climbed a few walls on the trip but looking down from 500 feet high freaked me out.  I was hanging backwards on a massive rock attached to a rope and a few carabiners on my harness.  I had a slight fear of heights, which made my palms sweat between the gloves that were a size too big on me.
I was one of the last people in our group to go, and Werner wasn't giving me a choice if I wanted to do it or not.  I had built a relationship with him through him coaching me in volleyball and we had worked on creating trust in class.  
I made it over the edge, and instantly started climbing down with enjoyment, rather than fear.  I made it to the bottom and I saw Werner looking over the edge at me, feeling proud.  Thanks to Werner, he helped me do something I knew I would regret if I didn't complete.
Before my friends and I signed up for the trip, we were worried we wouldn't enjoy it since most of us have never been camping.  After a lot of discussion, we realized how much we would be missing out on so we handed Werner our slips in excitement.  
The morning we left for Devil's Lake, I realized Werner had split up my friends and I from sitting together.  I was assigned seating with people I had never really met before, and was worried it was going to be a long ride.  After about an hour into our drive, we had non-stop chatter and laughter, and I realized how much fun I was having with people I've just met.  This made me excited to become closer with the other kids on the trip.  Sitting all together as one group as we sat around the campfire, and shared our meals together made me realize the importance of keeping an open mind. 
I can confidently say by the end of the trip I now have 25 more people I can call friends.  
P.S from Werner,
"Each day is another opportunity."