TFS Musician of the Year: Ciara Carroll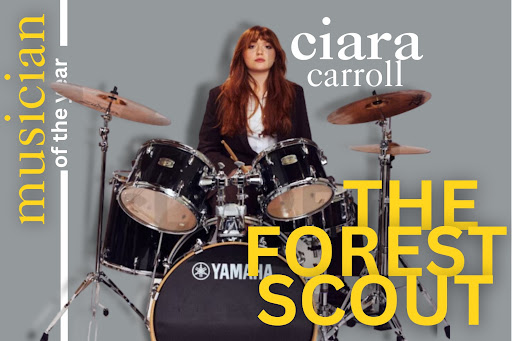 When senior Ciara Carroll first signed up for classes as a freshman, her schedule included no music classes. Discouraged from trying music in middle school, Carroll enrolled instead in Business Entrepreneurship and study hall before joining band and choir. 
Now, in her final year of high school, music classes fill up half of Carroll's schedule. 
"The way she's grown the most is because she's branched out to learn music in so many different ways. She's probably got the greatest record for taking the most music classes at the high school," said band director Mrs. Janene Kessler. 
Carroll performs in all three music ensemble-classes (band, orchestra, and choir) and is involved in about every music-related production at LFHS — drumming, singing, and playing as many instruments as she can.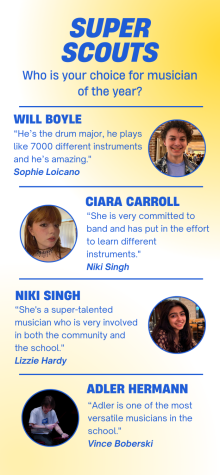 Whether performing at the RMA for Talent Show or in the stands for Drumline during football season, there isn't a chance you haven't seen Carroll with her signature black suit and fiery red hair on stage. Their dedication to music, both in and outside of LFHS, is the reason why The Forest Scout named Carroll the 2023 Musician of the Year. 
Starting on piano as a young child, Carroll not only demonstrated interest in the arts but also a natural talent for music. 
"My piano teacher stopped working with me because she didn't like that I learned by ear rather than learning traditionally," said Carroll, with a laugh. 
Eventually, Carroll landed on the drum set at the age of seven, which she considers to be her "main instrument." Getting a start on the drums at School of Rock (SoR), a music school in Highwood, Carroll took a break before playing again in eighth grade. 
"There have been countless times where someone has asked me how I taught her to get such a powerful sound behind the drum kit. All I can ever say is that she somehow has a natural power that just can't be taught," said Bryan Resendiz, Carroll's SoR drum teacher of 10 years.
Carroll's drumming skills have been recognized at both the state and national levels. She played in the pit orchestra for both the 2022 and 2023 Illinois Theatre Association All-State musical productions of Cabaret and Shrek. She was the first drummer to go to state from LFHS.
Carroll also recently made it into the National School of Rock All Stars — an audition-based ensemble where only 1% of SoR students are selected to tour nationwide, starring nightly in famous venues. 
"This is the highest achievement available for all SoR students across the country, and she's the first drummer ever to make it from the (Highwood School of Rock) in 16 years," said Resendiz.
"
All I can ever say is that she somehow has a natural power that just can't be taught.
— Bryan Resendiz, School of Rock
However, Carroll's gift for music expands well beyond her drumming. Carroll plays bass, electric and acoustic guitar, piano, percussion, and sings. At SoR, Carroll takes ownership in their performances and plays all the instruments — even uncommon ones like the tin whistle.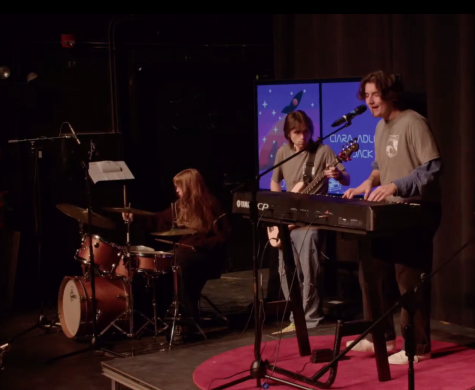 "Ciara is always up for a musical challenge and has always been the first volunteer for any parts that might be very difficult with a risk of possible failure," Resendiz said. "She knows there is always something new to learn about her craft. That is a very rare quality in a young musician." 
At LFHS, Carroll has performed in a variety of musical acts: playing four years at talent show, singing in Madrigals and Bel Cantos, TEDx, Pep Band, and Drumline. Additionally, Carroll is a leader in the music program, serving as this year's Band President, a percussion section leader, and in the Talent Show Committee for the past two years.
"That's how I get involved with music — I try a bunch of different things and I really like it and I keep doing more and more," said Carroll. 
While drumming may be where Carroll's expertise shines the most, they've also showcased their musicianship through LFHS's musical productions. As a child, Carroll performed in musicals, which led her to play Specs in Newsies and Dr. Bennett in Big Fish. 
However, Carroll's struggle with vocal nodules, which injured and strained her voice, prevented them from performing on stage in this year's musical Big Fish. Unable to sing for weeks, Carroll pivoted and focused their time as a keyboardist for the musical pit orchestra. 
Resendiz says one of Carroll's unique traits as a musician is their consistently optimistic attitude at lessons and rehearsals.
"Even if she's dealing with illness or any difficulties life can throw at you, I can't remember even one time when she let it bring her down at all," said Resendiz. 
Outside of their musical pursuits at LFHS and SoR, Carroll performs in multiple bands — most often with fellow seniors Adler Hermann and Jack Taylor. Verdant, the band the three of them formed in their freshman year, plays a wide-range of genres, featuring Stevie Wonder, Jeff Buckley, and The Beatles in their repertoire. 
"I feel like the drums are the foundation of any band, and Ciara's such a solid player that it makes me feel very comfortable playing," said Taylor, who sings vocals and plays keys for Verdant. 
Taylor also says that Carroll's "goofy and unique" personality has helped the band have fun performing, whether at CROYA's Battle of the Bands or simply at neighborhood block parties. 
"As a musician, you can fall into a trap of taking yourself too seriously, but Ciara is so funny and silly all the time," said Taylor. "When I play with Ciara I feel so locked in, and I get into that zone — there's not many people I can say that about."
Both Resendiz and Kessler agree that Carroll's high-level drumming is accompanied with her strong leadership skills. 
"Just a few weeks ago, I overheard a younger student in one of our bands remark at how amazing it is to watch Ciara perform on so many different instruments, and with such confidence and authority no less," said Resendiz.
As Band President and a TA for a freshmen percussion class, Carroll proves themselves to be a role model for younger musicians. 
"She's grown so much over these past four years, both musically and as a person. It makes me so happy to see how she's been able to take her passion for music and make it into her refuge throughout high school," Kessler said. 
Being a female musician makes their accomplishments even more impressive, Kessler said.
"The music industry, especially instrumental music, is totally male-dominated, and I think it's great to see a female drummer who is confident and strong. She's going to probably face some discrimination trying to make it in the music world," said Kessler. "She's got the strength of character and the skills to be successful — I think she's a really strong role model for other young women."
Carroll also credits music with helping them as an emotional and creative outlet. Besides playing famous pieces and classic covers, Carroll writes their own music and is currently taking the songwriting and composition class here at LFHS. 
"Music is the best method of expressing myself. I never really talked about how I felt as a kid so I used music," said Carroll. "With the drums, you can just kind of beat them… It's good emotional relief!"
Additionally, Carroll said their passion for music encouraged them to navigate their way through high school and even beyond.
"Being super involved with music has helped me be authentic and just follow what I want to do. No one encouraged me to do music post-high school, it was my own decision," said Carroll. "It's not like I had to think about doing music after high school… Why wouldn't I go into it?"
After graduating this year, Carroll plans to attend Berklee College of Music as a drum set performance major. While their commitment to pursue music after high school is impressive in of itself, Carroll received a full-tuition scholarship to continue their music education. 
"Berklee was always my dream school, since I was 13 and got back into drumming," Carroll said. "I always thought, 'How can I do this forever?'"
While Carroll will major in drum set performance at Berklee, they also plan to minor in music production, hoping to pursue video game or movie scoring as a career. Additionally, they hope to channel their musical creativity in the future as a touring and studio-recording musician. 
Carroll said the sole focus on music at Berklee in comparison to traditional institutions will give them more room to grow as a musician. Following a successful and busy high school career, they're most looking forward to the change in environment from Lake Forest to Boston. 
"It's gonna be really cool to be at a school where everyone has the common interest of music — it's not just something special I do," said Carroll. "I'm not constraining myself by labeling myself doing music as different, it will just be like what I'm totally working on."