TFS Coach of the Year: Mrs. Catherine Catanzaro
In a year filled with unforgettable victories, game-winning shots, body-breaking competitions, and more, one coach stood above it all. 
Mrs. Catherine Catanzaro, affectionately known as 'Coach Cat' by the likes of quiet freshmen all the way up to college bound lacrosse and field hockey players, is this year's TFS Coach of the Year.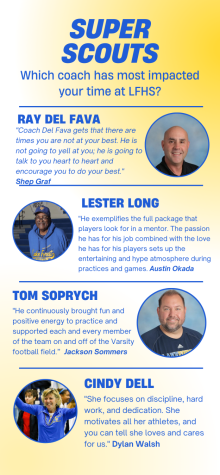 Coach Cat, known for her booming voice, compassionate nature, and above all, her competitive spirit, has been teaching at LFHS since 2014. She coaches girl's varsity lacrosse and varsity field hockey.
In April, she was named the 2021-22 IHSA Girls Lacrosse Coach of the Year. This year's team (14-5)  is winning again, winning a Sectional title this week.
Catanzaro instills in her athletes the themes of discipline, intensity, and competitiveness, her students and athletes say.
"Coach Cat is amazing," says freshman field hockey and lacrosse player Ellie Carter. "She knows how to motivate us and make us believe in ourselves. She always tells us to 'play your game' and that helps push us to be the best that we can be,".
Her expertise in both lacrosse and field hockey has been instrumental in the success of her teams. She consistently identifies the strengths and weaknesses of each athlete and creates game plans that play to each athlete's strengths. Her ability to adjust her strategy on the fly has been key in several games across both seasons.
The coach's pre-game pep talks and personalized motivational quotes and stories have become legendary among the players. Whether it's a simple reminder to play with heart or a story of triumph over adversity, Cat knows just what to say to fire up his team. 
"Coach Cat gives the BEST pep talks before games. We all sit and listen to her while she tells stories and gets us motivated before games. She also writes us all little motivational notes and stories and gives each of us one before games. She is good at building energy and motivating all of us," junior Chloe York said. 
Catanzaro brings the same competitiveness, intensity, and discipline to the classroom, sometimes promising extra credit to winning teams in her wellness classes. 
"It's pretty funny. She is so competitive about everything. She LOVES to win," freshman Alvaro Reverter said. 
Her words have instilled confidence in her players and inspired them to push past their limits on the field. It's clear that Cat's dedication to his team extends far beyond just the Xs and O's of the game.
"These past two years Cat has been there for me through thick and thin, supporting me and all of her players through what life has to throw at them. This past year I was faced with a season-ending injury. Even though I was no longer able to contribute on the field, Cat was there to continue to push me forwards, cheering me on through physical therapy, and every small thing I would accomplish," senior Field Hockey player Vivi Gramza said.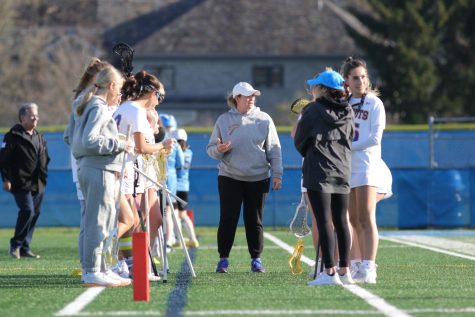 The nominations for both NFHS Sectional Coach of the Year and Illinois High School State Girls Lacrosse Coach of the Year are well-deserved honors for Cat. Her athletes credit her for their success and appreciate the unwavering support she provides both on and off the field.
After earning third place in her last three appearances, Cat expressed gratitude for her team as well as the athletes.
"We hadn't been downstate in a long time. New Trier and Hinsdale have been going for years, but it's been a while since we were down there. It was nice to get down there and prove that we belonged there," Cat said. 
But with three third-place semifinal finishes in a row, Cat is hungry for a title. "I am SO over third place now,"she said.