Prom 2023 Best Dressed List
It's the moment we have all been waiting for: Prom best dressed. 
Although the dance is super fun with the live band and the dancing, my favorite part of prom is seeing all the different looks everyone puts together. It was very hard to narrow down our favorite looks, but these people definitely wore something unique.\
Seniors:
Pride Haggerty wore a stunning dress from a small boutique at Ole Miss, Jane. The bright pink complimented Pride's hair so beautifully. The accents of the bow-ties gave such a pop of difference to the dress and made her stand out from others. To tie the bows and white a little more into the look, Pride wore these super cute heels from Vetaste. This dress is definitely one of my favorites that Pride has ever worn, I think it really fits her style and the bubbly personality she has.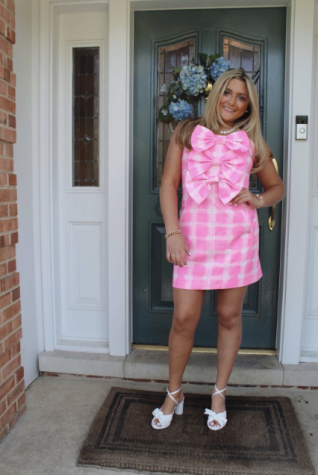 Annie Swift perfectly pulled off this summery-floral styled dress. The puffy shoulders and gorgeous finish of the hand gloves made her dress stunning. This dress was just so her, and I didn't see another dress like it the whole night. I was blown away. The dress was purchased from For Love and Lemons. Annie chose this dress because she wanted something fun.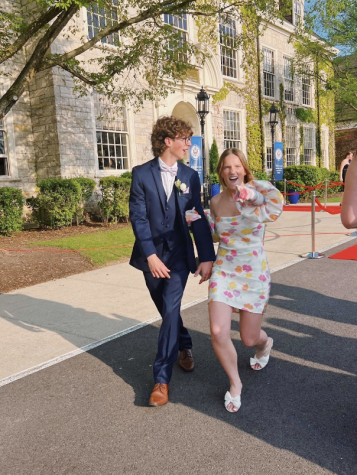 I am not the least surprised Paige Tomek killed the red carpet wearing this beautiful pink dress from Revolve and matched it with some sparkle heels to spice up the look from Sam Edelman. The strapless dress with the gorgeous tie detail gave such an elegant look. Paige rocks pink. Everyone can agree she looked amazing and dressed to impress. Paige knew she wanted a simple but unique dress that she would be able to wear again. When she saw the dress she fell in love and I think it's safe to say many others did as well.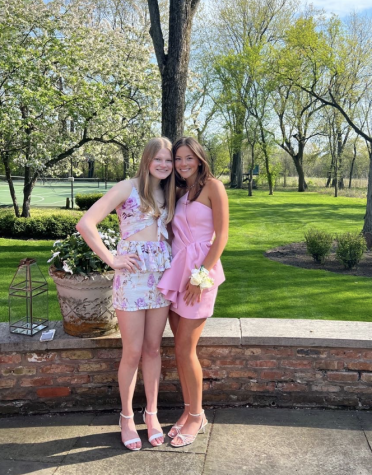 Luca Ferraioli was glowing as always, this time in her strapless white ruffle dress. Luca wore this dress from C/meo Collective. It had the most beautiful ruffles and a black bow tie accenting the dress. One of my favorite parts of her dress was the gorgeous black detail lining the ruffles. It gave such a classy but elegant look. Bringing the black into the look a little more, she paired it with shoes from Sam Edelman. Luca pulled off this dress like nobody's business. The look was inspired by Leighton Marissa Meester(Blair Waldorf) in Gossip Girl.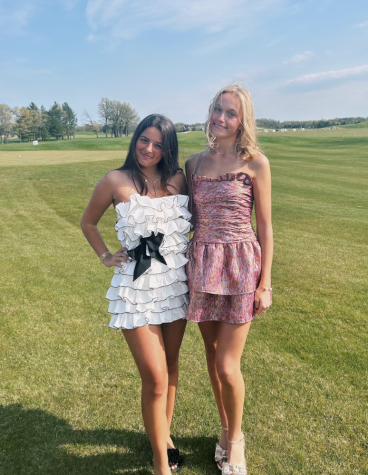 Right off the bat, I knew Posy Connery would have one of my favorite dresses. The talk of the night was Posy. Everywhere I turned, people were talking about her gorgeous look. She wanted something unique for her last school dance and a classic and timeless dress. The gold color was absolutely gorgeous, and the mix with the dress's sequins really made her sparkle. This tight strapless top with a bottom flare out  was a perfect fit. This stunning dress was purchased from Bronx and Branco.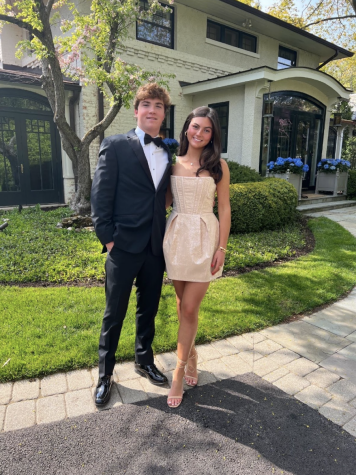 If you think we forgot, of course, we couldn't leave out the men in pink. One of my favorite looks this year was the men in pink. They pulled off the pink like no other at prom. They wanted to wow the crowd and make a statement together.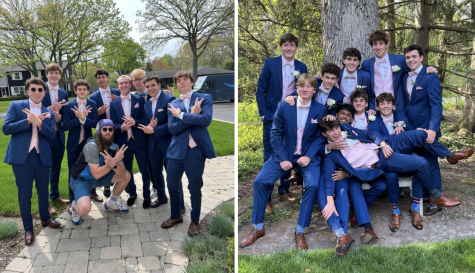 Juniors:
Starting off strong for the juniors, Taylor Rode stole the show in this beautiful emerald green dress. All night I heard murmurs about how elegant her look was. Her simply stunning gown is from Lovers and Friends, and can we all agree that the color is EVERYTHING?! Not to mention the stylish and tiring that made the dress just so unique and classy. Rode paired this stunning gown with all gold accessories, including a gorgeous gold Loeffler Randall clutch, and strappy gold heels, a perfectly subtle touch to complete her look. In my opinion,  Rode looked like she just stepped off a red carpet, and I'm not talking about the one here at LFHS. Rode does not disappoint when it comes to school dances.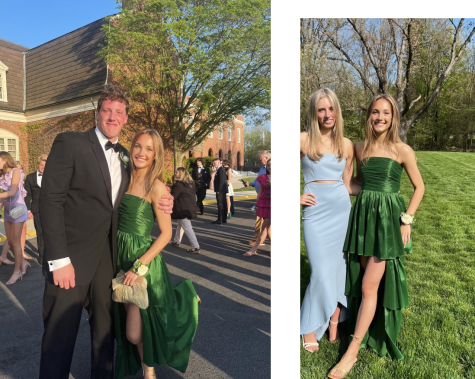 Alexandra Mower ordered this stunning, lacey, lilac gown as soon as she laid her eyes on it, and if it wasn't obvious enough, she did not disappoint us. It was an absolute show-stopper! The color and unique corset style made it look like the dress was practically made for her! She paired the beautiful gown with simple white heels and stunning gold jewelry that perfectly complimented her look. Thank you, Alexandra, for showing us how to balance class with cuteness perfectly.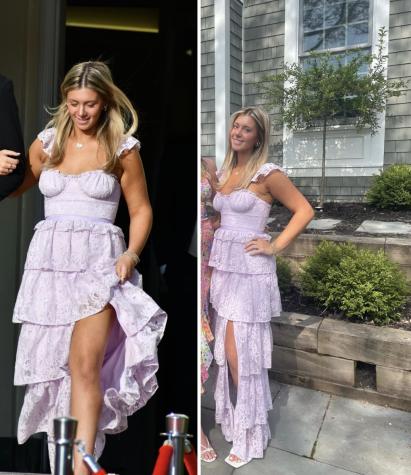 Best friends matching at prom? What could be better? This junior duo, Ashton Peterson (left) and Grace Boyle (right), absolutely rocked the red carpet in their matching gowns. On their own, these dresses are simply stunning, but together?! They looked absolutely amazing. Both gowns are from A.L.C, the pleads of the dress make it simile stunning, and those colors are jaw-droppingly gorgeous. We can all agree that Peterson and Boyle showed us that best friends do it best.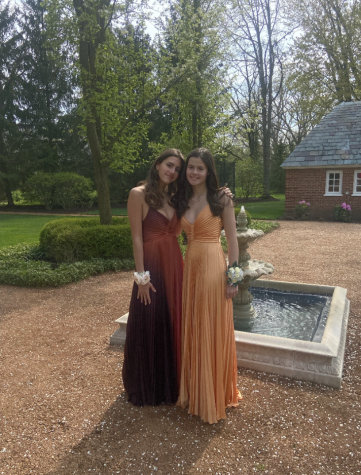 Jaw-Dropping. Junior Hayden Shortsle truly stood out as the night's shining star, absolutely rocking the red carpet with his all-silver look, accented with all silver accessories. The silver sequin cape and the entire look were inspired by the BeeGees album cover from Saturday Night Fever, A.K.A 70's disco. Shortstle wore the cape as no one else could. What a power move! No one does groovy disco like Shortsle, and his look was truly one of a kind.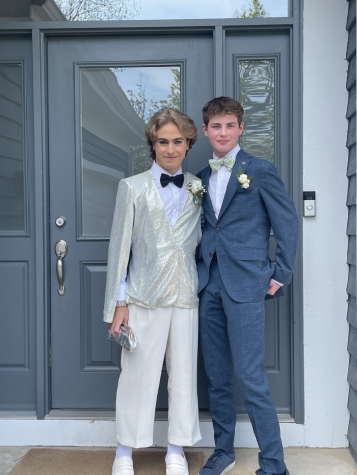 Did someone say starry night?! Persephone Villanueva was the show's star with her hand-painted gown. Yes! You read that right: Hand painted! Everything about the gown is extravagant and purely amazing; it looks like it was painted by Van Gogh himself. I was blown away. The painting is perfectly accented with crystals in star formations, it's hard to believe that one person could have this much talent, but here we are! This design is EVERYTHING, and to top it all off, Villanueva matched her hair perfectly to the starry night. Unique and breathtaking, this looked to check all the boxes. With talent like this, I can't wait to see what Villanueva does in the future. Two words. Show. Stopping.