TFS Male Athlete of the Year: Asa Thomas
IBCA First Team All-State. Chicago Sun-Times First Team All-State. North Suburban Conference Player of the Year. Chicago Sun-Times First Team All-Area. Under Armour Association – No. 1 in Scoring Efficiency. Finishing high school second in career points in LFHS history, shooting guard Asa Thomas has proven his athletic ability, but above all the awards and titles, what makes Thomas Athlete of the Year is his commitment to teamwork. 
"I have always enjoyed the teamwork aspect of the game. People on the outside see certain individuals stand out, but they sometimes don't understand the fact that all five guys out on the court have to do their jobs to contribute to the success of the team," said Thomas. "It is very fun to set goals, work hard for it as a group, and feel the satisfaction of the hard work paying off in the end."
Thomas began playing basketball when his parents got him a Little Tikes basketball hoop as a child. From there, he played throughout elementary and middle school before joining the LFHS varsity team as a freshman.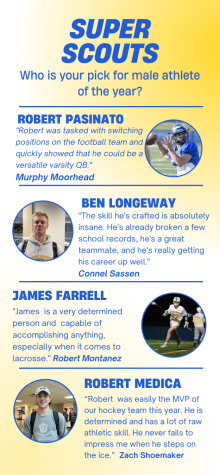 However, even before coming to high school, Thomas was on the program's radar.
"I remember Coach LaScala talking about Asa when he was in 6th grade and how good he was at basketball and how good he was going to be in high school," said LFHS Varsity Golf Coach Jim Matheson. 
Thomas lived up to his reputation. With 80 career wins at the schools, Thomas made huge contributions to LFHS basketball. He had 295 career three-point field goals (1st All Time) and 98 three-point field goals made in a single season (1st All-Time).
"I have grown immensely as an athlete at LFHS. The coaches that I have had put in so much time to not only myself but also each player they have to help grow us as athletes. The resources here have put me in a successful position for which I am forever grateful," said Thomas.
As one of the varsity captains in his sophomore, junior, and senior years, Thomas proved his ability to be not only a great teammate but also a leader on and off the court.
"Asa is a very positive person who cares about his teammates.  He was a great communicator, which really assisted his leadership skills," said LFHS Varsity Basketball Coach Phil LaScala.  
Besides the records he has set, one of Thomas' greatest strengths is his ability to stay humble and keep his priorities on being a good teammate and person. 
"There are so many athletes today that choose to become arrogant and self-centered once they begin having success at a high level," said Matheson. "Well, Asa is the opposite of that trend. He is thankful for the gifts that he has, and as for me, I can't wait to watch him play basketball for the next several years, and I will always be one of his biggest fans."
Thomas' teammates have high respect for his balance of humility and guidance as a top-tier player.
"Asa pushed me every day to be better and work on offense. He taught me all the plays and pushed me," said basketball teammate senior Jocum Schabacker. "He was also a great friend and made the team a positive environment."
Outside of LFHS basketball, Thomas played for the Illinois Wolves, one of the top AAU teams in the state. He also was on the JV golf team his freshman year and returned to golf playing for the varsity team as a captain this past fall.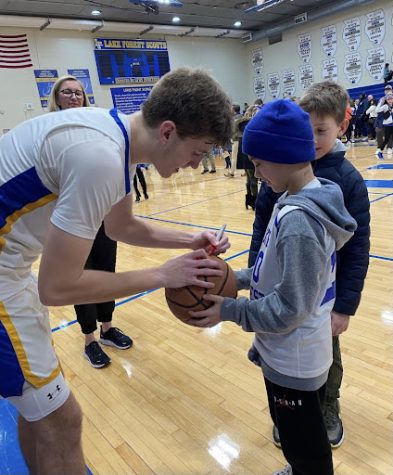 At the 2022 IHSA Golf State Finals, Thomas shot a two-day total of 160 landing him 40th in the state and contributing to the fourth-place finish for the team. He finished with the 3rd lowest scoring average on the team, which is a testament to his athletic ability. 
"Asa came back to playing golf this year and immediately made a huge impact on the team," said varsity golf co-captain junior Tadgh Burke. "He was always someone that everyone could count on and rely on to play well, but he was also a great leader. He was always super positive and had a great time with whoever he was playing with."
After receiving several D1 basketball offers from schools, including Wisconsin, Illinois, Iowa, and Marquette, Thomas decided to continue his basketball career at Clemson University.
"It is going to be fun to learn and grow my game from a different coaching staff as well as my new teammates," said Thomas. "It is going to be an amazing experience to play in all the amazing venues that I have watched growing up and fulfill the dream of playing college basketball that I have had for a while now."