TFS Female Athlete of the Year: Lainey O'Neil
A lot of people find their passion in high school, or even later in life, but senior Lainey O'Neil has been pursuing hers since she was just five years old.
As a child, O'Neil grew up playing a variety  of sports but as she got older the time came when she had to decide which sport she truly wanted to focus on. For O'Neil, tennis is a family tradition, as over the years her whole family has been able to participate in the sport.
"My mom played tennis in high school so she got my sister and I involved in tennis," O'Neil said.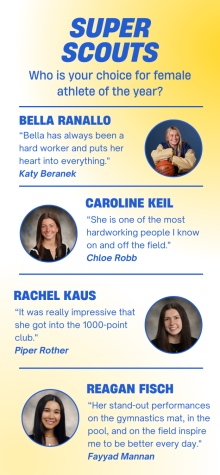 As O'Neil became more involved with tennis, she  expanded into playing doubles instead of only singles.
"I've been playing singles a lot longer than I've been playing doubles. But I like doubles more; it's a lot more fun," O'Neil said. "When you have someone with you, it lightens the mood. You can have more fun, instead of worrying about yourself since it can be lonely at times."
Throughout both singles and doubles, O'Neil has expanded her athletic skills, learning how to excel in both competitive scenarios.
"For singles I really like having independence on the court. Not having to rely on anyone else and having to take ownership. But with doubles I love being on a team. You get a little of both, being independent but also having a partner or teammate," O'Neil said. 
Denise Murphy has known O'Neil since she was a young child  "aspiring to be a Scout one day," Murphy said. As the Varsity coach, Murphy has worked closely with O'Neil for four years. 
"It has been inspiring to watch her tennis improve dramatically, her belief in herself grow and her determination remain unwavering," Murphy said. 
O'Neil and her doubles partner, junior Isabelle Chong, won State two years in a row. O'Neil will play at Richmond University in the fall. 
"I don't even know how to describe it because it's like all of your hard work pays off," O'Neil said. 
O'Neil and Chong have been working as partners for three years, but before their doubles team began they played each other in tournaments. 
"She has developed a lot as a player. She got so much better at doubles and has improved a lot," Chong said. 
The road to State was not a simple task. It required a lot of time on the court, teamwork , and overcoming obstacles. After working countless hours in preparation for State, O'Neil and Chong saw all of their work pay off with a big win.
"Trusting in the process and believing everyday is an opportunity to get one step closer to reaching her goal and the team goal. She did just that," Murphy said.
O'Neil and Chong have to rely on one another on and off the court to make it work. 
"We see each other a lot outside of school, and we both complement each other really well with her at the net and me at the baselineI set her up to finish the point," Chong said.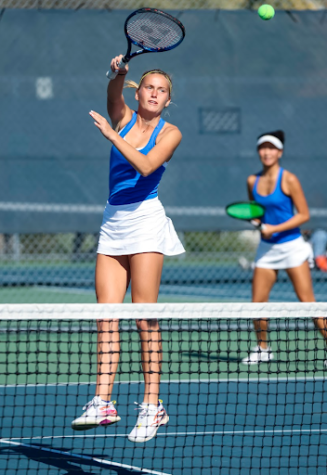 Over three years, O'Neil and Chong have watched each other develop as players. 
"It was really cool to see how much we've grown as a doubles pair since we started, and winning two State Championships is like the coolest thing ever," O'Neil said.
Off the court, the team spends time getting to know one another beyond tennis. A good team dynamic is one aspect that can help lead to success. 
 "I'd say that's honestly one of my favorite things about playing high school tennis, all the fun things we do off the court," O'Neil said.
Over the years of playing tennis, O'Neil has gained valuable life lessons. One of the many things it did was "teach me how to be disciplined," she said. 
Tennis has helped O'Neil to become the hardworking, dedicated person she is today.
"I'd say I shape a lot of my morals around what tennis has taught me when it comes to consistency. Going to practice every day, working on specific things, making short term goals to then accomplish a long term goal," O'Neil said.