Beyond the Uniform: Getting to Know the School Security Staff
The LFHS security staff is a dedicated team of security professionals who work to ensure the safety and security of each student and staff member. However, their roles extend far beyond the uniforms they wear. The security staff form relationships with the student body, attend school games and dances, and are friendly faces in the school hallways you can always count on to brighten your day.

Lane Linder: Director of Building Operations and Safety and Security 
Lane Linder worked for 22 years as a Park Forest police officer, eventually retiring as a commander. Linder grew up in Homewood, IL and went to Governors State University. He also attended classes at University of Illinois and Northwestern. Linder has been working at LFHS for five years. He married his high school sweetheart and has a son and a daughter, as well as three grandchildren. His goal when hired by LFHS was to make the high school a model for safety and security-not just for the North Shore but for the entire country. On the daily, he focuses on making sure the school is using the best practices to keep students and staff members safe. In addition, he manages school events and activities like dances and athletic events. His best memory working at the school was when a bunch of students started chanting his name and cheering for him at the basketball game. It was at that moment that he realized he had made a connection with the students, who he says are his favorite part of the job. Apart from his job, Linder enjoys riding motorcycles, fishing, and spending time with family.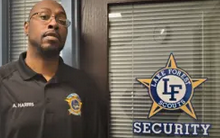 Antwaun Burse-Harris: Security Guard
Burse-Harris grew up in North Chicago, where he played football, and even remembers playing Lake Forest. His father played football in college and was even drafted to the Buffalo Bills, although he never played as a result of blackouts. Following in his grandma and dad's footsteps, Burse-Harris began working in mental health, where he dealt with at-risk adolescents, but ended up at Lake Forest after….. His favorite part about working at LFHS is watching the sporting events. As a former athlete who played football, basketball, and volleyball in high school, he can easily relate to the athletes work ethic and dedication. On a typical day Burse-Harris can be seen having lively conversations with students in the hallway and making sure the perimeter is secure. In his spare time, he enjoys playing video games, attending sporting events, and traveling. A dream day for him would be watching a great playoff game. Burse-Harris' best advice to teenagers is to "get out of the bubble, open up to what the real world is like, and learn how to deal with money."

Dwight Davis: Security Officer
Dwight Davis retired from his position as commander of the Lake Forest Police Department last September and has been working as a security officer at LFHS for just under nine months. Davis grew up in Arkansas and went on to become a Navy Corpsman (medic), serving for five years in the Armed Forces before he joined the LFPD in 1995. Davis is married, has two daughters, and enjoys kickboxing and working out. He has a black belt in judo, which he has practiced for over 20 years. In addition to exercise, Davis also enjoys playing poker and even came in second place in a Las Vegas poker tournament. He coached highschool football for ten years and plans to continue coaching football in the future. Davis' favorite part of his job is the daily interactions he has with the students and getting to know them. His best advice for high schoolers is, "Learn how to be a critical thinker, and be able to think through problems and make decisions."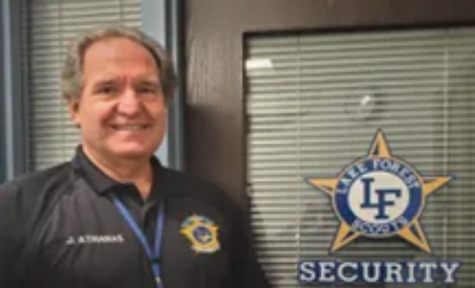 Jim Athanas: Security Officer
Jim Athanas has been working at LFHS for seven years after he retired from the LFPD 14 years ago as a patrol officer. Athanas has three daughters and enjoys working at the high school because it allows him to interact with the youth and because "the students are so polite." His favorite memories working at the high school are graduation days because he sees familiar faces going off to college and looks forward to meeting the incoming group of students. In his spare time he takes part in a golf league, collects memorabilia, and he used to be an avid bowler. A dream day for Athanas is any day where there is sunshine. His best advice to high school students is "be aware of your surroundings, pay attention, [because] anything can happen at any time."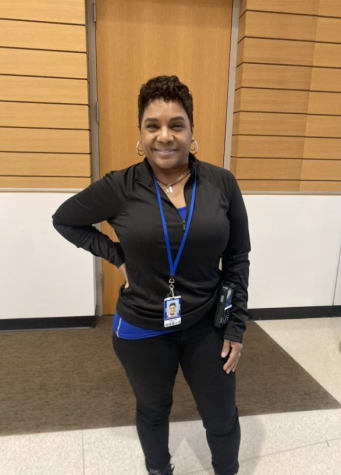 Angela Hill: Security Guard
Angela Hill grew up in Chicago, graduating from Whitney Young High School. She is the youngest of 12 siblings and the only one whose name doesn't start with the letter J. Hill has been working at LFHS since November and previously held employment at a police department, as well as other local area schools including Warren, Stevenson, and New Trier. Hill is known around the school for her uplifting, friendly attitude, as she can be seen cheerfully greeting students everyday. Outside of her security job, Hill and her husband teach dance lessons for their company, "Dress Up and Dance."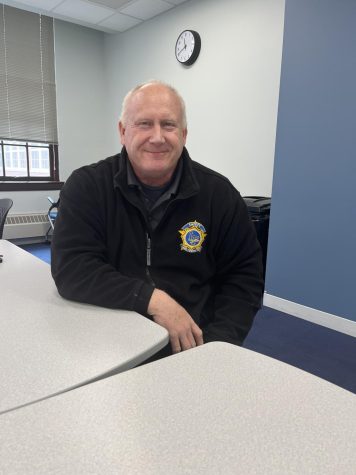 Bob Lonergan: Security Officer
Bob Lonergan has been working at LFHS for four years. He attended Harper College and Winona State University of Minnesota, and he further received his master's in organizational leadership from Dominican University. Lonergan grew up in Arlington Heights and worked as a police officer in Vernon Hills for 30 years, retiring in the Detective Bureau. He is married, has two sons and a daughter, and enjoys the positive environment of the school. His favorite part of the job is interacting with the kids, and his favorite memories working at the high school are the annual homecoming festivities and when the football team makes the playoffs. Longergan enjoys watching football, biking, working out, and hanging out with his grandchildren. His best advice to students is, "Follow your heart, and listen to your mom and dad."

Mark Long: School Resource Officer
Long grew up in Round Lake and went on to play as a wide receiver for Carthage College. After graduating college he began working for the LFPD, where he has now worked for fourteen years. As SRO, Officer Long is the liaison between the school and police department, and assists the Deans with criminal cases. Officer Long and his wife, Monica, have an eight year old son and three year old daughter. His favorite part of the job is creating relationships with "all sorts of students for all different reasons." His best moments working at the school are standing in front of the student body during football and basketball games and watching "the passion students have when cheering for their friends." Outside of work, Long coaches baseball and football for his son and spends time with his family. His best advice for teenagers is, "Be open and honest with your parents; at this point, you may think you know everything, but your parents have a lot more wisdom."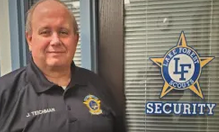 John Teichman: Department Assistant for Security
Teichman has been working at LFHS for ten years. He can be seen everyday greeting visitors at the front desk in the security office. He grew up in Libertyville and throughout his childhood he worked as a child actor and later attended Illinois State for college. His favorite part of working at LFHS is watching the annual ELS basketball game and watching the physics boat races. Teichman owns several businesses and goes fishing frequently. A dream day for him is a quiet day free of problems. His advice to high schoolers is, "Stay in school, enjoy it, and learn as much as you can."