Girls badminton season update
The Girl's Varsity Badminton has led a strong season so far with a record of 25 wins, 7 losses and 3 ties. This past weekend, the team won their third tournament and is planning on many more victories ahead. 
With eighteen girls on this year's team, they have been able to use strong team chemistry to achieve these results so far.
Twin sisters and senior captains, Via and Faith Conopeotis, want to help guide the players to bring home a trophy from state. 
"Faith and Via do a great job giving pep talks before matches and tournaments and hyping the team up for competition,"  said junior teammate Allie Hektor. 
One of the biggest goals for the team is to have more people competing at this year's state. "My goal for the rest of the season is to do well at conference and sectionals and therefore place high at state," said Faith Conopeotis.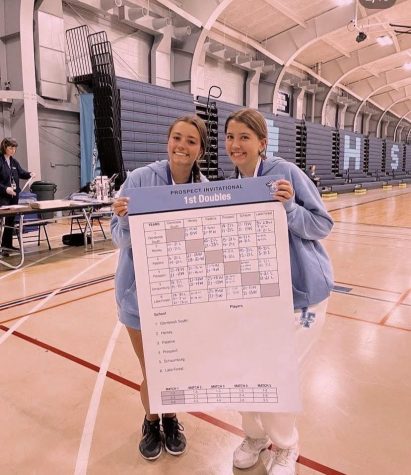 Both twins decided to join the team for fun during their freshman year at LFHS and began on the junior varsity team. Due to Covid, the twins, unfortunately, didn't get to have a season. The following year, both girls made the Varsity team as sophomores.
When the twins decided to be captains senior year, they made sure to create a non-stressful environment for the team, in order for every member to succeed and try their best while still having fun.  
"We've had some outstanding and supportive leadership from our captains Faith and Via Conopeotis. They are our number-one doubles team and are looking to qualify for the state tournament for their third consecutive year," said coach Nicole Frye.
With conference coming up Friday, Via shares one of her goals for the rest of the season is that she wants "multiple people qualify for state." 
The past two years, it has only been Faith and Via playing at the state championship, so they hope to see more members as it will make their state experience "more fun and representative" because they will all get to be together. 
Not only do the captains think this goal is manageable, but so do lots of the other girls on the team. 
So far, Stevenson has been Lake Forest's biggest rival. Stevenson earned the title of state champion last year for Girl's Badminton. Their team is known for taking the win at their Illinois dual meets.
Lake Forest played Stevenson earlier this season but took a tough loss. Luckily, the girls do not let any loss get in their heads and bounce right back.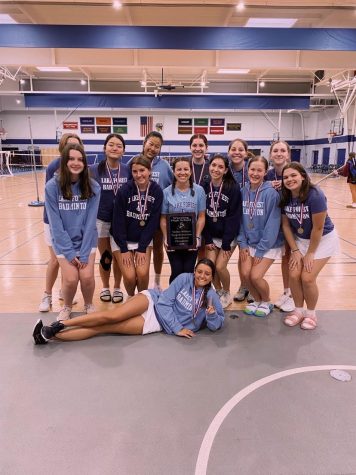 "Coach Frye's pep talks and post-game talks always help the team to bounce back when we lose. During a match, she tells us to 'reset after every point', and 'reset after every game'," said player Allie Hektor. "Just because you lost the first game, or your opponent scored the first point, doesn't mean it's over yet at all."
Even though they have had tough competition this season, Frye "always keeps us positive and reminds us that we can come back from losses." 
"The girls' badminton team has had an outstanding season. Overall, we have a winning record with notable first-place finishes at the Wheeling Invitational and Highland Park Birdie Bash," said Frye. "We are a young team with many of our players competing on varsity for the first time."
The long-standing rivalry between Lake Forest and Libertyville continues on the badminton court. Both teams always have very close matches but Captain Faith says that they "normally take the W." 
As the season comes closer to an end, the team agrees on achieving many goals. Hektor shares her target for the year and how she believes the team has conquered it.
 "I think I can speak for the team when I say that we all wanted to grow closer and create team chemistry, and that's what we did. As for competition goals, we are well on the way to doing very well this season, and we have proved ourselves thus far," said Hektor.