"He is the Sage"
After three decades, the school's go to source for ancient history, chess, Latin, and life is retiring
Some people seem to have a calling. They find something they're interested in and take it to a place that benefits not only themselves, but those around them. 
Mr. Philip Woodruff found his calling in the world of teaching. 
Not only has he dedicated over three decades to enhancing his education on ancient literature and Greco-Roman history, but he has been passionately sharing his knowledge with students, helping them to find as much love in the subjects as he does.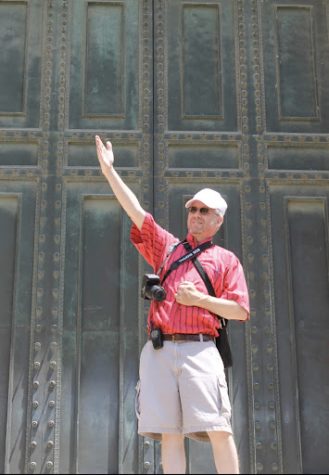 "He'll have this way of putting the world into perspective and you just kind of sit back in awe," said Latin teacher Mrs. Ariel Landvick. "He can give a 15-minute talk about a quote from The Iliad to 'always be the best.' And it's not always 'be the best' to win, but to always be the best version of you. And I think that's how he lives, to always be the best version of himself. And it's so poetic, but it's Mr. Woodruff!"
Despite teaching for 32 years, Woodruff says he still finds optimism and hope when working with teenagers.
"As we look at the world around, there can be a lot of unsettling things that happen, and yet what I see in the spirit of a lot of teenagers is a positive spirit, which is something that gives me a lot of hope," he said, reflecting on his takeaways from teaching as his retirement approaches.
Woodruff has made a name for himself here as one of the "smartest guys in the school," says Landvick, who has worked closely alongside Woodruff since he hired her 27 years ago. 
"What's wonderful about him is he has that calmness. His vocabulary is so elevated, but he doesn't talk down to you," she said. " There isn't a person in this building who doesn't respect his knowledge, his kind, respectful ways. He is the sage." 
This wise manner of Woodruff's may come in part because of his work prior to LFHS. When getting his master's degree in Greek, Woodruff taught at an all-boys private Catholic school, where he explored not only teaching but pastoral methods of analyzing text. His interest with ancient histories and literature are something he's worked to pass on to his students, as well.
"
There's just something about him that students love. He's so genuine and funny."
— Mrs. Landvick
"It's not that all of the information from Greek literary history is going to make or break anything; it's that it helps make connections to see the wonderful indebtedness that our culture has to the ancient world. Almost everything is indebted to the ancient world," Woodruff said. "I just think it's really fascinating to see that who we are is standing on the shoulders of other people."
And although he "promotes ideas," Woodruff also has an authentic demeanor that seems to enrapture his students and coworkers, senior Luca Hergan said. 
"There's just something about him that students love. He's so genuine and funny, he's the best punster there is! But he's so erudite that you can't even understand his references and jokes sometimes because they're so smart," Landvick said.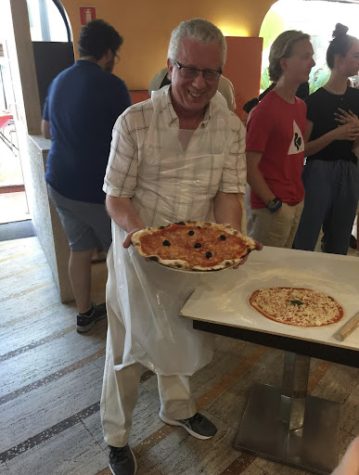 AP Latin senior John Turelli recalls his time in Woodruff's classes with admiration. 
"He was not only a thorough teacher, but had a sense of humor that always put some light into my mornings. I always left his class feeling better than when I walked in," he said.
Woodruff not only shows this genuine nature in his profession, but in his everyday life as well. Landvick describes that since Woodruff hired her, they have been "thick-as-thieves colleagues." 
They've watched each other's children grow up and have celebrated each other's successes and accomplishments. Woodruff even helped Mr. Chris Landvick, an LFHS wellness teacher, propose to Mrs. Landvick in Latin. 
"He's definitely been there for all the big moments," says Chris Landvick. "I think that everyone has such good feelings about him because he really is one of the best people around."
And although they live near each other and see each other a lot, he says he can't imagine working without Woodruff by her side for the next two years. 
"He's just always the guy that you go to and you know that what he's saying is true and correct and comes from a good place," she says. "My entire professional life here is intertwined with his, and he's a friend, he's a mentor, he's like a father, and he's everybody's guide. They don't make them like Mr. Woodruff anymore."