Recent stretch of summer-like weather a nice surprise, yet a reminder of global warming's local effects
This past week, the temperature peaked above 70 degrees fahrenheit for six consecutive days —a sharp increase from the Chicago April average of 49.7 degrees fahrenheit. Chicago even set a record for the highest temperature ever recorded on April 13 when a thermometer reading 83 degrees was confirmed at O'Hare International Airport. 
While last week's summer-like, record breaking temperatures were a pleasant change from the typically cold Chicago Aprils, they also serve as a persistent reminder that global warming is in fact affecting our community. 
Higher temperatures have been a consistent trend in the Chicago-area this winter, which has been the 7th-warmest winter in Chicago history, according to the National Weather Service. Chicago also saw a mere 16.6 inches of snow this winter, 21.8 inches less than the past 30-year average of 38.4 inches.
This warming weather is not going anywhere. Since 1970, average winter temperatures in Chicago have increased by 3.2 degrees fahrenheit, and winter was recently declared the fastest-warming season in Chicago. Simply put, the soaring temperatures seen last week are not a coincidence. These toasty temperatures are only getting more severe as the years pass, direct evidence of how global warming is affecting local weather patterns for the worse. 
Beyond the warming temperatures, the Chicago-area has experienced a handful of concerning extreme weather events as of recent. Just a week and a half prior to last week's preview of summer, Lake Forest came across major storms that were accompanied by golf-ball sized hail. The hail coverage was so severe that many residents' yards appeared to be covered in snow: some reported that the hail even dented their cars.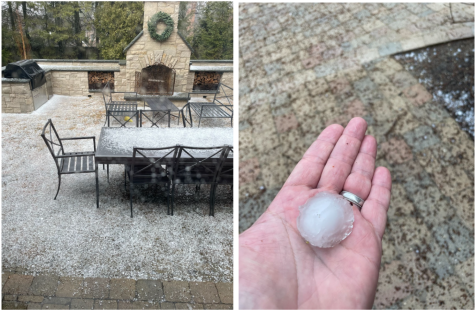 That very same week, 32 people were killed as a group of deadly tornadoes whipped across the midwest, four of those people being from Illinois. Unfortunately, this is just the beginning of these destructive storms, as the Environmental Protection Agency warns that significant weather events such as these are likely to become more numerous and frequent as a result of human-caused climate change. 
Although tornadoes rarely affect Lake Forest given its proximity to the lake, these unusually destructive tornadoes should serve as a warning that climate change is a serious threat to our community, and more significantly, our world.
While enjoying a day on the beach or a nice walk through the neighborhood during these unusually sunny days, it is necessary to remember that these pleasant temperatures are not all sunshine and rainbows, quite literally. In fact, this warm stretch, accompanied by other strange weather events, are scary proof of the severity of climate change and global warming in the present day.
Although human-induced climate change has already reached a point of irreversibility, it is still up to our generation to prevent climate change from becoming fatal to the planet. As Earth day approaches, it is more important than ever to be an eco-friendly citizen and engage in activities to help the future of our planet. So, the next time you take a walk in these soaring temperatures or read a book to the sound of intense thunder, remember that these ever-changing weather conditions around us are a looming reminder of the effects that climate change is having on our community, and our planet.