Nancy Micksch set to retire after 22 years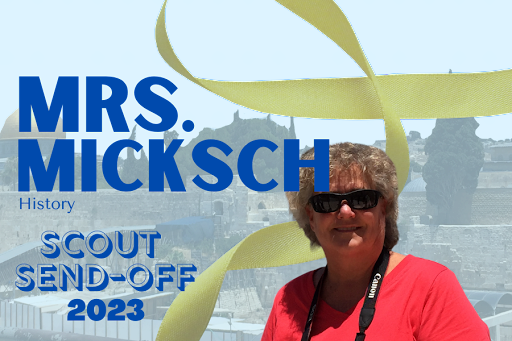 Sometimes you never know where life will take you, and that's exactly how Mrs. Nancy Micksch became a teacher. She needed something that worked with having a big family and a busy schedule. 
Although when she was younger she didn't envision becoming a teacher, she found her passion when she started teaching. 
"She is someone who is very passionate about this job," Social Studies Department Head Mr. Stephen Dunn said. "[Micksch] truly loves history; she's curious about the world around her."
After having a variety of jobs, then staying home with her kids, she got her first teaching job at LFHS in 2001. 
Over the course of her 22 years of teaching, Micksch has taught Economics, Non Western World, Modern Global Issues, African American Studies, World Civ 1 (Honors and Regular), and US History. 
One of the things she has noticed that has changed the most is the amount of technology the schools now have. 
"The Social Studies Department had three computers when I started," Mrs. Micksch said. 
But what Mrs. Micksch will remember the most is her students. She mentioned she has had "a lot of great students" who have taught her many things. 
Being surrounded by teenagers helps Micksch relive her teenage years and remember what it was like to be a freshman in high school. She gets to hear about issues that only really matter in high school and fondly reminisces about her days when she was that age.
Mrs. Laura Dudeck has taught with Micksch for 10 years, co-teaching MGI and teaching alongside each other for African American Studies and World History and Geography. 
"Mrs. Micksch has a very fun personality," Dudek said. "Usually every morning, she was one of the first people to say hello, and she was one of the first people to welcome me into the Social Studies Department."
Micksch is described as funny, sincere, and kind by her colleague. The two teachers help each other out with project ideas or with planning classes and often collaborate to do what's best for their students. 
"She was a great teacher," former MGI student senior Katie Bradley said. "She was very supportive when we went remote during the pandemic."
Micksch would make videos to start her classes off on the right foot and brighten her students' days when school was remote. She would share little updates on her life and encourage her students to keep pushing through. 
Outside of school, baking is one of Micksch's interests. Both Dunn and Dudek raved about her cinnamon rolls. 
"We've always done things where for many years we were bringing in food on Fridays," Dunn said. "You never wanted to be the one to bring in food after Mrs. Micksch because she made these fantastic spreads."
Micksch has also been one to host gatherings for her colleagues and welcome them into her home to create a time for staff to socialize outside of school. 
"She's always done a really great job of bringing the department together," Dunn said.
After Micksch moves on from LFHS, one of her big plans includes traveling. Instead of planning her trips around the various breaks during the school year, she can now travel whenever she pleases. She hopes to tour around the United States and even abroad with her family during her retirement. 
Micksch's teaching will be missed by the Social Studies Department as she is one who, according to Dunn, "understands on a personal level the value of history."