Spring break favorites
With spring break right around the corner comes the stress of what to pack and what the perfect outfits are to bring. Trying to put pieces together you already have or where to buy some new looks and accessories can be a struggle. If you are one of these people, this will definitely help you out with what to bring and give you some inspiration. Four girls who have some amazing styles and looks will be sharing their top five favorites that they will bring along on this year's 2023 spring break.
Senior spring break is definitely a time to show off some amazing outfits and not hold back. Senior Caroline Stutz will be going to Cabo, Mexico, this year for her Senior spring break.  
Caroline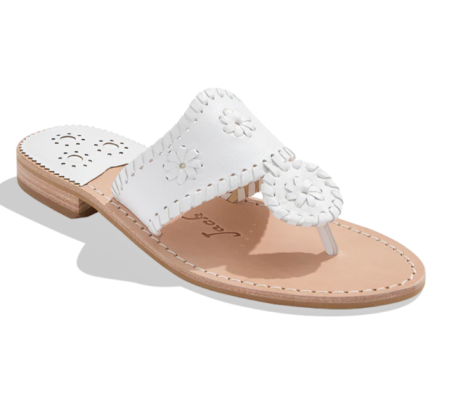 purchased a pair of Jack Rodgers for spring break. She was definitely excited about these because they are such perfect shoes to bring on spring break. You can dress them up or down. These are one of her favorite things she brings because she is not a huge fan of heels, and these are a great alternative if you are one of those people as well and want some dressy shoes. They definitely used to be such a craving a few years ago and are for sure making a comeback. These shoes are very good quality and last a long time. They sell them in a variety of colors, but Caroline went with white because they can go with a ton of outfits.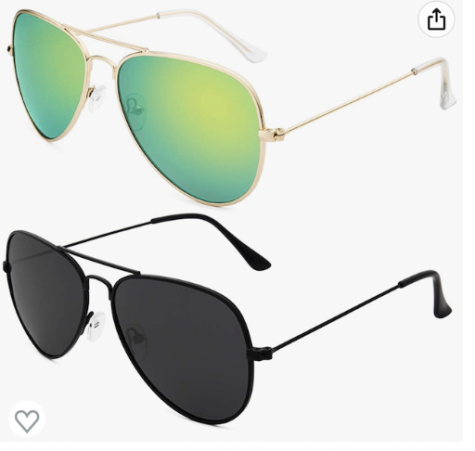 Along with Jack Rodgers, Caroline purchased these sunglasses for spring break from Amazon. They are knock-off Ray Bans. She is very excited about these and decided to purchase these because whenever she goes on spring break, she often tends to lose her nice pair of sunglasses. When Caroline found these, she was very excited. These are very nice quality and a perfect alternative when traveling if you don't want to risk losing your nice pair of sunglasses.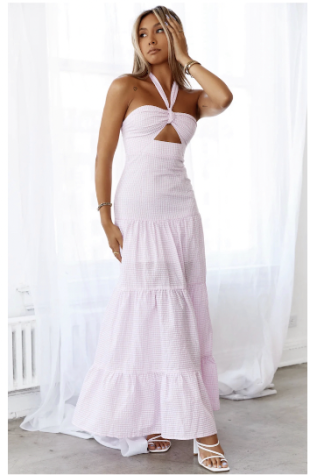 This dress is the most perfect spring break dress. This outfit is one of Caroline's favorite outfits she is bringing on her trip to Cabo. She was on a hunt for the perfect maxi dress and came across it on Hello Molly and fell in love with it. She loved the halter neck and thought it would be super flattering. It's the perfect color and will definitely bring out your tan.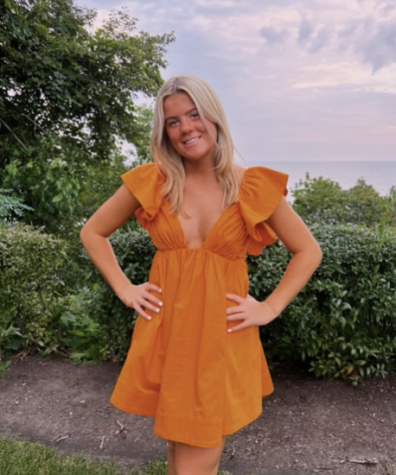 When Caroline looks for school dance dresses, she always looks for one she is obsessed with and will wear more than once. She purchased this dress from Revolve. This is her second favorite outfit she is bringing and is super excited to wear it because the color is gorgeous and perfect for spring.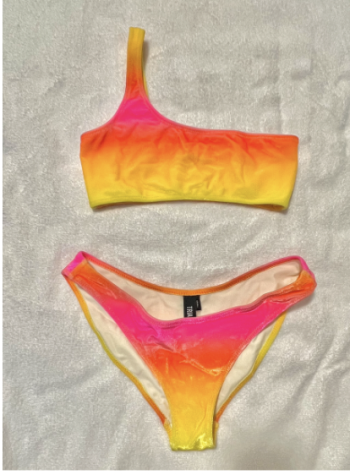 Looking at this swimsuit, it screams spring break. This is by far Caroline's favorite swimsuit she is bringing on her trip. She got this swimsuit from Triangl and loves it because they have very good quality swimsuits that last a long time and they also dry very fast, and that's very handy when you are on a trip where you will be swimming a lot. Caroline loved the style of this swimsuit because she didn't have another one-shoulder swimsuit and didn't have one with such neon and bright colors. 
Junior Rachel Silvers is going to Aruba and Mexico for her spring break this year. If you know Rachel, she for sure dresses to impress.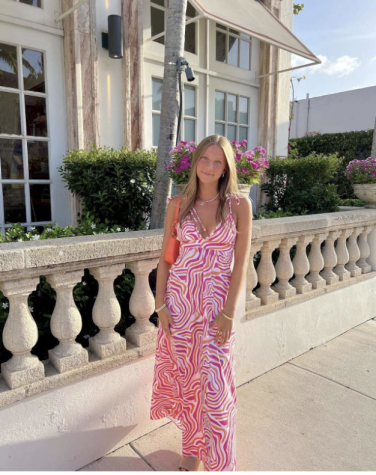 Rachel will be bringing this long dress that she purchased from a small boutique in Palm Beach, Florida. A long dress is a must for spring break. They always add something to your spring break wardrobe. This dress Rachel purchased is one of her favorite outfits she is bringing because it has such a fun color, and the design is so different and unique.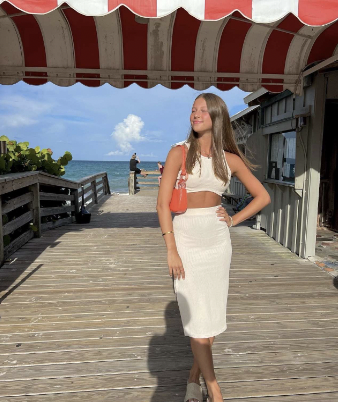 Rachels's second favorite outfit is from SHEIN. She loves this set because it's very different, and you don't see people wearing stuff like this all the time, and it's just very summery and perfect for a vacation. The fabric is also super soft and just overall fits very nicely. This set is perfect for dressing up or down.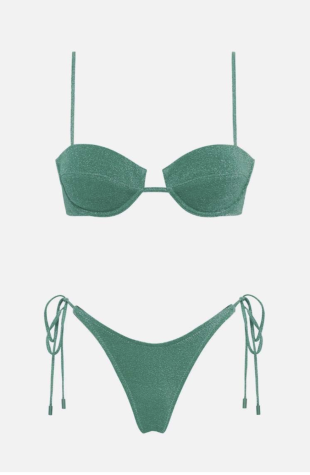 Her favorite swimsuit she will be bringing this year is from Triangl. Rachel really likes it because she doesn't have anything like it in her wardrobe. The sparkle and the green definitely will bring out a tan, and it just fits super flattering.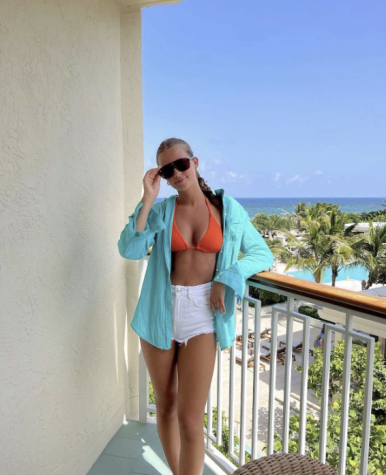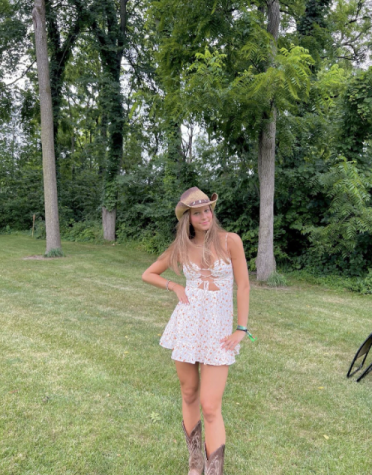 These are Rachels's two favorite accessories. First, her favorite pair of sunglasses are from SHEIN. These sunglasses add such a slick look to any outfit. Along with that is a classic cowboy hat. This is one of her favorite accessories to bring on spring break because it really spices up any outfit and gives an extra touch the outfit might be missing. She also loves a good cowboy hat because it reminds her of being in the warm weather and fits any happy occasion.
Next up, we have sophomore, Harriet Pierce. Harriet is going to Cabo this spring break and is planning to show up looking better than ever.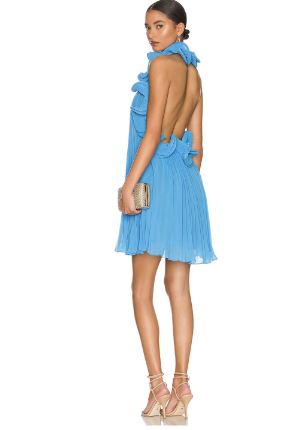 Harriet decided to pack a blue mini dress from AMUR because she thinks it is fun and tropical, which will fit the Cabo atmosphere perfectly. It's a perfect piece to bring on any trip because it is easy to dress up and also can be dressed down for a more casual look.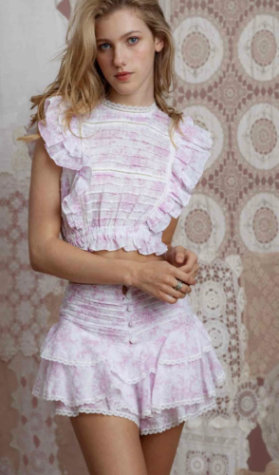 It's important to bring versatile clothes and accessories on vacation because you never know exactly what you'll need. With this in mind, Harriet decided to pack this pink and white set from Filly Boo. It's easy to throw on and style for any casual occasion. 
Cute slides are a must for the warmer months, and because of that, it is important to have a staple piece in your wardrobe. Harriet decided on the brown Oral sandals from Hermes. These slides are classic because they look good with nearly every outfit and are very comfortable.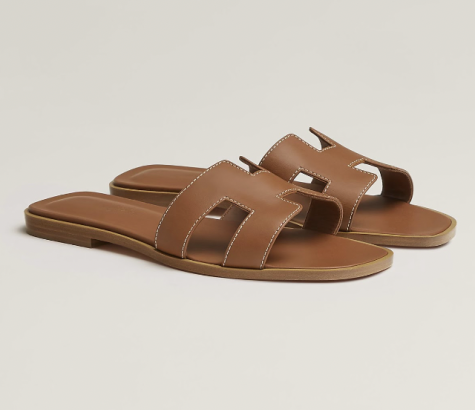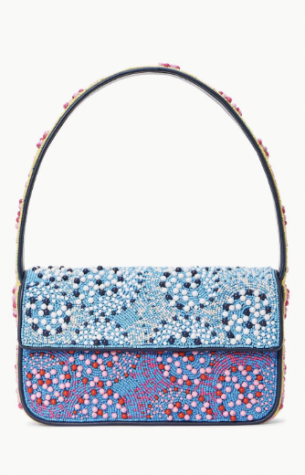 If you've seen Harriet, you know she has the accessory game down to a T. For her trip, she brought this colorful beaded bag from Staud. She decided to pack this one because it is a good pop of color and the perfect size for all her going-out essentials. Bags like this one can really spice up a look.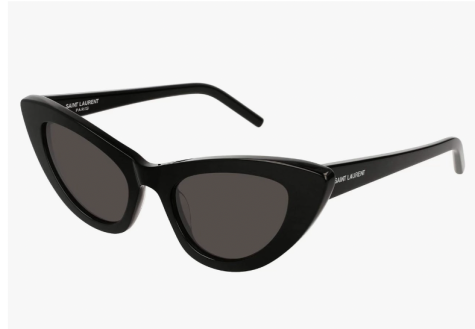 The second accessory she's packing are these beautiful sunglasses from revolve. Just like the bag, these are a perfectly subtle way to spice up an outfit. Sunglasses are worn nearly every day on tropical vacations, so it is important to pack a pair that goes with everything. 
Our next and final guest is Freshman Eliza Carrabine. Eliza has established herself as a uber stylish girl and is planning on bringing some of her favorite looks with her to Cabo this spring break.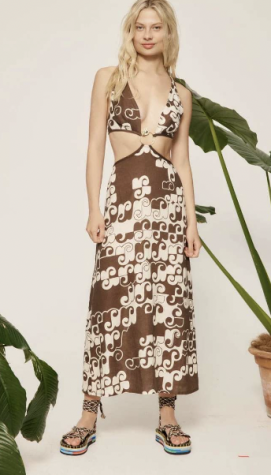 For her first favorite, Eliza picked this fun printout dress from Alemais.  This sleek yet fun dress is the perfect vacation dinner look. She chose this piece because she loved the fun pattern.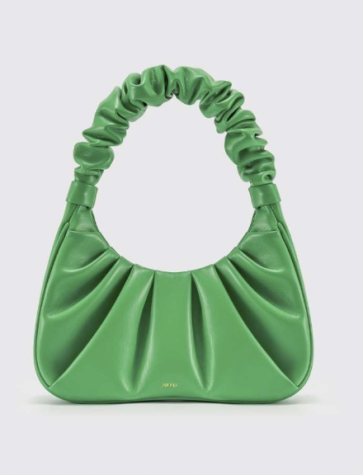 Eliza's next pick was her favorite purse that she was bringing on her upcoming trip. Her bag of choice was this armpit purse from Jaw Pei in thin, fun, and bright kelly green. The scrunched leather bag has been super popular this past year and makes a perfect vacation accessory.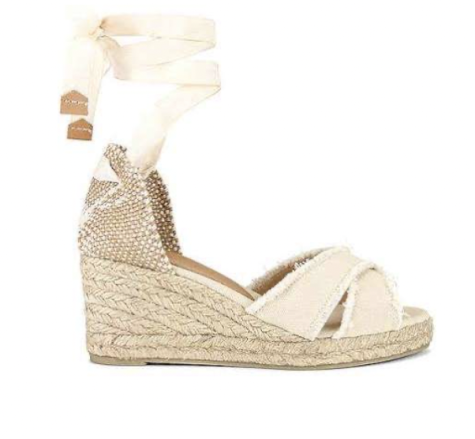 In the shoe department, Eliza opted for the classic espadrille look. She got this adorable pair from Revolve. The espadrille wedge is a vacation staple that never fails to go with nearly any beachy look.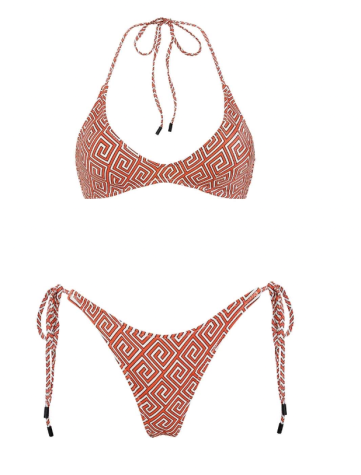 Eliza's suit of choice is this Triangl bikini. Eliza picked this specific suit for its fun color and print, working together to make an adorable suit. Triangl has dominated the swimsuit game over the past years and for a good reason, they have reliably adorable suits.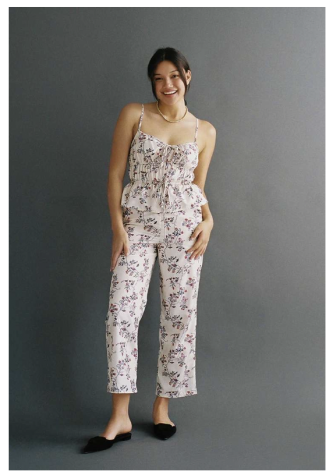 The final favorite is this set from Chao Lucia. When it comes to sets, they never fail to be cute and pulled together. The set uses a classic print and a more modern silhouette to create a contemporary and adorable look.