Continuing a Family Tradition: Q&A with sophomore thrower Rowan Homan
Sophomore Rowan Homan is a varsity thrower for the LFHS girls track team. She started throwing her freshman year, and her natural throwing talent along with her incredible work ethic has been a massive contribution to the team according to teammate Ameena Alsikafi. She plans to attend a college on the East Coast where she can throw, and would love to work in the film industry, possibly as a screenwriter, in her future. 
How did you get interested in throwing?
My dad used to do shot put and discus during his time in high school, and so did my sister, Ainslie. They both were really successful in their throwing careers, and that inspired me to do it as well.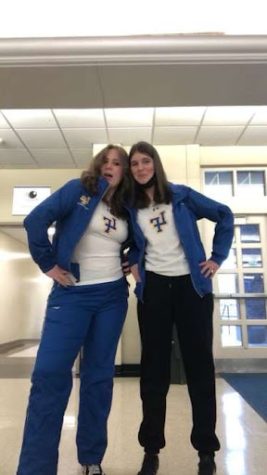 What is your favorite thing about throwing and the track team?
I personally love how comfortable the whole team is with each other. One of the reasons I do track is because of the relationships I get to build over the season. Not to mention, my coach, Coach Landvick, really makes the season super fun and enjoyable.
Do you have a most memorable moment from a track meet or practice?
My most memorable moment was from practice during my freshman year when it was my first time doing discus. Coach Clegg was watching me and my teammates throw and when it was my time, I got super nervous and I ended up throwing the discus right at him, but luckily there was a net. Needless to say, I made quite the impression.
What is your favorite event?
Although I'm better at shot put, I find that discus is a lot more fun to do, and it's something to look forward to during the outdoor season.
What is your personal record?
Currently my PR in shot put is 9.41 meters or 30 ft  and 24 meters or 82 feet in discus.
What are the challenges of throwing?
Some challenges I find while throwing are overthinking and getting in my own head during meets. I find that sometimes I feel intimidated by other throwers and I let it affect my performance.
Do you have any hobbies?
Outside of throwing, I play basketball in the winter and volleyball in the fall. I also enjoy writing and watching scary movies with my friends.