Spring break 2023 essentials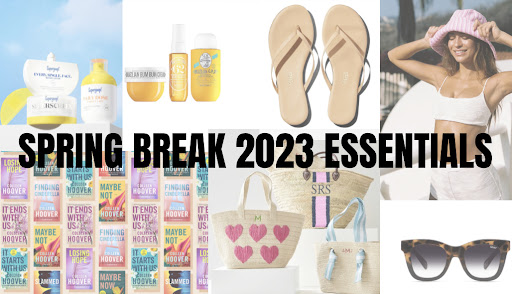 With spring break just around the corner the time for buying the essentials for a good vacation is running out. To help you out, we have shared our favorite products from beauty to books to make you break even better…
Super goop sunscreen:
Super Goop sunscreen has become a very popular product recently, and after using it I can confirm it's worth the hype.. We know finding and applying a sunscreen you love can be difficult, but we guarantee that SuperGoop will make that step so much easier for you. Every review I have heard has people raving about how good their products truly are. You are definitely going to need a good reliable sunscreen if you are going to be in the sun this break. SuperGoop will definitely keep you covered.
Book

recommendations

:
Days on the beach can get pretty boring if you don't have a good read to keep you busy while sitting in the sun. In the past couple years, Colleen Hoover has become a favorite for romance novels or just a good beach read. All her books keep you on the edge of your toes which makes for a perfect beach read because you'll never want to get up from your lawn chair. Another recently popular book is Daisy Jones and the Six which also just came out with a new TV series on Amazon Prime. People have been raving about the TV series which would be perfect to watch after break when you finish the book. 
Brazilian Bum Bum:
Brazilian Bum Bum is one of the best smelling lotions and perfumes out there. The scent smells more like an instant vacation. If you are looking for an amazing lotion to keep your skin hydrated as well as smelling amazing for the day, definitely get Brazilian Bum Bum, it will for sure not disappoint. 
Beach bag:
You're definitely going to need to get a beach bag if you're going to a warm place this year. There are so many options for a nice beach bag you can invest in, but there's also so many on the affordable side. Amazon is a great option if you don't want to spend a lot of money, but still want something trendy. If you want a trendy beach bag, but don't know what to get, consider looking for a terry cloth beach bag for your trip this year!
Sunhat:
A sunhat is most definitely an essential you want to bring with you on spring break. Trending sun hats include straw hats and bucket hats. Not only are they protecting you from getting burnt, but they are super cute and elevate your beach outfit. Monday Swimwear has a variety of different straw hats you can invest in. For bucket hats you can check out Triangl. They have a bunch of fun patterned terry cloth bucket hats. If you aren't wanting to spend a ton of money on a sunhat Amazon has many options to choose from as well. 
Beach sandals:
Having a good pair of beach sandals is essential for spring break. Tkees are on the more stylish side of beach sandals and are definitely a lot more affordable than other stylish beach sandals. If you're looking for a comfy option Rainbow never disappoints. The more you wear them, the more they fit your feet. Lastly, Jack Rogers. We couldn't recommend these shoes enough. You can dress them up or down and get comfier the more you wear them. 
Quay sunglasses:
Quay has become a new go to brand for sunglasses. They are on the more affordable side, but still really good quality and stylish. I now find myself choosing my quay sunglasses over more expensive sunglasses like Ray-Ban.