Scout Send Off: Mr. Trent Webster
A coach, a teacher, a dean, a paraprofessional, a negotiator – For 36 years, Mr. Webster has been a proud Scout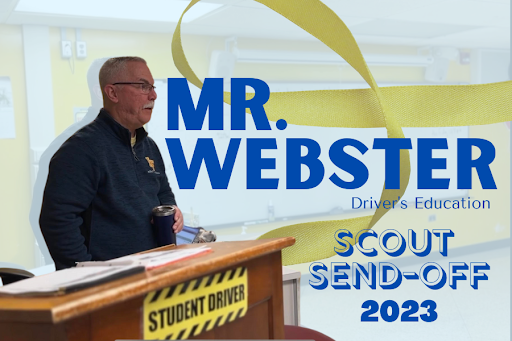 After 36 years of teaching, exclusively at Lake Forest, the passionate, dedicated, and humorous Driver Education teacher, proud family man, and educator who has done it all known as Mr. Trent Webster is retiring.
For as long as he can remember, Webster has wanted to teach, and he has done so tirelessly for over three and a half decades.
"I have teachers in my family. My grandfather was an educator. My dad was a teacher. My mom was a teacher. My aunt and uncle were teachers. My daughter, who I'm very proud of, is teaching math at Antioch High School. So I knew I always wanted to be a teacher," he said.
Born in Detroit, Webster's father taught at Michigan State University, but moved to Libertyville in 1972 when Webster was nine years old to teach at College of Lake County "when it was still just mobile homes," he said. "I'm really proud of what he did out there. He was my role model, without a doubt."
That pride carries over to everything that he does, and it shows in his dedication to teaching, according to his professional partner-in-crime, fellow Driver Ed teacher Mr. Jim Matheson.
"He's a super proud man," Matheson said. "He's proud of what he does, he's proud of who he is, he's proud of a project he's done, who and how he coaches, his kids."
And Webster has a lot to be proud of. In his 36-year Lake Forest career, Webster has been a paraprofessional, a dean, a Wellness Director, football and baseball coach, three-time contract negotiator, health teacher, but is most known for his stalwart role as a Driver Education teacher.
"There's a theme here where I'm doing stuff and then going back to the classroom, so maybe I should've just stayed in the classroom," Webster said. He was a Dean of Students for two years and was the Department Chairperson for the Wellness Department for a year, all while still teaching up to four health classes. "Great time, but I went back to the classroom and I've never looked back," he said.
Having graduated from Southern Illinois University in Carbondale with a Health and Driver Ed degree, Webster has taught Driver Ed for the last 25 years, following in his father's footsteps, who was a high school Driver Ed teacher before teaching at Michigan–although not on purpose, he said.
"Every day, when I would walk into class, he would crack a joke," said senior Savvy Smothers. "He was super personable; he would always try to get to know me, make me feel like I was doing a good job when driving. He just made the class fun."
He also teaches with a great deal of respect towards his students, said Driver Ed and Wellness teacher Mr. Chris Landvick.
"He doesn't hide who he is in front of students," Landvick said. "How he talks to students is the same as he talks to adults. He treats his students with a lot of respect."
This has been a conscious choice he's made, likely learned from his father, he said.
"One of the keys I've found with teaching for aspiring educators is you've got to be honest and transparent, and check your ego at the door," said Webster. "I'm still the adult in the room, but I'm trying to work with the kids instead of telling them what to do."
"
"He doesn't hide who he is in front of students. How he talks to students is the same as he talks to adults. He treats his students with a lot of respect."
— Mr. Chris Landvick
Webster has also been an involved coach, especially with baseball, currently coaching the freshman team.
"He's a sports guy, for sure," said Matheson. "He's a White Sox fan, but we won't hold that against him. Baseball is a big part of his life. He's about baseball 110%."
Not just with baseball, Webster gives 110% to everything he does, and hasn't slowed down as he gets closer to retiring.
"When teachers retire, they generally slow down naturally," said Wellness Instructional Director Mr. Michael Mizwicki. "But that guy is planning next for the people replacing him. The curriculum is already done, and he's worrying about the summer. I only hope that all teachers would love teaching as much as he does. It's a reluctant retirement. He knows he's going to retire, but you wouldn't know based on the way he conducts himself, the way he teaches."
If anything, it would seem that Webster has actually had to work even harder, but that hasn't deterred him.
"In recent years, we've had technological advances in how we teach–Schoology, PowerSchool, online learning. It would have been really easy for him to just go through the motions, but he didn't," said Landvick. "He was a leader. He learned not just what he had to do to get through his job, but he learned more to make the education better for his students."
Teaching for 36 years, let alone at the same school for all 36, is quite extraordinary, but "he's a true Lake Forest Scout through and through," said Matheson. "He's all about this place. He loves Lake Forest."
In fact, Webster could've retired early and received a full pension, "but he loves teaching so much that he stayed," said Mizwicki. "And he has over 400 sick days. He doesn't miss work. If he misses a day, his kids don't get to drive. He could've used those sick days to retire early, or to miss work, but not that guy."
Webster's passion for teaching is what drove him (no pun intended) to come in every day ready to give his all.
"It's a great place to teach," said Webster. "The administration is awesome, my colleagues are awesome, my Department Chair is awesome. When I come in the morning, I could go around the back of the building to park, but I purposely go past the school and look at it every morning going, 'I teach there. I have the privilege of teaching there.'"