Is The LFHS Cafeteria Becoming More Eco-Friendly?
If you've found yourself sitting in class, glancing around the room, and a small, white unfamiliar box catches your attention, then you wouldn't be the first.
Those white boxes are Boxed Water: a newly introduced climate-clean alternative to plastic water bottles for Lake Forest High School. The average human consumes about two bottles of water a day, according to the Illinois American Choral Directors Association. Multiply that by the 1,500-odd students at LFHS and that's a sizable figure, imagine the amount of single-use plastic just thrown away. And that's just for one day. Taking this into account we may begin to see a more sustainable water bottle replacement in our school. 
Global warming has become an increasingly talked about and prevalent issue in the media today more than ever before. Countless schools across the nation are doing their part to pitch in and promote good habits of recycling and reducing plastic usage. 
"We all have a shared responsibility to take care of our planet," Principal Dr. Erin Lenart said. "Small changes, like reusing and recycling, can have a large impact and lessen our environmental footprint." 
Boxed Water is 92% renewable and 100% recyclable. The paper cartons come from sustainable forests and reduce the company's carbon footprint greatly which are then reused for other purposes after use. Boxed Water has partnered with the National Forest Foundation and has planted 612,000+ trees in under three years.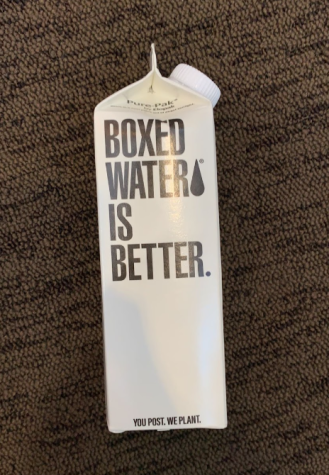 "I saw that my friends had bought it and I think it's a good idea, especially for the environment. If students learn and develop good habits like recycling now, they'll be much better equipped in the future to hold themselves responsible for making environmentally friendly decisions," senior Allen Gomez said. 
Every day on his way out of school, Allen makes it a point to pick up any trash he sees around the school grounds. So he was pleased when he noticed an increase in more reusable packaging in the cafeteria. He's even seen students at lunch encouraging their peers to use the correct disposal containers.
"I just bought [Boxed Water] because it was new and I wanted to see what it was about, but I've started getting it every day. There's no difference to bottled water, but I feel like I'm doing more for the environment by not wasting a plastic bottle if I don't need to," sophomore Declan Barrett said. 
Students new to LFHS might find themselves learning more about reusing and recycling because of this change.​​ One member of the cafeteria staff said they've even "seen people picking up boxed water to accompany their lunch on more occasions than they had anticipated." The many students that have made the conscious decision to go green solely in terms of their water consumption have had an overall collective impact on the average workdays of the custodians at the school. 
Day Maintenance Custodian Robert Babcock thanked students for the fewer plastic water bottles that he has had to pick up during his work after hours. The decrease in plastic bottles has made their jobs a little bit easier.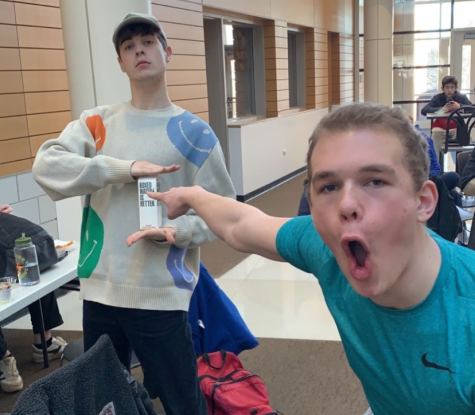 Students and teachers have all benefited from the recent changes. But what about the people who made this all possible?
"We have the environmental shelf that was suggested by the environmental club, in which we have the aluminum canned sodas, aluminum waters, and boxed waters. Currently, we have the pulp plates, and pulp bowls. We use paper boats for serving, and we try to minimize the use of plastic as much as we can,"  Food Service Director Jason Rosegay said.
Quest Foods is the reason this new introduction was even possible. The company aims to provide schools across the nation with healthier and more progressive options for students. 
"Quest Foods is the contractor for food services–I would always encourage more environmentally friendly options for food packaging and disposal,"  Lenart said. 
With bright hopes for the future in an environmentally friendly school, students continue to reduce, reuse, and recycle. This can only be the start of many changes expected to be made in the future, and our changing world will thank LFHS for taking initiative.