NHS deadline fast approaching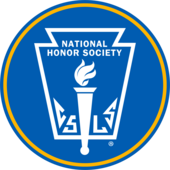 The NHS deadline to submit applications and complete a timed essay is this Friday, March 17. 
The approaching deadline has been a significant contributor of stress for many students trying to complete the process in time.
The application process requires signature proof of at least 30 volunteer hours, as well as the records of sports and extracurricular activities the applicant has participated in.
"The process has been time consuming and stressful," said junior Paige Gibbons. "It's difficult having to track down so many people for signatures."
Some students regretfully admit they waited until the last minute to complete the 30 required service hours for admission. 
"I have to get 20 hours in two weeks," said junior Claire Gerber. "It's been exhausting volunteering for three  hours every night on top of school work and my after school job."
On the contrary, a portion of applicants are finding the process to be quite manageable. 
"I got all of my service hours done over the summer, so it hasn't been that stressful," said junior Julia Leibelt. I recommend that sophomores and freshmen do the same so that they get the hardest part out of the way early."
In addition to service hours, students are required to complete a timed essay in 35 minutes prior to March 17. There are eight essay prompts a student could be issued, and generally the prompts correspond to the pillars of NHS: service, character, leadership, and scholarship. 
250-270 students, who achieved a gpa of 4.5 or above, were invited to join the organization this year. Of those invited, around 200 students are expected to submit applications, based on numbers from past years.
"A large portion of the class is invited which tells how well the class is doing academically," said Mr. Corey Holmer, the head of the NHS application process at LFHS.
Out of the students that apply, "basically 100% are accepted," said Holmer. "Very, very rarely does someone get turned down. In my time I have never had to deny anyone entrance."
After being admitted, members of the NHS must complete 10 service hours per semester and five hours of community service over the summer. In addition, members are required to attend monthly meetings for their senior year.
"Being part of the NHS and attending the meetings keeps you from going into senioritis because you still have deadlines and expectations to meet," said Holmer.
Holmer, who has been running the NHS program at LFHS since fall of 2018, recommends students who plan on applying to NHS "knock out a few service hours a year and you'll make your life a lot easier. Just make sure you keep track of the hours."
After students have been accepted an executive board of peers, who run NHS meetings and plan events, are chosen.
Once students have been accepted to NHS there is a celebratory meeting in the Spring.
However, if students were unable to apply this semester and still wish to participate in NHS another round of the application process takes place in the fall.  
The invitation email is sent out in August and students will be accepted by September, all they will have missed is the first September meeting. 
Being part of NHS "is gonna be helpful" on a college application, said Holmer. "And it's a great way to encourage students to volunteer and help their community."