March Madness tips to help your bracket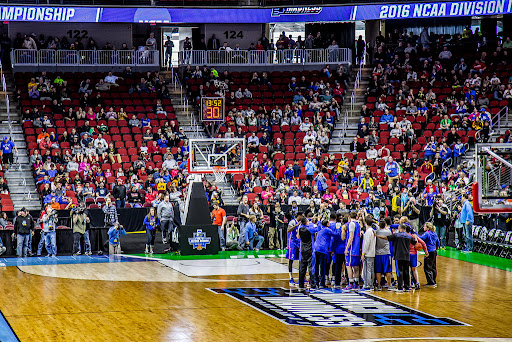 This year's men's college basketball season has been one of the most eventful seasons ever. Filling out a bracket can be a struggle, that's why the 2-time league winner Rocco Caputo and avid college basketball fan Bobby Alzamora are here to help you. In this article, we will go over teams to watch and we'll give you our opinion on certain matchups.
Teams Who Could Pull of an Upset:
Drake Bulldogs (12) (27-7, 15-5 in MVC):
The Drake Bulldogs are led by sophomore Tucker DeVries, the coach's son, who had an amazing regular season. DeVries shoots 39% from the 3-point line and won Missouri Valley Conference Player of the Year, if not taken care of, DeVries could lead the Bulldogs to a win over the 5-seed Miami Hurricanes. Not only is DeVries good, but the team is also excellent on offense, they shoot 47% from the field. This game will be close.
VCU Rams (12) (27-7, 15-3 in A10):
VCU is a team that could make a Cinderella run. VCU is ranked very low although they dominated the Atlantic 10 conference, they could create a few upsets in the tournament. St. Mary's and VCU are fairly equal teams when it comes to statistics, but not shown on the sheet is that VCU is a very aggressive second-half team and could pull away with the lead if the other team is not careful. VCU is a tough team defensively and can create turnovers late in the game when the other team is tired. Although they do not shoot the three-ball very well, they are not afraid to shoot it. VCU is stacked with good shooters, David Shriver and Jayden Nunn lead the team in 3-point shooting percentage (40%). Lastly, VCU has the Atlantic 10 Conference Player of the Year, Adrian Baldwin Jr. Baldwin averages 6 assists and 12.7 points a game. VCU is a scary team and definitely a team to look out for.
Kent State Golden Flashes (13) (28-6, 15-3 in MAC)
Watch out, Kent State might surprise a lot of people. The Golden Flashes are definitely an underrated team in this tournament. Usually, the 13 seed is an underwhelming team, but Kent State has played well against good teams. They only lost to #1 seed Houston and #3 seed Gonzaga by single digits showing that they can hang with the good teams. Although Kent State is a little undersized, so is Indiana, that's why they could be a good upset pick. All Kent State needs to do is play aggressively and faster than the Hoosiers.
Charleston Cougars (12)  (31-3, 16-2 in CAA)
The College of Charleston is a sneaky good team. They started the year 21-1 with the only loss coming on the road to North Carolina. Although North Carolina did not live up to their preseason hype, they were still a good team and just missed the tournament. They have a very well rounded team. The Cougars have five players who average over 10 points per game. Senior Dalton Bolon leads the team averaging 12.3 points a game along with 4.2 rebounds a game. He shoots 41.6% from the field and 33.2% from three point range. They are a very popular pick against 5 seeded San Diego State. They play at 2:10. 
Teams We're Riding With:
Rocco: Memphis Tigers (8) (26-8, 17-3 in AAC)
This year Memphis has been incredible. In my bracket I have Memphis in the elite eight, for a few reasons. Memphis is led by star point guard Kendric Davis. Davis is a talented point guard and scores 22.1 points a game, he is a fast player and his short height makes mismatches a perfect scoring opportunity for him. I am an SMU fan, SMU plays in the AAC along with the Memphis Tigers and every game this year was a Memphis blowout. They are not a team to mess around with. Memphis has amazing ball movement and plays with a fast pace, causing defenders to lose their man and allowing Memphis to find the open man for some easy points. If this isn't working, Kendric Davis puts matters into his own hands. Overall, Memphis is a tough team to play, their assists and scoring ability makes them difficult to play against.
Alabama Crimson Tide (1) (29-5, 16-2 in SEC)
Alabama is my champion for this year's tournament. It took me a while to decide between Alabama and Houston but I ended up going with Alabama. Alabama comes out of one of the hardest conferences in basketball this year, the SEC. The first reason I chose Alabama is because of the teams they have already beat. Alabama had an insanely hard schedule this year but won a lot of tough games. Alabama beat #7 seed Texas A&M twice, #7 seed Missouri twice, #1 seed Houston, and also #7 seed Michigan State. These teams are all great tournament teams that Alabama beat in the past. Secondly, Alabama has great depth. Alabama has 9 guys that play over 15 minutes a game. 
Bobby: Houston Cougars (1) (31-3, 17-1 in AAC)
This year Houston has been near unstoppable. They had a couple of games that were a little closer than they should have been including beating Memphis at the buzzer a couple of weeks ago. Early in the season Houston fell to #1 overall seeded Alabama by 6 losing 71-65. The Cougars have floated around in the top five all year long, including multiple weeks being ranked number 1 in the country. They have been led by senior guard Marcus Sasser. He is averaging 17.1 points per game this season. It will be interesting to see in the tournament because he picked up a groin strain during the AAC semifinal last week. If he is healthy though, they will be a very tough out during the tournament. Houston has one of the biggest advantages out of all the teams in the field, that being that the Final Four is in Houston. If they make it that far then they will have a home court advantage when it comes to the Final Four games. 
Marquette Golden Eagles (2) (28-6, 17-3 in Big East)
The Marquette Golden Eagles have been a really solid team. They are a well rounded team led by coach Shaka Smart. Shaka Smart has many tournament appearances. He has coached for VCU, Texas, and now Marquette, all of which he has led to the tournament. His best finish was the Final Four back in 2011. They won the Big East this year, which was a really strong conference having multiple top 25 teams and tournament teams. They are led by sophomore Kam Jones who averaged 15 points a game. He shoots 45.8% from the field and 35.1% from three point range. They have all the qualities of a Final Four and possibly a championship team.