OSAA Deadline Announced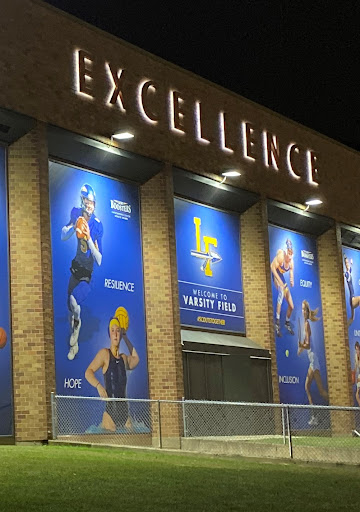 Senior Athletes, it's time to apply for the Outstanding Senior Athlete Award and become a part of LFHS history. Each year, the Lake Forest Boosters recognize four senior athletes with the Outstanding Senior Athlete Award (OSAA). The award is given to two female and two male senior athletes who have demonstrated excellence through their athletic performance, leadership, sportsmanship, and spirit. Each OSAA winner will receive a $1000 scholarship and their larger-than-life photos will be prominently displayed on The Wall of Excellence mural at Varsity Field. The application for the OSAA is available on the Booster website OSAA Student Application – Lake Forest High School Boosters.
The Wall of Excellence is an important showpiece of Lake Forest Athletics and LFHS. Along with the four OSAA recipients, the Wall proudly showcases a number of OSAA finalists, student body leaders, Department Award winners, Memorial Award winners, and any individual state champions. Each senior who is selected is pictured with a core characteristic such as Courage, Character, Equity, Respect, and Compassion. The Wall serves as an inspiration and promotion of these qualities for future Scouts who want to make a difference in our community. The 2022-23 Wall of Excellence will be unveiled at a home football game in the 2023 fall season.
Last year's OSAA winners were Taylor Cekay, Katie Gildersleeve, Cade Nowick, and Jahari Scott. Jahari is currently a student-athlete at Illinois Wesleyan double majoring in Psychology and Sociology and is on the football and track team. He described earning the OSAA as an inspiration for himself and others. "Being on the Wall of Excellence means that what I did in high school was something for other people like me to chase. I am being a role model for my little sister to do the same thing with her athletics. It's a great achievement to have and it reminds me that I can always be better the next time around."
OSAA applications are due on April 16, 2023. Winners of the OSAA will be announced on Honors Night on May 23rd. For more information, visit Outstanding Senior Athlete Award – Lake Forest High School Boosters or contact Boosters Grants Committee Chair Rick Hoskins at [email protected]