Can You Believe It?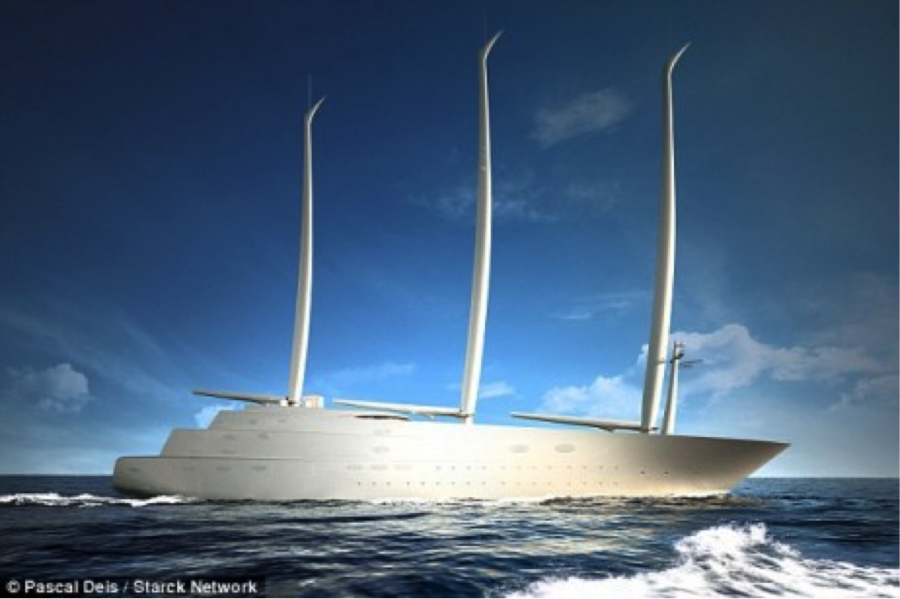 Can You Believe It?! is a weekly segment by Patrick Philpott in which he features an astounding event happening in the contemporary world. 
Russian Billionaire, Andrey Melnichenko, who made his fortune in different banking and coal businesses, has built one of the world's most luxurious superyachts in the world and it has a reported price of $450 million. The luxurious superyacht is expected to be one of the most advanced vehicles of its kind, with three main masts that stand taller than London's Big Ben clock tower (each mast measures in at roughly 328 ft. long while the sails all together measure larger than an American football field).
The boat is a reported 468 feet long, measuring the same length of an American football field. The Russian Billionaire has named the amazing superyacht, Super yacht A, while the boat includes eight decks while its keel includes one of the largest pieces of curved glass in the world, measuring at 193 feet long. The massive size of the ship is reportedly able to house 58 crew members and is equipped with state of the art technology to help the crew control such a massive ship. While the inside of the superyacht hasn't been released yet, it is a strong possibility that the interior of the ship will be plastered in the utmost luxuries and technology.
The ship is powered by two diesel engines and two electric engines, both able to run simultaneously to help maneuver and push the 328 ft. superyacht. The Russian billionaire isn't any stranger to the superyacht game. Having previously built his last superyacht, Motor Yacht A, the designer used the same technology to help design his newest project. Both of these projects couldn't have been made a reality without the help of head designer, Philippe Starck, who worked on both ships to help design the inside and outside of both ships.
Mr. Melnichenko's superyacht is scheduled to have its maiden voyage later this year and is set to sail with a group of other internationally famous superyachts, such as the Maltese Falcon, measuring at 298 ft long.  
The Russian Billionaire had recently put his previous superyacht, Motor Yacht A, on the market looking for a reported $300 million for it. This is most likely to help support his new superyacht, but don't make the mistake of underestimating his previous ship. The last superyacht came with bomb proof glass, a rotating master bed, and capable of housing over 35 people not including the crew members.
About the Writer
Patrick Philpott, Author
Patrick Philpott is one of the writers for The Forest Scout. He enjoys all music and his favorite subject in school is English. Patrick is currently a...