My life changing trip out West
Hiking for 10 miles, crossing multiple rivers with an 80 pound backpack weighing me down, and climbing through fallen trees and branches sticking out in every direction. Although that may seem miserable to some, that's what a day in my life looked like for 26 days and believe it or not, I enjoyed every second.
During summer of 2022, I had the privilege of going on a 100 mile, 26 day backpacking trip in Idaho's Sawtooth Bitterroot Range, a subrange of the Rocky Mountains that runs along the border of Idaho and Montana. 
As I have taken time to reflect on my experience, it's seven months later and I'd do anything to be able to relive the experience again. Relive every encounter I had with a snake or wolf, relive every day I had to hike through 100 degree weather, and relive every time I had to pull one of my group members out of knee high mud. 
If not for those little things that came from the experience as a whole, I would not be the same person I am today.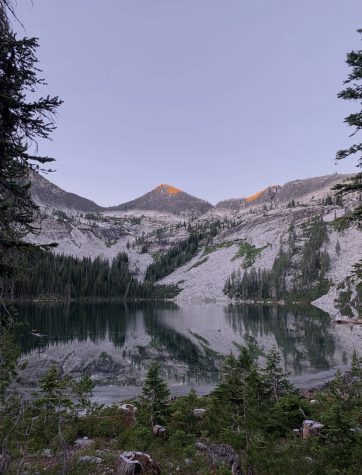 I have been going to Camp Manitowish YMCA, a camp in northern Wisconsin near the Canadian border, for the past eight summers. I grew up going on five to fourteen day canoeing and kayaking trips but never experienced any wilderness trip longer than that.  
Ever since I stepped foot there, I always heard a mouthful from the staff members about the famous thirty day backpacking trips that took place in either Idaho, Montana, or Wyoming. As a kid, I always watched the older members at camp preparing for these long winded trips but I never thought that it would someday be me.
This past summer me along with many other individuals from all over the country ventured out on a thirty hour bus ride that went from northern Wisconsin to Idaho. I spent the next month with only five individuals whom I had never met before. 
My time in Idaho allowed me to learn countless things about myself and has forced me to learn many valuable life lessons. I am here to tell you ways that this experience has allowed me to apply the many lessons I learned out there to my life at home:
The true value of nature
Although I spent most of my summers in Northwoods and have traveled to many gorgeous destinations with once in a lifetime views, nothing I see will ever compare to the raw beauty of the Idaho mountains. Waking up to the sun beginning to rise over the snow capped mountains and the sky painted different shades of pink was the absolute best way to start my day. 
One thing I took note of while hiking was the many different types of terrain we came across. Even if we began our day hiking under huge cedar trees surrounded by only forest, hours later we would find ourselves looking out onto miles worth of boulder fields. We climbed up steep rocky passes and just hours later reached the top of them just to see an entire outlook of mountains, lakes, and trees. The sudden change in terrain was something that made each day's hike interesting and allowed me to see how many different types of unique beauty there is in hiking terrain. Taking in the scenery around me allowed me to connect with myself and others around me on a deeper level. Being immersed in nature for a long period of time like that brought me to see that I don't always need to have my phone or device by me at all times and there's more to this world than Instagram and Snapchat.  
Forming truly meaningful connections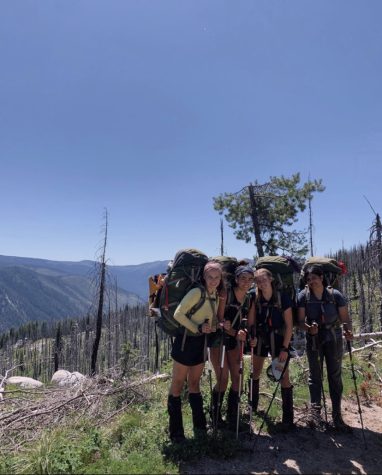 Being with the same group of people for a month straight forces you to create an incredibly unbreakable bond. Meeting and getting to know the authentic version of some amazing people was a truly invigorating experience.
It was important during our time together to create a safe space where everyone felt like they could be themselves. Vulnerability with my trip mates made many situations much easier to get through and made me feel more supported than I ever have. 
Forming such intentional relationships with the people around me taught me to seek out authenticity in my friendships and relationships at home. When I returned to Lake Forest, I challenged myself to try and find the good in everyone I meet because each individual has their own way of showing their authenticity to others.    
Adaptability
Going on a trip like this, there is bound to be some hardships. For me, at times I had a hard time adapting to what was happening around me because of the face pace changes that came with the trip.
 Although, there's no way to prepare for something going totally wrong. 
On day eight of our trip, one of the girls in my group hyperextended her knee climbing over a huge fallen tree that took up the entire width of the path we were on. Being at least ten miles from any evacuation point, we had to keep hiking. The injury forced us to adjust to a slower hiking pace and to completely re-route our original plan. Days after the injury, we reached our halfway point where our injured soldier was flown out by bush plane. The change of our group dynamic and the many hours of looking at maps trying to reroute our original plan were setbacks for the group at the time. Now that I look back, experiences like those were times for us to learn and grow. 
Anytime I find myself in a tough situation or I'm experiencing a setback, I love to remind myself that although it may suck in the moment, there's always an opportunity to grow from it. 
Even though we faced hardships as a group, our trip was not defined by a few negative moments. In reality, our trip was much more than that.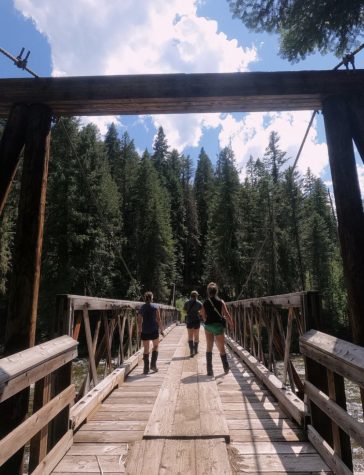 That moment when you reach your destination after a long day's hike, looking up at the stars in the middle of the night, and laughing with people I felt I've known for a lifetime are all moments that made the tough times that much more worth it. 
Spending an extended period of time in the mountains, working to form lifelong friendships, and growing through times of hardship are all things that have helped shape me into who I am. 
Even if a month-long backpacking trip doesn't appeal to you, there are so many ways that you can step outside your comfort zone. I encourage each and everyone of you to find something that you enjoy doing but that challenges you at the same time. 
This experience has taught me that taking risks is worth it in the end and can lead you to become the best version of yourself.