Harley-riding, high-flying teacher found passion in literature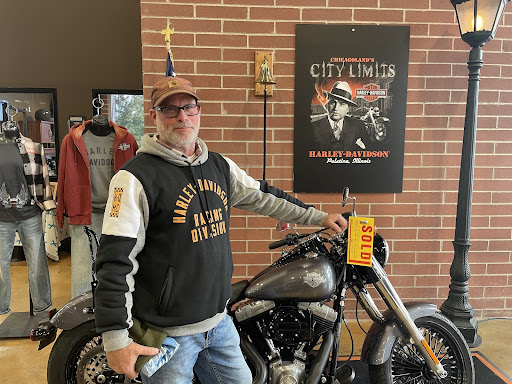 Like a lot of teenagers, English teacher Mr. Bradley Ruda once faced pressure to pursue a career he wasn't interested in. His parents hoped he would major in business while at the University of Colorado. 
But he discovered literature, relishing in the opportunity to delve into books where he found that he could learn a lot from the characters and apply their experiences to his life. 
He transferred to DePaul and earned a degree in English before he set out to find his place in the world.
"I just kept getting and quitting jobs after college because these companies would hand me a business card and it would say 'Site Acquisition Specialist: Brad Ruda.' I'd see my name on a card under this title in this corporate entity and I would say, 'No that's not me, that's not who I want to be, that's not what I want to have my name on,' So I'd quit the company and try again," Ruda said. 
Eventually, after working his way through countless professions, he landed on something that earned his interest: aviation. 
Ruda earned a commercial license for flying sailplanes, where he instructed would-be pilots from a small grassy airport 60 miles from Chicago. He took a job there because it meant flying for free. 
"I was so passionate about it that I flew six days a week, and lived in an airport hanger on a cot with mice and books while I was just in love with this strange profession," Ruda said.
He had finally found his calling, throwing caution to the wind and sailing in the sky by the clouds, however, grounding him was the realization that he needed gainful employment. He was making $5 a flight and couldn't afford the hangar space. 
If he was short on rent, he would take the landlord for a ride, letting him get a kick out of seeing the town from a single-engined taildragger plane made of fabric. With all those rides and instruction, many people encouraged him to give school teaching a try. He refused, thinking he wasn't cut out for it.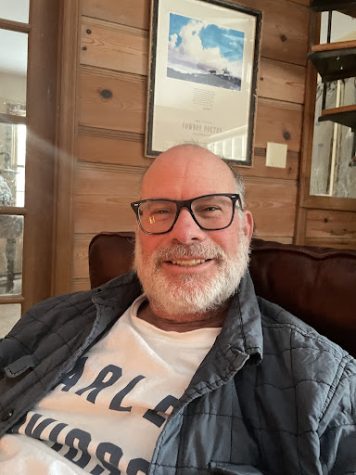 "I was a nervous student in high school, I never spoke. If a teacher called on me I shook, my face would turn red, my voice got weak, and I got dry mouth," he said. 
At the end of the soaring season in the Midwest when things got to be cold and bleak, he realized that he needed money. He visited a teacher friend's classroom. It felt worthwhile and looked like it was something worthwhile, so eventually Ruda decided to become a teacher. 
He went to DePaul to get a teaching certificate and taught at middle school for one year at Wheeling, but always knew he wanted to teach high school. One interviewer complimented his smile and said he had a good feeling about him.
24 years later he still calls LFHS home.
"The reason I wanted to teach literature to begin with was because all these characters are really friends of mine. They all have a common human nature, and their problems are all peoples' problems and we can learn from them. I learned a lot from tapping into the human experiences and personal interactions from 100 – 200 years ago. I've learned from all these people who've gone through the same things you're going through and will go through, so you can turn to them for experience and learn from it," Ruda said. 
He says that the recent generations are missing out on great literature in the age of social media. 
As a father of three – sons at ages 12 and five, and a daughter aged seven – he believes strongly that he must be their mentor just as he is with his students. Every class, he makes it his absolute priority to awaken the "slumbering imagination of students who just need to be more aware of the present." 
He wants every student to leave with a desire to do some reading on their own. 
"We've got libraries all over the place, book stores, all these people existing in these books that you could bring to your own living room and get to know," Ruda says. 
 He has garnered a reputation among students for his specialized teaching methods. He likes to think of his students as friends of his whom he can encourage to succeed. 
"I like that it's different everyday and I walk into the classroom, not knowing what to expect. He always has something interesting planned and it's never boring with Mr. Ruda," said senior Olive Duffey. ""Prior to senior year I wasn't a confident writer and I didn't really enjoy writing but after taking his creative writing class I really enjoyed writing and I found myself writing all the time, even in my free time at home."
The personalized attention that he gives to each student is one of the reasons students feel welcome each time they walk into his class. 
"I want students to be more aware of the present – more in the present rather than worrying about the future," Ruda said. 
Ruda has started flying again and hopes to give lessons this summer. From motorcycles to planes, there's no telling where he'll end up next. One thing we can say for certain is that he will continue to inspire high schoolers for years to come, instilling a love for reading that will last a lifetime – as long as fellow English teacher Dr. Dewar can keep him grounded.