A preview of Chicago's staple St. Patrick's Day parade
Chicago is hosting their 68th St. Patrick's Parade this week. A train ride away is one of the largest celebrations of Saint Patrick's Day. 
Saint Patrick's is just around the corner, and our city of Chicago has one of the most significant celebration parades, which has made history since  1943. The parade will take place the Saturday before, March 11th, in downtown Chicago just days before the actual holiday, March 17th. The famous celebrations Chicago has created have become a very unique perspective to the city of their holiday celebration. Many people, Irish or not, love to go down to the city just to experience what the city has to offer on this day.
Let's dive deeper into what we can expect in just a few weeks. 
One unique event that Chicago is very known for is the dying of the Chicago river green. The river that runs through the city has been getting dyed since 1962 at the suggestion of the Chicago Plumbers Union, which first had the famous idea. The dyeing of the river emerald green will last in the water for 24 to 48 hours, so make sure to check it out!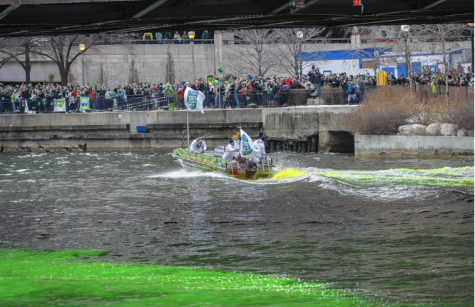 Many boat cruises take place on the river to enjoy the river being green and watch the city celebrate. Lots of people also line up on the river walk to spectate the people walking by and enjoying the boat cruises. 
Restaurants and bars will most definitely be prepared for the day and the number of people headed out to the city. Lots of restaurants' menus will be decked out in traditional Irish foods and drinks. The day is to celebrate the Irish heritage by celebrating traditions from the Irish. Make sure to stop in any restaurant to enjoy the amazing food! 
At noon the St. Patrick's parade will begin. During the parade, you can expect to see Irish faith, roots, and family being represented throughout the parade. You will also be able to hear and see lots of traditional Irish songs and dancing. You also won't want to miss The Shannon Rovers Irish Pipe Band, which has been leading the procession since the first official parade in 1956.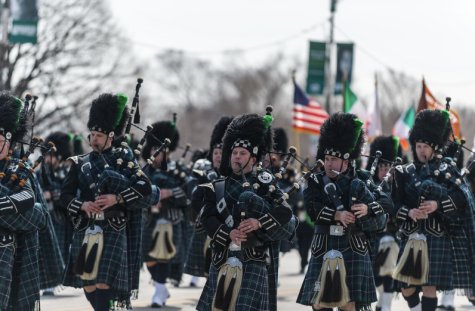 After the parade has finished, it's popular to head over to the neighborhood events to visit the St. Patrick's Day Festival at the Irish American Heritage Center for a family-friendly celebration of the Irish with many activities to participate in. 
The day will be filled with many celebrations of Irish heritage, and be prepared to join, dance, eat, and enjoy. If you want to fit in with the rest of Chicago, make sure to wear your green and something warm!