Outer Banks Season 3 opinion / Season 4 predictions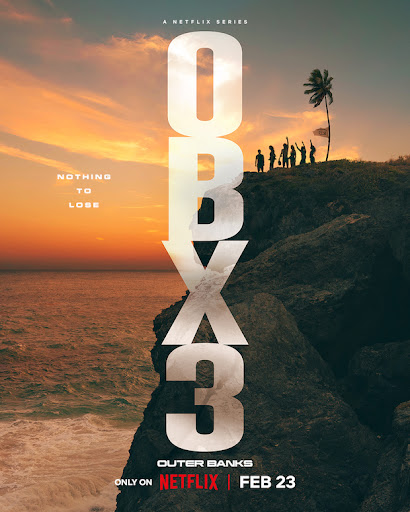 (Warning: spoiler alerts in this review)
The long-awaited season 3 of one of Netflix's most popular shows Outer Banks has come out (Feb 23). If you haven't seen my preview of the show outer banks you can find it here – (Editors Note: Insert link to TFS article  Outer Banks Preview.)  Like many, I finished the third series during the first weekend it was out and I have to say I was a little bit disappointed.  
Before you make any assumptions about my bias toward the show, I was an avid fan going into season 3.  For some reason, I thought the acting this season was below sub-par and that is my biggest issue with this season.  At times I had trouble buying the group of "pogues" acting and I can't exactly explain why.  I think maybe having watched the first season in 2020 at 15 years old my level of immaturity may have been more susceptible to the mediocrity of the actors' and actresses' performances.  Nonetheless, I thought that Rafe Cameron played by Drew Starke did a phenomenal job and was the clear standout who improved his abilities since the last season.  Honorable mention: I think Ward Cameron played by Charles Esten did a great job too and he has kept the same professionalism in the last two seasons but he definitely has much more experience in the industry, unlike the younger group of performers.  The biggest disappointment acting-wise in my eyes was John B played by Chase Stokes.  (Major Spoiler) During some of his most intimate scenes, it seemed that Stokes had trouble portraying his emotions.  Particularly when he sees his Dad "Big John".  Imagine having not seen your Dad who you believed was dead for a few years and barely squeezing out some tears.  Not to mention they hugged for a few seconds and were already onto the next thing.  It all just seemed like it was such a quick altercation for something that the show has hyped up since its existence.  
This however is where I will give this season some credit.  After season 2 I started to become annoyed with the show's concept and I found that most of the people I talked to thought the same.  Yes, it was cool and intriguing watching the group escape death multiple times in pursuit of the treasure for an entire season but did anybody else think  to themselves heading into the third, Are they ever going to find the damn thing?  The "pogues" scrapped their initial plan of capturing the gold they eventually found because of Mr. Cameron's greedy hostile intervention so they've moved on to another treasure: The Gold Cross.  It just seemed like the whole show was becoming prolonged and that the producers were still milking the hype from season one.  But as we know now, John B and Sarah Cameron impressively solved the riddle of Eldorado and finally discovered the "city of gold".  That is where the season ended of course but I am glad the producers decided to add the final scene exactly 18 months later that gave us a glimpse into the pogue's new luxurious lives as well as what the upcoming season may have in store.  
My predictions for season 4:  Since the pogues were essentially "signed" to a new treasure obviously that will become their next objective.  But I think it's important to remember that Rafe still exists and isn't necessarily a fan of the Pogues or his own sister.  I could imagine Rafe's grief with the death of his father who he tried tirelessly to make proud coupled with the pogues obtaining the gold will cause him to rival the pogues in that new assignment.  Not to mention his extreme anger issues.  I think Rafe will blame the pogues including his sister Sarah for the death of his father and will most likely seek to avenge it.  I couldn't imagine a world where Rafe accepts the defeat of both situations.  As for everybody else, I think they will play the same roles as they always did.  But I guess we will have to find out.  
Season 4 has yet to be officially announced as a possible production but I think the brief cliffhanger at the end of season 3 and the show's staggering popularity make it safe to say that there will certainly be a season 4.