Hockey Season in Review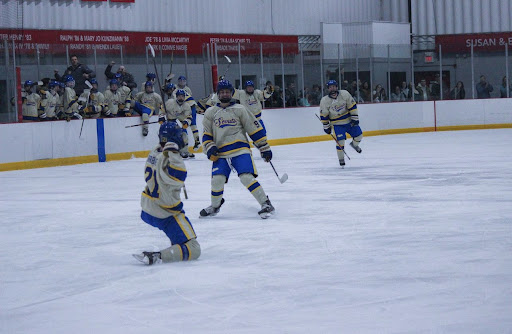 In early August, the Scouts hockey team announced that they would be joining the SHL (Scholastic Hockey League). This year, they faced higher levels of competition; every game was a battle that either team could win. A few games into the season, they were matched up with a renowned rival in the SHL, Loyola Gold. In the first period, Lake Forest gave up the first goal. However, they battled back and scored three unanswered goals to win the game. Another key game for the Scouts took place on November 23rd, Pucks and Poms night. The Scouts ended up securing a win against the Carmel Corsairs. Goaltender Teddy Huddleston let up one goal and made 25 stops. 
Reflecting on the game, Teddy said, "All the Lake Forest parents and all the kids from Winter club would be there. I know that my school would be there supporting me… so I had to make sure the boys and I performed under the hot spot." 
On the offensive side, Jack Carrabine had a hat trick, scoring two in the first and capping it off with another in 3rd. 
Carrabine said, "It was a fun game… it's not every day you get a hat trick in a big game like that with all your friends and family in the crowd, especially right before Thanksgiving too, it was a great time and a great feeling."
The rest of their season fluctuated with wins and losses; from the end of November to the end of January, they went on a 9-game losing streak.
A month later marked their last game of the season, home ice vs Barrington. Lake Forest played much of it in the penalty box. Still, they outshot Barrington and brought the game to overtime. They eventually lost 3-2, unfortunately, losing their last game of the season. 
Robert Medica, who had both goals vs Barrington said, "Very bittersweet to play that last game." He later added, "I'm happy that it was on home ice but definitely not the outcome the team wanted."
 To take a look at their record, out of 27 SHL league games, they won 6 and lost 21.
Unfortunately, they were ranked in 9th place, leading them to miss out on the post-season playoffs. Although the Scout's season ended shorter than expected, you can count on the team being ready to go for the 2023-2024 season.