Girls' Lacrosse Season Kick-Off: Road to State
With tryout week coming to a close, the LFHS Varsity Girls' Lacrosse team begins their season with one goal in mind: to play on June 3, the day of the state championship. 
Last year the LFHS Varsity Girls' Lacrosse team went to the State Finals for the first time in ten years. The team made history. 
They went undefeated in conference and with an impressive record of 20-4 overall,  placing them as one of the top teams in the state. 
This record advanced them through the playoff season and all the way to the state semifinals, where they played Hinsdale Central on the Red Devil's home turf. 
In a nail-biter, The Scouts fell just short of a victory that would have advanced them to the state championship, with a score of 16-15, Hinsdale taking the win.
"We went really far last year, going to the state playoffs and we are looking to do the same this year," sophomore Megan Rocklein said. 
The Scouts had to come back from this heart-breaker the next day to play Lincoln-Way Central, in the third place game, where they took the title 18-17. 
After losing a few key players, they are back this year with one goal in mind, another state run. 
"I'm super excited to get started this season, the team is looking super strong and we have some new kids coming in that can help make a difference," 2023 Captain and Denver Commit Caroline Keil said. 
This year, the Scouts face a tough schedule playing many teams that are almost the top in the state. 
"I am so excited for all the good competition we are playing this year such as Loyola and York," Senior Captain Chelsea Tzau said. "But I'm most excited to get closer with all my teammates and super excited to get to meet all the new members of the team."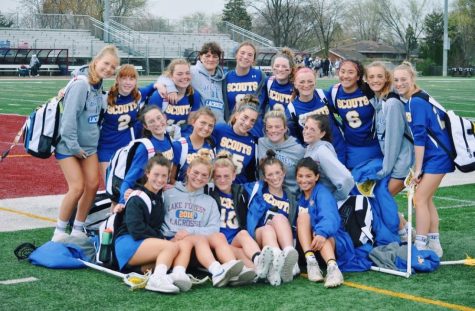 The season is about more than winning, it's about building a dynamic on and off the field that will help the team succeed and reach their full potential. 
"My favorite part about lacrosse season is being able to go to practice after a stressful day of school and play with my friends in a very competitive environment," sophomore Maeve Farrell said. 
The team participates in fun activities throughout the season that bring them closer together, helping them succeed on the field. 
"Something I am really looking forward to is the annual team Scavenger-hunt, where we all have different groups and we have to find/do different things; You don't know the winners until the end of the season," Tzau said. 
Building this dynamic and learning to play as a team is what helped them be so successful last year. 
Coming off being awarded the title of IHSA Girls' Lacrosse Coach of the Year, Cat Catanzaro is starting the season with the same goal as last. "Four. Four titles. Four trophies," Catanzaro said, "That's our goal."