Intramural Award Show / Way Too Early Rankings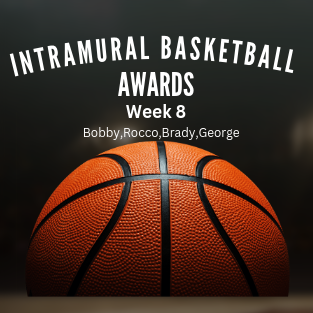 Tune into the podcast to hear some of the award winners speak on their award: link here
MVP: Harry Kotlarz, Team Coht
Kotlarz played arguably his best day of basketball ever during the tournament. He hit the nastiest euro step layup any of us have seen in intramural, multiple step back threes, and even went on a 13-point streak in their round 3 victory over the Handlers. Kotlarz scored on anyone who guarded him and distributed the ball well to his supporting cast, racking up the assists. Harry has amazing ball handling skills making it hard for opponents to guard him, which helps his team score a lot of points. Congratulations to Harry for winning the league MVP and leading his team to win the league championship.
Offensive Player of the Year: Shep Graf, Team W.I.G.
Graf was one of the most unstoppable players all year. When he was on, he was almost impossible to guard. He used his body well, getting numerous rebounds and scoring many tough layups and short-range shots. Graf was a surprisingly good 3-point shooter as well, showing off his fundamental shot form when given the chance. He was a big reason why Team W.I.G. went undefeated in the regular season.
Defensive Player of the Year: Jack Carrabine, Team Coht
Carrabine was the most athletic player on any court he stepped foot on. Despite his shorter height, he played like he was 6'8. His relentless effort made him near impossible to score on. He had a great defensive play that won them the semi-final game in overtime to get them to get the win against the Chinless Hooligans. Some of his notable defensive performances include holding Robert Passinato to 5 points, Brady Goodman to 2 points, and Jack Griffin to 0 points in the championship game.
Underclassman of the Year: Finley Goodman, Caillou's Boys
Finn Goodman was the most consistent player of the year by far, averaging the highest points per game in the league. He scored double digit points in seven out of nine games and was the main reason that Caillou's Boys found success. With help from Charlie Graham and Johann Meissner, Caillou's Boys never scored fewer than 21 points all year. This high-powered offense will return next year, hopefully looking to add another weapon to make for a truly lethal team.
Most Improved Player: Julian Atendido, Cherry Up Men
Julian Atendido was an average basketball player last year, but this year he shocked everyone with the skills he picked up. Although Julian was already a strong 3-point shooter, this year he improved immensely with his layups and driving ability. Julian consistently scored points for team Cherry Up Men, and in one game he even had 7 three pointers. Julian was an obvious guy for this award; congratulations, Julian, on winning the most improved player.
Comeback Player of the Year: Matt Durburg, Team W.I.G.
In the third round of last year's tournament, Matt Durburg sustained one of the ugliest ankle injuries in intramural history. He was helped off the court and driven straight to the emergency room, wondering if he'd ever play basketball again. Durburg overcame all odds and returned with Team W.I.G., and he ended up being the best supporting cast member to Passinato and Graf. Durburg made a three in almost every game, always landing with two feet and not on his ankle.
Best Teammate: Robert Pasinato, Team W.I.G.
For team W.I.G. Robert was a teammate who was always very passionate about his team. He was a good leader on and off the court cheering for his team and others. Robert was loud on the court and got plays going for team W.I.G. He is a good teammate to be around and definitely a good leader. 
Coach of the Year: Henrik Goldsberry, Team W.I.G. and the Ballers
Coach Goldsberry was arguably the most successful coach in intramural league history, coaching both of the undefeated teams across the mens and co-ed leagues. He boasts an all-time record of 18-1 and has the co-ed championship title to his name. Henrik was not only the best coach by far, but also the best dressed on every Sunday. His classic sport coat and tie will live on with the legend of now-retired Coach Goldsberry.
Instagram Account of the Year: Funkytown
No one put more effort into their posts than Sam Westerman of Funkytown. His quality memes and edits made for quite the laugh after a Funkytown win. Although he only started in a couple games, Westerman was valuable to his team for the effort he put in off the court and the time that he spent creating the best way to represent Funkytown to the world.
———————————————————————————————————————
———————————————————————————————————————
Co-ed Awards:
MVP: Caroline Keil, Ballers
Caroline Keil had a phenomenal season, even though she missed a couple of games due to injury. She was averaging close to 22 points a game this season and would always hit big shots. She made a near half court shot in the first game of the season to put them up by 49 points in that game against the Barty Parties. She helped her team to an undefeated season. 
Most Clutch Award: Anne Swift, Ballers
Anne Swift made the shot that won the Ballers the Intramural Basketball Championship. She clutched up and won the whole thing for her team. Anne would always hit big shots throughout the whole season. 
Best Instagram: Babytron's Finest
Babytron's Finest had one of the best instagram accounts across both leagues. They would be constantly posting memes calling out their future opponents and making fun of the teams that they beat. You could always get a laugh out of their posts. 
Best Positive Attitude: Courtney Hvostik, Babytron's Finest
Every day we would hear Courtney say something about her intramural team, you always heard positive things from her about her team and she never complained about anything. Her positive attitude must've motivated the team because they got all the way to the finals this year. Confidence is key for a basketball team and that showed with Courtney Hvostik and Babytron's Finest.
—————————————————————————————————————————-
1st Team All Intramural:
PG: Robert Pasinato, Team W.I.G.
SG: Harry Kotlarz, Team Coht
SF: Jack Griffin, Cherry Up Men
PF: Shep Graf, Team W.I.G.
C: Jack Rosenberg, TKN
2nd Team All Intramural: 
PG: Bobby Alzamora, O-Blockerz
SG: Stephen Sinclair, Team Coht
SF: Finley Goodman, Caillou's Boys
PF: Brady Goodman, Funkytown
C: Jack Carrabine, Team Coht
Way Too Early Power Rankings:
**Disclaimer** These rankings are based on teams from this year, so we cannot predict these perfectly because there could be some roster shake-ups.
 GSU Antelopes

 Chinless Hooligans

 Handlers

 Puck Bandits

 Butter Burger Hoopers

 Caillou's Boys

 Taj Tusslers

 Ball Boys

 Steph with Too Much Curry

 Jugg Messiahs

 Kramer's Kids

 Big Basketball Champs

 Westside Dynasty

 Brown Shirts
—————————————————————————————————————————-