Scout Send-Off: Mrs. Tamar Cooney
Mrs. Tamar Cooney has been a science teacher for more than 30 years . Before her long and established career in teaching; however, she was graduating from Kalamazoo College with little idea of what the future held.
"I didn't know what I wanted to do," said Cooney. "I was actually just a science major, and then I was going to join the Peace Corps."
A coup in Liberia, where she had been assigned to work, brought her future in the Peace Corps to a standstill, leaving her looking for another path to pursue.
"I thought, okay, what am I going to do with my biology degree? Oh, maybe I'll teach," said Cooney.
Mrs. Cooney returned to school and got her teaching degree before her husband and her to moved to North Carolina and she first dipped he toes into teaching. Teaching seemed to be a perfect fit, but North Carolina was not.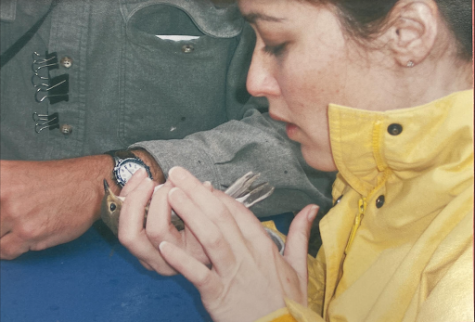 "It was nice, but it wasn't home," said Cooney.
From there, she started her roots in the Chicago area; after teaching three years at Waukegan high school, Cooney came to Lake Forest, where she spent most of her career and became a favorite science teacher among the students. She has impacted students through her creative and positive classroom environment.
"Personally, I didn't want to study biology in college and wasn't totally into the subject itself, but she made it really enjoyable and actually made the labs fun," said former student senior Jake Kroner. "She always made the class really fun; and something to look forward to."
Cooney's ability to connect with her students throughout the years is largely attributed to her ability to use her creativity in the classroom. Cooney was not only an art minor in college, but she also started her career teaching art to grades k-8 while living in North Carolina, and her use of this skill in the classroom is one of the things that has made her an outstanding teacher.
"She knows her biology, but more importantly, she knows how to communicate it in a fun, meaningful way," said Environmental Science teacher Mrs. Mary Beth Nawor. "She's very creative; if you've had her as a teacher, you know she is a fantastic artist. She can lend her artistic ability, but she also knows how to make things fun, engaging, and relevant for students."
Cooney is constantly trying to keep learning as a teacher. She is often trying new things, attending conferences, and getting new ideas. 
"Teaching is really very fulfilling that way because it's really a creative process," said Cooney
"
"I'm going to miss working with kids, and watching kids learn, and love learning. I mean, teaching is just absolutely the best.""
Cooney plans to continue utilizing her artistic skills after she retires, as she hopes to spend her time on commissioned artwork.
"I've been drawing for years and years, but now I'm more comfortable with charging money and putting my name out there. I've already got a ton of commissions lined up, and I think I'm going to do that more once I retire because I really love drawing."
Though Mrs. Cooney' is starting a new chapter, there is no doubt she has left a lasting impact on the students of Lake Forest High School. She has established herself as a talented coworker and teacher, and her love for teaching has helped students form a love of learning.
"I'm going to miss working with kids, and watching kids learn, and love learning. I mean, teaching is just absolutely the best. "