Scout Send-Off: Mrs. Mary Beth Nawor
"I'm sad that future students won't have the opportunity to have Nawor."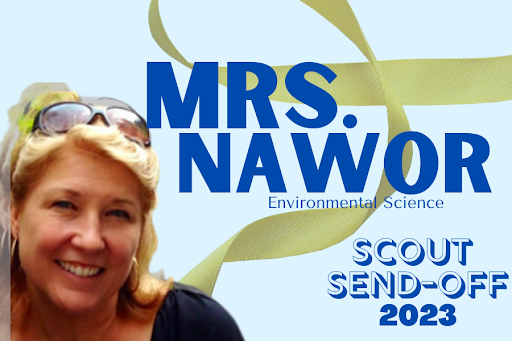 Fifteen of the most recognizable members of the LFHS community will retire at the end of the school year. In honor of their work, The Forest Scout will profile each member over the course of the semester. First up: Mrs. Mary Beth Nawor.
After graduating from Duke University, science teacher Mrs. Mary Beth Nawor spent her summer doing fieldwork and looking for a job. Her career as an educator didn't start until she saw an advertisement in the newspaper for a position as an Earth Science teacher at St. Joseph Academy, an all girls school in Rocky River, Ohio. 
"I don't know why I applied. I had no teaching experience and I had no teaching credentials, but they hired me," said Nawor. 
Nawor spent several years working at that school. At the same time, she took night classes to earn her teaching certificate.
After working at the girls' school for just a few years, Nawor took a break from teaching to move to Japan with her husband. When she came back, she worked for an educational publishing company and got a Masters in Geology during that time.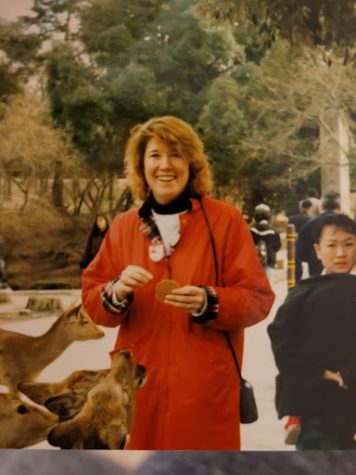 Nawor experimented with several jobs and experiences throughout the years which eventually led her to take a job at an engineering company. When she was set to start the job, she went on a business trip. In the meantime Nawor's husband saw an advertisement for a position as an Earth Science teacher at Lake Forest High School.
"He said, 'You always liked teaching.' He then sent in a cover letter and my resume for me. He told me just go to the interview and see how it is," said Nawor. "I came for the interview and once I walked in I was like, Yeah, I really did love teaching. Then I got the job and that's that."
That interview started Nawor's 29 year career at Lake Forest High School. She has taught seven different science classes including, AP Enviro, Enviro Honors, Enviro 1, Basic Science, Earth Science, Geology, and Geology Honors. 
"Out of all those classes, my favorite memory was when I taught Basic Science. I worked really hard to give the kids a good science experience," said Nawor. "For example, the kids really wanted to do dissection but they really weren't capable of doing it themselves so I partnered with a Biology teacher and we did one with their students. I worked really hard at that class and felt super proud of giving those kids a good science experiment." Saying goodbye to teaching also means saying goodbye to what she's going to miss most, sharing her love for science. 
"Mrs. Nawor is very passionate about Environmental Science and often spends a lot of class time just speaking freely about certain issues related to it," said Nawor's teacher assistant, senior Mateo Morrone. "She has a great ability to allow students to do things for themselves such as lab work so that they can learn how it is done in the real world and has many ways that make her class be hands on while still guiding them and helping them along the way."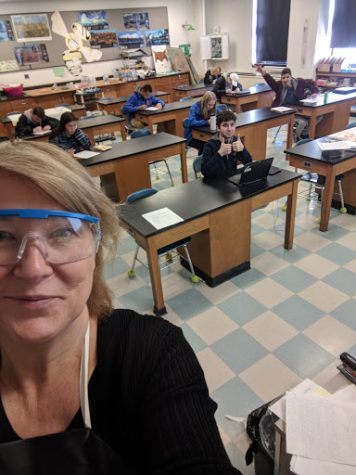 Nawor uses teaching as not only a way to share her passion for environmental studies but also to connect with others, especially her students and colleagues. 
"I'm going to miss my colleagues because there are people here like Mrs. Cooney, Mr. Pulio, Mrs. Flangel, Mrs. Zimmerman, we've been teaching at the same school for 29 years together," she said "Science teachers are great, we have a great department."  
Her colleagues look up to her drive and hard work as a teacher, but also love her uplifting personality. She is a friend to all, and clearly has made LFHS a fun working environment.
"Ms. Nawor is incredibly passionate … about the content of her curriculum, her responsibility to the environment, as an advocate for ALL her students, and as a steward of LFHS," said Social Studies teacher Mrs. Laura Flangel. "She is the one who often says what is needed to move things forward, even when it is hard to do so. I am going to miss her zest and her bravery the most. But also, her mad skills in the kitchen! She is an incredible cook and entertainer."
Nawor's students also recognize her love for teaching as she creates an open learning space in her classroom. 
"I'm sad that future students won't have the opportunity to have Nawor," said junior Rachel Silvers. "Her class always makes my day because she makes the stuff she's teaching so engaging. People in class always feel like they can ask questions, give opinions, or talk to Nawor because her connection with students goes far beyond a regular teacher."
Outside of the classroom, Nawor is involved in Enviro Club and makes a conscious effort to get students involved in environmental awareness. In 2016, Nawor took to the Ted X LFHS stage to inform students and staff on the importance of biodiversity. 
"
Students benefited from her professionalism and her willingness to model how to work hard, remain curious, build community, and fulfill her responsibilities as a citizen.
— Laura Flangel
It is evident that Nawor has left an impact on Lake Forest High School. She has brought a unique skill set and love for the environment to the building that has taught generations of students life long lessons. 
"I think Ms. Nawor has helped create a culture of conscientiousness at LFHS around the need to be environmentally focused and to protect our sustainability, while simultaneously bringing joy and rigor into her classroom," said Flangel. "Students for generations have benefited from her professionalism and her willingness to model how to work hard, remain curious, build community, and fulfill her responsibilities as a citizen."
Following her retirement, Nawor plans to stay very busy. She intends to spend the first year traveling. After that, she has several ideas of what she could do with her time that involves her passion for the earth and environment. 
"Maybe I would like to be a park ranger in a national park. Maybe teach at an international school abroad or become more active in environmental issues," said Nawor.
Whatever Nawor decides to take on in the next chapter of her life, it will be for the greater good of our planet. She will continue to spread her passion for taking care of our earth and do whatever she can to help the environment. 
Nawor said her advice for future teachers would be to "worry less and go outside more." 
"But that's also my advice for everyone for anything," said Nawor.