Lake Forest loses a heartbreaker to Stevenson, 45-43.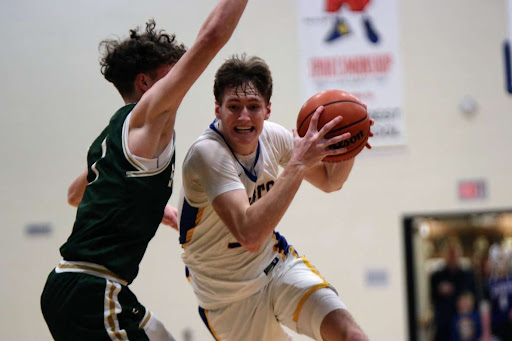 The Scouts hosted the Stevenson Patriots on Tuesday night in what turned out to be a very entertaining game. The Scouts got out to an early 6 point lead in the first couple minutes of the game. Stevenson called a timeout down 8-3 with about three minutes left to go in the first quarter. Coming out of that timeout, the Patriots went on a run and finished the quarter up 10-8. They continued their run into the second quarter. The Scouts did not really have any answer and the Patriots were picking apart the man defense. Stevenson was up 25-15 at halftime. 
"Coach was telling us that we were still in the game even though we hadn't played that well in the first half. He told us to keep fighting and working to get back into it," said senior forward Henrik Goldsberry. 
Coming out in the third quarter, the Scouts switched back to zone defense, and it proved to be successful for them. They started the third quarter the same way they started the first, on a 6-0 run. They were able to get back into the game thanks to great team defense. The Patriots lead was only a couple going into the fourth. The final quarter was back and forth, the Scouts would score, but the Patriots would always have an answer. Lake Forest got as close as one point, down 34-33, but could never retake the lead. The Scouts had a chance at the end, down 45-43 with eight seconds left. Asa Thomas drove to the basket but did not get the foul call and missed the game tying shot. The Scouts lost by two points with the final score being 45-43. 
Asa Thomas led the Scouts with 15 points and Anthony Mordini had 14 points. The Scouts dropped to 14-10 (6-4 in conference) and Stevenson improved to 18-4 (8-1 in conference). The Lake Forest Scouts look to bounce back at Lake Zurich on Friday, February 3rd at 7:00.