Asa Thomas moves into second place on all-time scoring list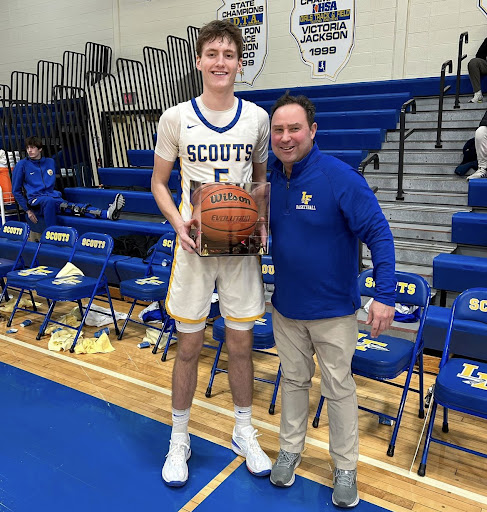 This last Friday, history took place in the LFHS Competition Gym where senior Asa Thomas reached second on the all-time scoring list in LFHS Boys Varsity Basketball history. This is a phenomenal accomplishment made by Thomas and is most likely going to stand for the years to come. Thomas is only the second student ever in LFHS to accomplish this feat, the other being Evan Boudreaux (2011-2015), who holds the Scouts' career record with an astounding 2076 points.
On Friday night the varsity basketball team faced off against the struggling Zion Benton High School. However, the Scouts would not be phased by their record going into the game and treated it as any other match.  There was something else on the minds of a few players that would be a more important feat to accomplish during the game.
Heading into the game, Thomas trailed Matt Vogrich, class of 2009, who reached 1496 points, by 13 points, and he was 17 points away from the remarkable 1,500-point mark which would put him second on the all-time LFHS scoring list. Vogrich was a four-year player on the Varsity Basketball team at LFHS. Vogrich was a dominant player and a high-quality guard at LFHS for all four years and continued his basketball journey at the University of Michigan for the next four years.
Throughout the game, Thomas scored at ease. The 1,500th point-sealing shot came off an and one 3-pointer that moved him to second on the all-time scoring list passing Vogrich. 
"Going into the game I had no idea I was close to this milestone but the coaches told me after the game that I got it on my 17th point, which was the and one 3 pointer," said Thomas, unaware that he reached this career achievement.
At the end of the game, Thomas was able to finish with a double-double which consisted of 30 points and 11 rebounds, in their demanding 56-37 win over Zion Benton, Thomas was able to share this memorable night with his friends, family, teammates, and coaches. 
"It was very special to reach the number at home because my friends and family were there to share it with me so that makes it even more special," said Thomas.
It's not only just an achievement to Thomas but reaching this mark let Thomas "reflect on all the hard work it took to get there."