Best Dressed for Winter Formal 2023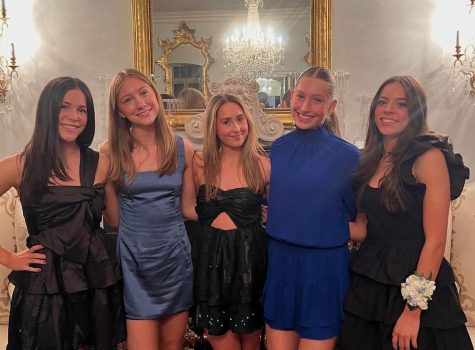 Freshman Kacey Busam (pictured in the middle) really dressed to impress for her first Winter Formal this year. This gorgeous black dress has a cut out and a bow in the front, and has an amazing touch of sparkles at the bottom of the dress to finish off the look. The dress has a very flattering shape with being tight at the top and having some flow at the bottom. Giving a bit more touch of glam she added Draper James gold heels with a bow on them. Finishing off the look she wore gold hoops and Chanel earrings. Kacey purchased this dress from Anthropology.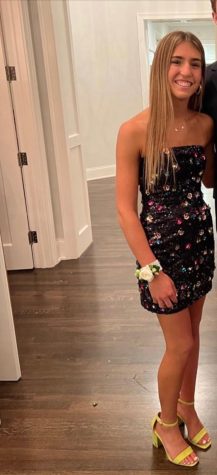 Sophomore Grace Donovan once again did not let us down with her Winter Formal look. Although she says she just found it in her closet, this dress was so unique and blew everyone away. This dress has such a flattering fit with it being strapless, it was definitely such a look. Grace purchased this dress from Ramy Brook and matched it with her friend's green Sam Edelman shoes, it was definitely a great way to tie the shoes and dress together. Finishing the look off with a white butterfly necklace to pull it all together. Grace brings the style when it comes to school dances, and is definitely someone to look out for in the future years.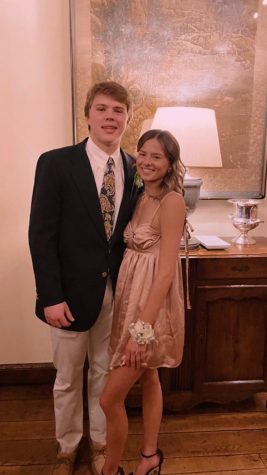 It's not surprising in the least that junior Charlotte Milligan is on this list. Charlotte stunned with her chic rose gold dress from Revolve. It was so simple but yet so elegant. The color of this dress was absolutely gorgeous and wowed everyone. Her simple black heels from Target kept the attention on the dress and not pulling away from the gorgeous color was definitely the move. Giving the look a crisp finish with stunning gold Dior earrings were a perfect complement to her dress. We can all agree that Charlotte is not one to let us down when it comes to school dances.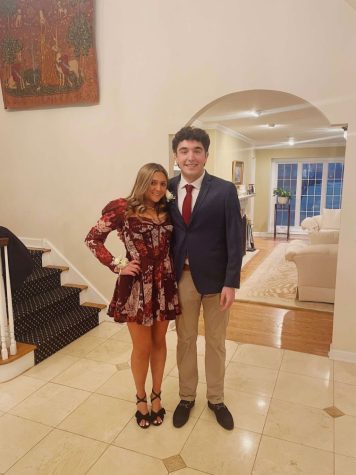 Finishing off this list with the senior class is Pride Haggerty. Pride definitely left a statement on her last Winter Formal, as she wore this dress like no other. This dress was without a doubt perfect for this dance, since the color combination was such a perfect match for a winter dance. I love how different and unique this dress was from everyone else. The outstanding dress really stood out with the puffy shoulders but tight sleeves, and the upper part of the dress giving a corset look, and then being loose and flowy at the bottom. Pride purchased this dress from Revolve and matched it with black heels that tie around the ankle and have bows on them from Micifa. She finished her look off with gold jewelry and a gold chain necklace from amazon.